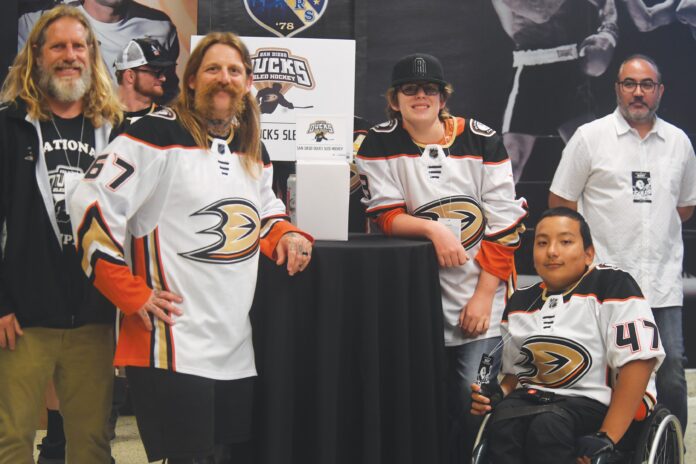 The San Diego Gulls will host Fan Appreciation Night on Saturday as a way to thank fans for their support of the American Hockey League team for the 2021-22 season.
The Gulls rank third in home attendance in the 31-team league, which serves as the top developmental circuit for the National Hockey League. The Gulls are the primary development team of the Anaheim Ducks.
The Gulls are averaging 6,975 fans heading into Saturday's game, down eight percent from the 7,582 average in 2019-20. Still, the number ranks among the healthiest in the league this season behind the Hershey Bears (7,931) and Cleveland Monsters (7,166).
Attendance remains generally down across the league, including some markets that have bombed out.
The Stockton Heat, the current leaders in the Gulls' Pacific Division, are averaging just 1,611 per game in 2021-22 while the San Jose Barracuda is averaging 1,789 per game.
The Belleville Senators are averaging 1,712 fans in Canada, of all places.
But the focus Saturday is on having a fun time with friends and fellow ticket-holders while celebrating the end of another hockey season.
Lots of prizes are being offered.
•Every fan receives a Scratch & Win Card upon entry, so everyone will go home a winner with something.
•Prizes will also be given away during the game.
•Additionally, 20 lucky fans will receive the game-worn jersey off the players' back following the conclusion of the game.
For a good cause The Gulls continue to give back to the community in more ways than just giveaways, however. The San Diego Gulls Foundation has raised more than $750,000 for charity since its inception in 2016. The foundation's mission is to facilitate and support programs that produce positive change for children and families throughout San Diego by providing educational opportunities, broadening access to the sport of hockey and addressing the health and wellness needs of the community.
Over the course of the season, the San Diego Gulls Foundation has supported Heroes Night (Nov. 5), Military Appreciation Night (Nov. 6), Pink in the Rink (Feb. 2), Hockey is For Everyone Night (Feb. 5), Community Night (March 27) and Hockey Fights Cancer (April 2).
The Gulls have also donated specialty-themed jerseys for ingame or online auctions that have been a fan-favorite to grab up, with some jerseys going for hundreds of dollars toward charity.
On Community Night, 10 local non-profit organizations were spotlighted with the San Diego Gulls Foundation donating $35,000 in funds. Each non-profit received approximately $3,500 to spend as they deemed fit on their programs.
The non-profits in attendance included A Bridge For Kids, AVID Center, Burn Institute, Challenged Athletes Foundation-Operation Rebound, Emilio Nares Foundation, The Rosie Network, San Diego Chill, San Diego Ducks Sled Hockey, School Safety Patrol Program and Urban Street Angels.
The Chill and Ducks sled hockey organizations had obvious direct hockey tie-ins. Sled hockey was invented in the 1960s at a rehabilitation center in Stockholm, Sweden, by two men who wanted to continue playing hockey despite their physical disabilities.
Interest started to gain momentum in the 1970s and the sport is now is featured in the Winter Paralympic Games.
Sled hockey made its Paralympic debut at the 1994 Lillehammer Games in Norway and has been a fan favorite since. The United States defeated Canada, 5-0, at the 2022 Beijing Games to win its fourth consecutive gold medal.
Paralympic sled hockey competition is open to athletes with physical disabilities such as amputation/limb loss, spinal cord injury/wheelchair-users and athletes with cerebral palsy/brain injury/stroke.
Like ice hockey, sled hockey, now referred to as Para Ice Hockey, is played five-a-side with a goaltender and standards size nets.
Rules are similar to stand-up hockey with three 15-minute periods for a 60-minute game. Equipment is also similar, though paraathletes propel their sleds with specially-designed sticks that are also used to move the puck.
Youth sled hockey is non-contact while adult sled hockey is full-contact.
The Ducks have both a youth and adult component to their program. Both teams have been very successful. The San Diego Ducks adult team won its division at February's Ducks Open tournament in Irvine while the youth team placed second in its division.
Steve Buehler serves as the San Diego Junior Ducks coach.
The youth team serves ages 4-18. Disabilities range from cerebral palsy, spina bifida, spinal cord injuries, amputees and any other physical issue.
"My family was introduced to the sport four years ago after my son Buck attended a ASRA summer camp where he was able to try sled hockey on rollerblade tracks," the elder Buehler explained. "We first got on ice about three months later and never looked back."
Steve Buehler said he was originally a volunteer but was later asked by parents to coach the team.
"With the sport being so small for youth teams, we typically only get to play once a year in the national tournament of which, in my first year of coaching, we took second place and the year after we came in first place to make us the defending champions coming into this year's tournament since last year we were shut down due to COVID0-19."
This year's nationals are being held April 21-24 in Pittsburgh as part of the 2022 Disabled Hockey Festival.
The Ducks adult sled hockey team is also reigning national champions and will be attending the same tournament. "Both teams travel together, and we all have a blast together," Steve Buehler said.
The elder Buehler said the positives coming out of this parasport are "immeasurable."
"I don't even consider us a team as we are more of a big family," he said. "Throughout the season we get together for holidays, hangouts at Liberty Station and surfing after practice. I have heard many players say that being on ice and gliding makes them feel free from their disability.
"As far as coaching goes, I think I can speak for the adult coach, Nick Hurd, and myself when I say we get more out of it than the players. The chance to work with such amazing athletes and be a part of their lives on and off ice is a true blessing."
The Chill focuses on players with non-physical disabilities.
"Our team was founded with the premise of making hockey available to everyone, particularly kids with developmental challenges," team manager Ryan Labrum said. "We are San Diego's first and longest-running special needs hockey team and we are non-competitive by design.
"It's important to us that our kids of all levels are able to participate, no matter what their individual abilities may be. We've begun expanding our program to include young adults, and we make sure that no player ever 'ages out' of the program. We have some players who have been with us since the Chill was founded in 2013."
The Chill holds a weekly skate/ practice/scrimmage every Sunday morning at the ice rink in University Towne Center.
"Our kids get the chance to play hockey with their friends each week, including the coaches who they've all bonded very closely with. And, their parents get to sit happily in the bleachers and watch the children they've devoted so much care to in their lives have a blast. Most of our new players' parents leave the ice after the first one or two sessions crying tears of happiness, and many in disbelief. We're able to get every kid who joins the team comfortable on ice skates, which is sometimes really surprising for the parents.
"We also do one or two 'tournaments' each year, where we invite another team to come play ours and have awards, and so on. The kids get to have a lot of fun, shine in the spotlight, and make friends with the players from the other team. One of the groups we've hosted in the past is the Guardians hockey team — they are a group of first-responders and have a great group of players."
The Chill started entirely staffed with volunteers.
"We have a small board of four volunteers, myself included, and all of our volunteer coaches are middle school and high school hockey players," Labrum said.
"We've worked with three different high school programs in the past, including Pacific Ridge, La Jolla Country Day, and most recently the SD Angels girls hockey club. One of the fantastic outcomes of our program is the growth and camaraderie our volunteer coaches gain while helping our players on the ice."
Labrum said he got involved in the Chill program as a way to give back to the community.
"Some of my best friends growing up had special needs, such as Down's Syndrome and Asperger's Syndrome, and when I first learned about the Chill program, I became immediately interested," he said. "I happened to be getting my own son on the ice for one of his games a few years ago as the Chill were coming off the ice. I looked them up online, and after some nudging from my wife, I contacted them to see how I could help.
"Since that time, our founder (who was actually 13 when he started the program) ultimately headed off to college, and he and the board asked me if I would 'take the reins' and become the board president. While it was an unexpected request at the time, I was more than happy to help however I could.
"Now we're just doing our best to keep things growing and moving forward in a positive direction. We, just like everyone else, were impacted quite severely by COVID, but have since rebounded and our numbers are back to where they were before the pandemic."
For more information on the San Diego Ducks Sled Hockey program, visit the website at duckssledhockey.org.
For more information on the San Diego Chill program, visit the website at sandiegochill.org.