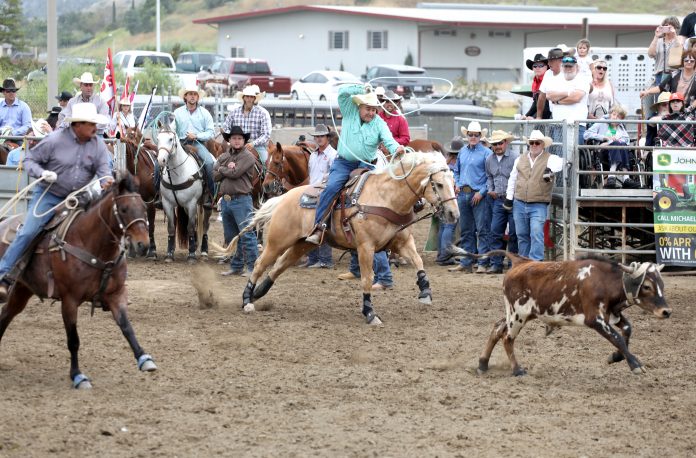 In addition to seeing several top cowboys and barrel racers, those who attended the night performances of the April 25-27 Lakeside Rodeo saw the Navy's Leap Frogs parachute team perform as part of the opening ceremonies.
Prior to the April 25 and April 26 evening performances six Leap Frogs landed at the Lakeside Rodeo Grounds.
"It went off very well. The jumpers did a great demonstration," said Navy communications specialist Andy Murray, who announced the jumps.
The parachutists used a civilian Fokker and were more than 10,000 feet above the ground when they left the plane.
The Leap Frogs are based at the Naval Amphibious Base in Coronado, and Murray noted that the unit relishes opportunities to perform locally.
"We truly enjoy it," he said.
The El Capitan Stadium Association which organizes the Lakeside Rodeo invited the Leap Frogs to perform in December. The Leap Frogs plan their activities for the following year in December and finalize their schedule in February.
"We're happy to be here," Murray said. "We're hoping to keep doing more local events and keep performing for the home crowd here."
The Marine Corps was also involved in the April 25 performance as Camp Pendleton firefighter Morgan Piatt sang the national anthem prior to the competition.
This year's Lakeside Rodeo was the first local rodeo event for the Leap Frogs, although they have also jumped at the Reno Rodeo and the Cheyenne Frontier Days rodeo.
The Cheyenne and Reno rodeos are the two highest-paying outdoor rodeos.
The Lakeside Rodeo had a total payout of $79,552 from entry fees and added money provided by sponsors.
Pismo Beach cowboy Aaron Williams won the Bull Riding and $2,520 for his 85 1/2-point ride Saturday night on the Western Rodeos bull Area Code.
A score of 87 points Sunday afternoon gave Winnemucca, Nevada, cowboy Mitch Pollock first place in the Saddle Bronc Riding event along with $2,425 for his ride on Western Rodeos' Brown Bomber.
The winning Team Roping partners competed Saturday night and a time of 5.5 seconds gave D.J. Parker of Hollister, California, and Scotty Raines of Tonto Basin, Arizona, $2,380 apiece.
First and second in the Barrel Racing was split with two riders in the Thursday slack session each posting times of 16.95 seconds; Carly Taylor of Andersonville, Tennessee, and Kellie Collier of Hereford, Texas, each earned $2,137.
First place in the Steer Wrestling competition paid $2,011 and a Sunday afternoon time of 4.7 seconds gave Mike McGinn of Haines, Oregon, that prize money.
Wyatt Denny of Minden, Nevada, rode the Bar T Rodeo horse Micheal on Friday night and his 85-point score held up for first place and the $1,906 payout.
Westyn Hughes of Caldwell, Texas, had the fastest Tie-Down Roping time of 9.6 seconds, and that Saturday night run earned him $1,859.