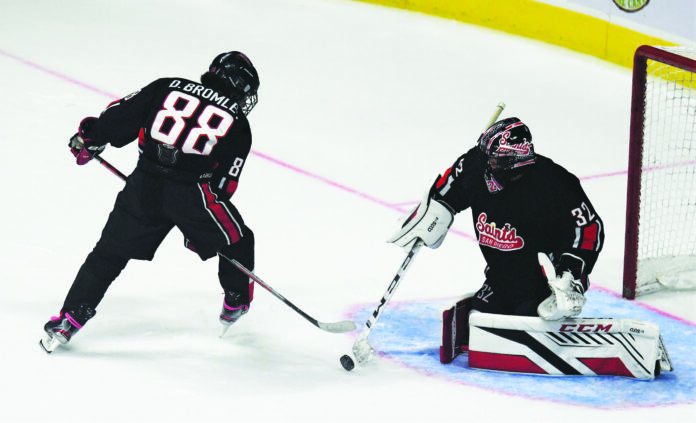 The 12U A and 18U AA teams from the Saints Hockey Club had a chance to showcase their skills during the first intermission of the Nov. 8 American Hockey League game between the host San Diego Gulls and Colorado Eagles at Pechanga Arena San Diego.
The Saints Hockey Club features age groups from Mite (8U) through Midget (18U). Home rinks include the Kroc Center, University Towne Center and Icetown Carlsbad.
The two teams squared off in a shoot-on-goal exhibition with coaches and the Gulls mascot also on the ice.
"They all loved it," Saints director of coaching John Meza said. "I thought they had a great time. It's one of those life-long memories."
Meza, who also serves as an assistant coach with the 18U AA team, said about 150-200 players are involved in the Saints program. Jake Kalmonson serves as head coach of the 12U A team while Jeff Elleraas serves as head coach of the 18U AA team.
"They had a great time," Elleraas said. "They had so much fun playing in front of several thousand fans. These guys all have goals of playing hockey in college."
Meza said the Saints are preparing to participate in several upcoming holiday tournaments, including those over Thanksgiving. The Saints 18U AAA team will participate in the prestigious Mac's Midget AAA World Invitational tournament in Calgary Dec. 26 through Jan. 1.
"It's a major tournament," Meza said. "Quebec has the renowned Pee Wee tournament and Calgary has the one in western Canada."