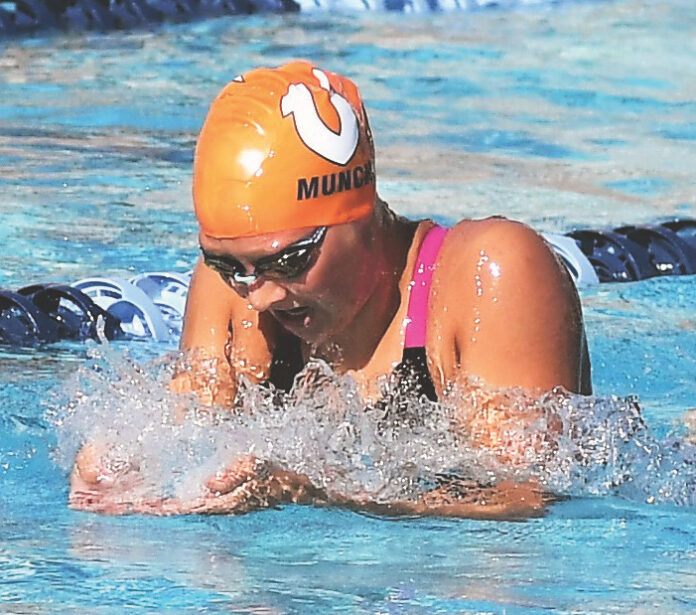 Swimming and diving competition took place during the San Diego Section's reconfigured Season 1 sports schedule alongside cross country, football, girls field hockey and girls volleyball.
Only swim and dive ended the season with a section championship event.
The swim and dive finals took place April 23-24 at Granite Hills High School. The diving competition took place between the morning swim prelims and evening finals for each division in a reconfigured format.
It was definitely a season to remember for many reasons, among them Valhalla High School.
The Norsemen finished 10th out of 21 teams in the Division I boys standings and 14th out of 24 teams in the girls standings after placing fourth in the combined team standings at the Grossmont Hills League finals the previous weekend.
"Valhalla made an excellent showing at CIF this year considering all that our swimmers and divers had to overcome during the last 15 months," Norseman coach Steena Harriman said.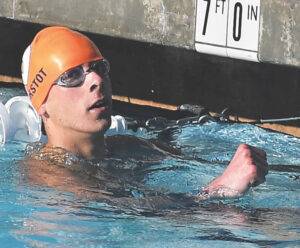 Orange Nation
Junior Jordan Alstad entered her name in this year's finals registry for Valhalla by placing seventh in the Division I dive championship meet. Alstad scored 254.45 points in the elite field of 12 female divers.
"Jordan dove her best meet of the year and earned herself an amazing seventh-place finish in a field of divers that boosted talent that the San Diego Section has not seen in quite some time," Harriman said.
San Ysidro senior Eva Reyes set a new section record with 347.20 points for six dives, followed by Westview senior Maya Belanger with 292.40 points and Grossmont sophomore Kaila Getch, the reigning Grossmont Hills League champion, in third place with 281.90 points.
Moving into the swim prelims, Harriman noted that excellent efforts were turned in from a number of swimmers, including sophomore Rachel Munch in the 100 freestyle and 100 breaststroke, junior Eli Mohr in the 500 freestyle, junior Tate Clapham in the 50 freestyle, freshman Tess Forstot in the 100 backstroke, sophomore Alexander Golu in the 100 breaststroke and sophomore Louis Fehrensen in the 100 and 200 freestyle.
In addition, boys relay teams, led by junior Jack Forstot, made an excellent showing by advancing to the top 12 in each relay event.
"At finals we had some incredible swims," Harriman said.
Most notable, according to the VHS coach, was Rachel Munch's 100 freestyle finish that landed her as the Division I runner-up with a time of 52.87 seconds.
In addition, the boys 400 freestyle relay team of Forstot, Fehrensen, Clapham and Mohr posted an excellent fourth-place finish (3:21.88) in what Harriman described as "a field of highly talented swimmers."
Valhalla qualified several swimmers in individual events for the consolation finals (places seven through 12), including Clapham in the boys 50 freestyle (12th, 22.67), Fehrensen in the boys 100 freestyle (12th, 50.74), Mohr in the boys 500 freestyle (seventh, 4:46.81) and freshman Tess Forstot in the girls 100 backstroke (eighth, 1:01.10).
The VHS boys team of Golu, Mohr, Clapham and Forstot won the 200 freestyle relay event (1:30.59) in the consolation finals. The same unit finished in 11th place in the boys medley relay in 1:43.29.
Valhalla also entered teams in the girls medley consolation finals (12th — Tess Forstot, Munch, sophomore Annika Prado and senior Kaia Jennings) and girls 400 freestyle relay (ninth — Jennings, sophomore Emily Hansen, Tess Forstot and Munch).
Munch captured the individual league title in the girls 200 individual medley (2:07.76) while placing second in the 100 breaststroke (1:07.24).
Jack Forstot won the boys 100 freestyle title in 48.39 while Mohr finished runner-up in the boys 500 freestyle (4:49.11) and Golu finished runner-up in the boys 100 breaststroke (1:02.80).
Valhalla posted a runner-up finish in the boys 200 medley relay in 1:41.63 and tied for second in the boys 400 freestyle relay in 3:21.03.
"The Norsemen look forward to being able to continue on their traditions of hard work and dedication to the sport in 2022," Harriman said.