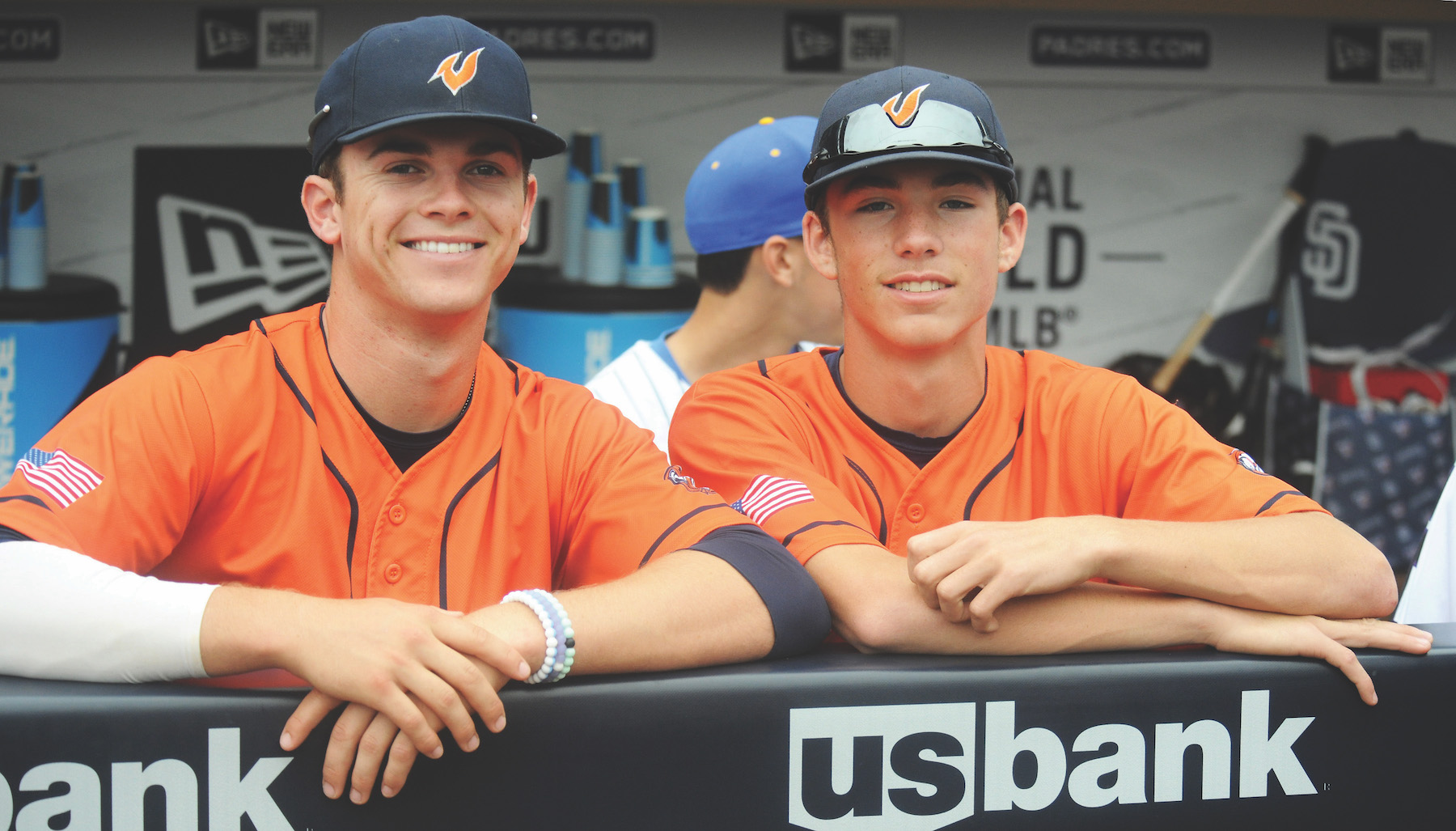 EAST COUNTY BASEBALL TEAMS HAVE GOTTEN OFF TO PROMISING START IN 2020 SPRING SEASON
The Valhalla High School baseball team had much to celebrate to cap the 2019 season, including a Grossmont Valley League championship banner and a newly minted San Diego Section Division III championship trophy.
Additionally, Grossmont (Division I) and Mount Miguel (Division V) both finished runner-up in their respective divisions in the championship playoffs.
The 2020 high school sports season has brought a different set of challenges, many that no one would have dreamt about a year ago — or even a month ago.
When the COVID-19 (coronavirus) outbreak was declared a global pandemic by the World Health Organization on March 11, everything changed.
School districts throughout the United States began to close and, in the process, halted all athletic activities, including practices and games.
The Grossmont Union High School District has suspended athletic activities through April 10. Coaches cannot engage with student-athletes in organized practices during the period covering the traditional spring break, though student-athletes are free to practice on their own.
The California Interscholastic Federation, the state's governing body of high school sports, issued a statement on March 17 further addressing athletic competition in regard to postseason play, announcing it has not determined the future of spring sports events at this time.
The CIF state office has deferred any cancellation of postseason competition in anticipation of further guidance and directives issued by federal, state and local government agencies regarding COVID-19.
The CIF intends to reconvene with its 10 section commissioners on April 3 for further discussion on this topic.
Some organizations, most notably professional sports leagues, are already making plans for next season after either suspending regular season play or cancelling playoff tournaments.
Major League Baseball has postponed the start of its season indefinitely and cancelled all spring training games. The league announced that Opening Day will be played no earlier than April 9.   
The San Diego Lions tournament, the oldest and largest prep baseball event in the United States, announced it has cancelled this year's tournament and will hold next year's tournament from March 29 to April 1, 2021. This year's 70th annual event was scheduled April 6-9.
Spring forward
At the time of the schedule pause, the Santana Sultans had compiled a 6-1 record after winning the championship of the season opening Hilltop Lolita's tournament and topping the Madison Warhawks, 7-1, to face off the GMC (Grossmont-Metro-City Conference) tournament.
Junior Tyler Glowacki pitched a five-hitter in the Sultans' 6-1 win over fourth-ranked Cathedral Catholic to win the Hilltop Lolita's tournament championship on March 7.
Santana moved up to fourth in the section's Division I rankings. However, at least nine games stand to be wiped off the Sultans' schedule, including the Lions tournament.
Among other Grossmont Hills League teams this season, Helix was off to a 4-2 start in non-league play while Valhalla and Grossmont were both 4-3, Granite Hills was 3-4 and Steele Canyon was 1-4-1.
Top hitters for Valhalla included seniors Kyle Casper (.474 average, four RBI) and Joseph Ingrassia (.455 average, four RBI), both of whom participated in last year's San Diego Section All-Star Game.
Ingrassia had racked up 28 strikeouts in 13.2 innings.
Last year, Ingrassia finished 5-2 with a 0.95 ERA and pitched his second career no-hitter   while hitting .354 with 19 RBI for the Grossmont Valley League champion Norsemen (25-8).
Casper hit .369 last season with 18 RBI and two home runs.
Helix's top batsmen included senior Demetrius Wells (.412 average, three RB) and sophomore David Blome (.400 average, five RBI). Senior Luke Clark led the Highlanders with four doubles and six RBI in seven games.
Helix senior Alonzo Richardson had driven in seven runs in six games while senior Thomas Caneday had recorded a 2-0 record on the mound with a 0.78 earned-run average and 15 strikeouts in 18 innings.
The Highlanders advanced as far as last year's Open Division semifinals. Richardson played in the CIF All-Star Game along with senior Eric Smelko and junior Thompson.
Ingrassia and Thompson were both First Team All-CIF selections last year while Smelko and Casper made the second team.
"It was a blessing, it was fun to play," Richardson after last year's CIF All-Star Game.
The cancellation of the high school baseball season would be a major setback for recruiting as college and pro baseball scouts would be unable to evaluate this year's class of talent.
Junior Max Cadwalader topped Grossmont with a .500 hitting average while classmate Isaiah Gomez was hitting .417 with 10 hits and five runs scored. Sophomore Jake Romero (2-1, 3.23 ERA) had struck out 16 batters in 13 innings.
West Hills topped Grossmont Valley League teams with a 5-1 non-league record, followed by El Capitan at 3-2-2, Monte Vista and Mount Miguel both at 3-3 and El Cajon Valley at 1-4.
Senior Joseph Tharilkil (.333), sophomore Connor Evans (.312) and senior Kai Dennis (.300) paced West Hills in the hitting department while junior Kyle Dobyns was 2-0 with a 0.47 ERA and 15 strikeouts in 15 innings on the hill.
Junior Connor Crist slammed the cover off the ball for El Capitan in the early going with a .476 hitting average and 10 hits.
The Vaqueros also owned heavy hitters in seniors Hunter Lambkin (.389, three doubles, three RBI) and Cody Griggs (.381, three RBI) while junior Zach Mayhew was 2-0 with a 0.74 ERA and 12 strikeouts in 19 innings.
Monte Vista's hitting parade included junior Jacob Savoy (.368, six RBI), senior Abraham Sanchez (.357, four RBI) and junior Andy Canedo (.353, three RBI).
Canedo had a 2-0 pitching record with a 1.91 ERA and 12 strikeouts in 11 innings while Sanchez was 1-1 with 11 strikeouts in 12 innings.
Mount Miguel senior Carlos Sanchez was having himself quite a start with a .565 hitting average, 13 hits, including a double and triple, 14 runs scored and three RBI.
Senior Erik Kelly was hitting .450 with a team high 11 RBI for the Matadors while junior JoJo Castillo was hitting .409 with five RBI.
Junior Thomas Ringer led Mount Miguel on the mound with a 3-0 record, 0.95 ERA and 28 strikeouts in 22 innings.
El Cajon's Christian High School, which competes in the City League, entered the spring break with a 6-1 record.
Freshman Hunter Kaul made an impressive varsity debut with a .500 hitting average and four RBI in six games while senior Isaiah Owens was hitting .500 with seven RBI.
Senior Garrett Nasif was 2-1 with a 1.27 ERA and 13 strikeouts in 11 innings while freshman Vaughn Major (1-0, 2.69 ERA) had fanned 12 batters in 13 innings.
Granite Hills head coach James Davis said the Hilltop Lolita's tournament is annually one of the section's most challenging tournaments. This year's eight-team field included three top-10 ranked teams.
"It tells you where you'll be later in the season," Davis said. "It's one of the toughest tournaments to win. It tests your pitching.
"If we can play well against teams of this caliber, making the playoffs should be a little easier."
Davis said the Eagles appear well-stocked with pitching this season.
Senior Clay Fordham picked up the team's first win of the season by hurling six shutout innings with four hits and eight strikeouts in an 8-1 win over host Hilltop on Feb. 27.
Senior Ryan Fenn had two hits, including a triple, and drove in two runs while Austin Smith also had two RBI in the game.
Davis said his team is a mix of senior returners and young talent. "We've got a lot of returning players," he said. "Pitching should be one of our strengths.
"Our goal is always to win the Open Division championship. It's something to go for — to be one of the elite teams in San Diego County."
Granite Hills senior infielder T.K. Parker, a second team All-CIF selection in 2019, was selected to compete in last year's San Diego Section All-Star Game. He drove in one run in the game.
San Diego Section Baseball Rankings
MaxPreps through March 13
Division I: 1. Torrey Pines (7-0), 2. Eastlake (6-1), 3. Point Loma (6-1), 4. Santana (6-1), 5. Cathedral Catholic (7-3), 6. Helix (4-3), 7. Classical Academy (3-4), 8. Grossmont (4-3), 9. Rancho Bernardo (1-3), 10. Canyon Crest Academy (4-2-1).