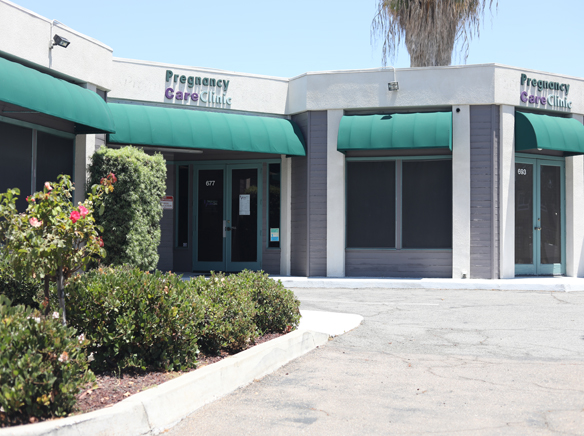 It has been one year since the Pregnancy Care Clinic in downtown El Cajon won their United States Supreme Court case against California's AB 775. The measure was billeted as a way to ensure that women facing a crisis pregnancy would be aware of all their healthcare options, but its application was not quite so simple. Passed in 2015, it targeted licensed pro-life pregnancy clinics with a series of requirements, including providing information about abortion options. The bill targeted small, unlicensed centers, many of which provide pregnant mothers with free diapers and baby clothes, by requiring that they include signage that they are not medical centers in up to 13 languages. Josh McClure, executive director of the center in El Cajon, which was established in 1998 and has been a functioning medical clinic since 2005, said the case was brought to the Supreme Court as a free speech issue. "The law was going to require that they put a disclaimer in all of their advertising and on their front door. In effect, it was censorship and in the most grotesque way, it was crowding out the message that they wanted to speak with the government's message," he said. "At a pregnancy clinic, like ours, they wanted to force us to refer for abortion and promote abortion. Essentially, they wanted to by-pass any discussion we might have the client and use our walls to promote abortion." The case was brought before the Supreme Court by the National Institute of Family and Life Advocates (NIFLA). "In order for them to have a standing in court, they needed to have a local representative on the case as well, so we were the local plaintiff," McClure said. "The three of us took on the whole law and took it all the way to the Supreme Court." The process was a long one – roughly three years. "We filed locally in San Diego federal court," said McClure. "We initially field for a preliminary injunction against the law, that was denied. We appealed that to the ninth circuit and had three judges hear that case and we were denied our PI [personal injury] there, and then we took that on to the Supreme Court where they agreed to hear our case and ruled in our favor." McClure said the decision was a landmark in the narration and development of free speech in America during a time when its definition is under so much fire. "it's a big win for freedom of speech and freedom from compelled speech," he said. "The victory we got was far reaching, it wasn't just what we had to say it was about the state. If they feel they have a particular interest, they cannot just come to an organization and compel them. So it absolutely is a big win for free speech and it was a local San Diego and even El Cajon case." Amanda Lewis has been working at the clinic in El Cajon for just more than five years as a nurse and an ultrasound technician. She said, had the case been lost, the ability of pregnancy centers to operate in the community would have been severely hampered. "The repercussions if we had lost were horrific because a lot of our sites would have shut down – none of us would have posted signs on where people can get abortions," she said. "Winning was definitely a God thing. We had originally lost the case in our own court system and the Supreme Court has hundreds of cases that they can pick up, and they picked ours." Lewis has always been ardently pro-life, she said, but she joined the clinic at the suggestion of her husband. "I was having a conversation with my stepdad about [abortion] and I felt like I was speaking truth but I was being harsh about it and after it didn't end well and I hurt his feelings, I asked my husband and he said, 'I think you would learn a lot if you went to volunteer with a pregnancy clinic – not that you would change your mind, but you would hear the woman's side of the story and you wouldn't just be speaking truth, you'd be speaking love.' And I have. I have learned a lot." McClure describes the services of the center as "helping young men and women who are facing tough decisions, walking them through their options, and providing resources." Those resources include counseling, as well as prenatal and postnatal care like prenatal vitamins and childbirth and parenting classes. "All these resources are there for ongoing care after a decision is made," he said. "They don't just end, they go on for up to two years after the baby is born." Rachel Teahan, a client advocate volunteer at the clinic for four years, said she is the first person a woman will sit down with when she visits the clinic, and her job is just to listen. "That's the first way we show compassion is to listen," Teahan said. "I personally have never met someone who 100 percent wants to terminate their pregnancy. So just listening to them and letting them know that they are our agenda, no one else matters in that room except them, is important." Teahan also began working at the center at the suggestion of someone else. "I think I was more proud of the label of being pro-life," she said. "In college I was a lot more judgmental toward women who had had abortions or who were considering having abortions." After friend confronted Teahan about an aggressive Facebook post, admitting to Teahan that her mother had had to make the difficult choice to have an abortion and that the post was hurtful, Teahan said she began to rethink her attitude and visited the Pregnancy Care Clinic. "I kind of took a step back and looked at why I really was pro-life and I found that I had little compassion for the women facing this decision," she said. "I learned a lot that day, not just about the unborn babies but about the women facing crisis pregnancies… Just being there and hearing other people's stories that have gone through their own abortion and then coming to know the Lord and seeing the forgiveness they felt, it changed my outlook on it. The term 'prolife' took on a whole new meaning for me." Both Teahan and Lewis agree that pro-life should mean more than just pro-unborn life. "A lot of time when you hear the term pro-life you think of people who are against abortion and I wish the term could be thought of as pro-life in general, not just for the baby but for the mom," said Lewis. As an ultrasound technician, Lewis gets to be one of the first to show expecting mothers what the life inside them looks like. "What I love about doing ultrasounds is that I kind of feel like it's symbolic in a way," she said. "You're not just shedding light into the darkness of a womb, you're shedding truth onto this lie that this is just a clump of cells. You're the first one who really gets to show this woman that there is this human baby with a heart that is beat­ing that is separate from yours."
In the last six months, a myr­iad of controversial state laws have been passed on either end of the abortion spectrum, with states like New York allow­ing abortions after 24 weeks if the woman's health is at risk – which could include right up to the point of delivery – and states like Alabama sweeping in the opposite direction by crimi­nalizing the death of children in the womb. The latter culminat­ed in a woman being charged with manslaughter after her child died when she was shot in the womb. Those charges were eventually dropped.
Lewis said that no law will change the needs of women in crisis. Only communities, through centers like El Cajon's Pregnancy Care Clinic, who listen to these women in need and show them one-on-one at­tention will be able to make a difference for women and their unborn children, she said.
"It's not some law that's go­ing to end abortion, it's more of these clinics," said Lewis. "It's that time with the advocate, with the nurse, seeing the ul­trasound, that really makes the difference."