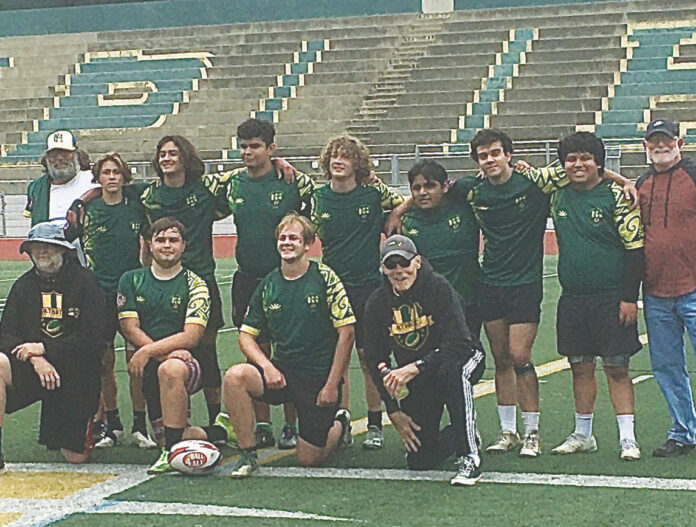 Rugby has recently gained a foothold in the Summer Olympic Games (as rugby sevens) and the United States men's and women's national teams have both qualified for the upcoming Tokyo Olympics.
The sport has been entrenched at the collegiate level for decades, now has a pro component in Major League Rugby, and has started to expand its roots at the youth level.
The sport has correspondingly started to filter into the high school ranks in recent years as a signal of that continued growth.
Patrick Henry High School boasted a winning club program this year as its boys sevens team finished 12-4 with the No. 4 ranking in the highly competitive Southern California region.
While rugby is not yet fully recognized as an official sport within the auspices of the California Interscholastic Federation, the sport is organized much like club soccer as a complement to official CIF sports.
Rugby sevens is an abbreviated version of the traditional rugby 15s game that most colleges and professional teams play. The sevens game, as its name suggests, features seven players on a side. It is a much faster contest with a wide-open attacking style of play on a full 100-yard football field.
The sevens game, like its parent fixture, features full-contact tackling, mauling (maintaining control of the ball and moving it toward, and sometimes into, the opposition in-goal area) and rucking (players competing for possession of the ball on the ground), no pads or helmets and two exhausting seven-minute halves.
The Southern California Youth Rugby organization fields programs at several levels. The season typically runs from November through February.
The Red Division serves 15s programs from the same school and is CIF-compliant with all students from the core school.
The White Division serves mixed schools, with a minimum of two-thirds of students from the core school.
The Gold Division serves programs fielding sevens teams, with all students from the core school.
Overall, there are approximately 25 teams currently representing section schools in all four corners of the county.
The Patrick Henry sevens are led by head coach Greg Chronopolos, an on-campus faculty member, assistant coaches Doug McDonald and Jon Hickey, OMBAC rugby legend Jim Dierker and players Aidan Bradley, Ethan Venegas, Walid Elassadd, Kevin Coffey, Alexis Vasquez, Cole Rugh, Marco Morante, Tyler Dempsey (captain), Levi Pritchard-Hickey and Ernesto Macias.
Champions for the 2021 spring season included Jaguars Rugby (High School Boys Sevens), Fallbrook (Open Girls U18 Sevens) and Belmont Shore Youth RC (Open Girls U15 Sevens).
Rugby 15s
The SoCal Interscholastic Rugby Federation, founded in 2017, includes two 15s divisions: Platinum and Gold. Founding teams included Cathedral Catholic, La Costa Canyon, Fallbrook, Mira Costa, St. Augustine, Saint John Bosco and Torrey Pines.
Cathedral Catholic finished as this year's SCIRF champion.
The all-SCIRF team for 2020-21 includes Dylan Fortune, Luk Otineru, Carmine DeRosa and Nic Saldana from Cathedral Catholic High School, Lucca Rohrer, Chase Basson and Isaac Morrill from St Augustine High School, Christian Hunter and Van Graw from Mira Costa High School, Asa Valdivia and Joe Williamson from Coronado High School, Malcolm Durfee from La Costa Canyon High School, Dreyton Price from San Marcos High School, Hudson Nash from Fallbrook High School, Liam Kane from Mission Bay High School and Nathan Solano from Steele Canyon High School.
Otineru, who has received a scholarship to play rugby at St. Bonaventure University, was the SCIRF player of the year.
Cathedral Catholic finished 11th in the single-schools final national rankings while De La Salle led California teams at the No. 4 position.
Cathedral Catholic defeated St. Augustine, 22-11, in the 11th annual Rugby Holy Bowl on May 17. At the time, the Dons were ranked first in California and sixth in the nation.
St. Augustine finished ranked fourth in the state and 24th in the nation during the 2020-21 season.
San Marcos defeated first-year Steele Canyon, 47-20, to win the 2020 Gold Division title while Coronado defeated Granite Hills, 31-17, to capture third place.
Next level
The San Diego Legion crushed opponents to open the 2020 MLR season, blitzing its way to a 5-0 start with a plus-53 point-differential. But the Legion's season ended there when MLR, along with virtually all professional and collegiate leagues, shut down because of the COVID-19 pandemic.
The Legion returned in 2021 in an expanded league but could not maintain its momentum by finishing the current season with a 6-10 record and out of the playoffs for the first time in three completed seasons.
The Legion finished runner-up to the Seattle Seawolves, 26-23, in the dying seconds of the league's 2019 championship match at USD's Torero Stadium.
The Legion played three matches this season at the Chula Vista Elite Training Center while being able to play two matches at USD.
Former Saintsman Ethan McVeigh, a 2018 alumnus and former high school player of the year, signed with the hometown Legion in early May.
Three Legion players — Siaosi "CC" Mahoni, Ryan Matyas and Psalm Wooching — were added to the USA 15s men's national team extended 41-man roster in late May for July tests against England and Ireland. Thirty-one players, or roughly 75 percent of the roster, represent MLR clubs.
Legion coach Rob Hoadley was added as an assistant coach.
"A huge thank you to all the MLR clubs, not just for working with us as we select this group, but also in delivering a competitive training and competition environment that will help us get on the front foot in the short time we have ahead of facing England and Ireland," USA Eagles head coach Gary Gold said.  "We still have some work to do in terms of making final selections, but we are excited to see the final squad of 30 come together and to play some meaningful games this year."
The top two teams in MLR's Eastern Division (Rugby Atlanta and Rugby United New York) and Western Division (L.A. Gilitnis and Utah Warriors) will qualify for this year's playoff semifinals July 24-25. The 2021 championship game will be played Aug. 1 between the semifinal winners.