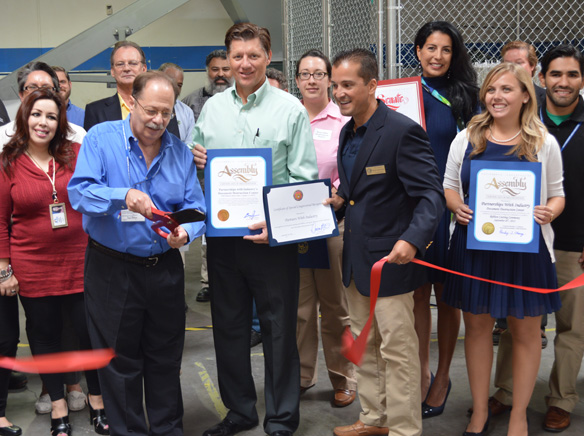 Building relationships between the community, businesses and its clients, Partnerships with Industry (PWI) is a non-profit organization founded in 1985, bringing work to thousands of people with intellectual and developmental disabilities. Since its conception, PWI has partnered more than 11,000 people with local employers, working with around 750 clients each day. It serves more than 1,000 clients each year with job preparation, placement and support to assist them in earning a paycheck and achieving independence from gainful employment. Primarily funded by the state, its services are free of charge. With four locations in San Diego County, the East County Services in Santee works with industrial activities and assembly work.
PWI provides more than 200 business partners with cost-effective, well-trained and reliable workers through outsourcing, employee leasing and through direct hire.
Its newest business venture, document destruction, contracts with companies providing security locked bins for sensitive documents, picked up on a regular schedule and replaced with a new bin and brought back to the facility. It is then divided into color and white paper, shredded in multiples so sensitive material cannot be compromised, baled and sent for recycling of new paper.
"This is one of a few shredding facilities in East County," said President/CEO Mark Berger. "It provides more jobs for our clients and brings in more revenue. We expect this part of the facility to be fully profitable within 18 months, providing 25 to 30 new clients with jobs and work experience."
Berger said that PWI is always looking for new opportunities to work with the community and creating jobs for its clients.
"We are really excited about the addition of the document destruction facility in Santee," he said. "We are an environmentally conscience business and this is another venture where our clients learn skills and gain jobs working out in the community."
Chairman of the Board Jeff Litteken said PWI is dedicated to focusing on what the clients can do rather than what they cannot.
"This provides individuals with the ability to go out into the community, earn a paycheck and be a part of society," he said.
Berger said PWI works throughout San Diego County with offices in San Diego, Chula Vista, Oceanside and Santee.
"Many people were involved in making this new venture happen and eventually we hope to spread the work that PWI is offering this new service throughout the county," said Berger.
PWI has an impressive list of partners throughout the county including Qualcomm, LEGOLAND, UCSD, SeaWorld, the San Diego Zoo, Home Depot and many more.
Many of the jobs offered in outsourcing and employee leasing are all 100 percent quality controlled under full-time supervision of PWI job coaches.
Some of the jobs performed by clients include product assembly and refurbishing, product fulfillment, bulk mail preparation, grounds keeping, office maintenance, laundry services, production support and dining and food services.
Its direct hiring services include screening, reliable employees, a PWI job coach and an average of long-term retention rates of its clients at five years and more. It has a 96 percent employer satisfaction rate.
To find out more about PWI, its services, clients and how it can help local businesses go to www.pwiworks.org.