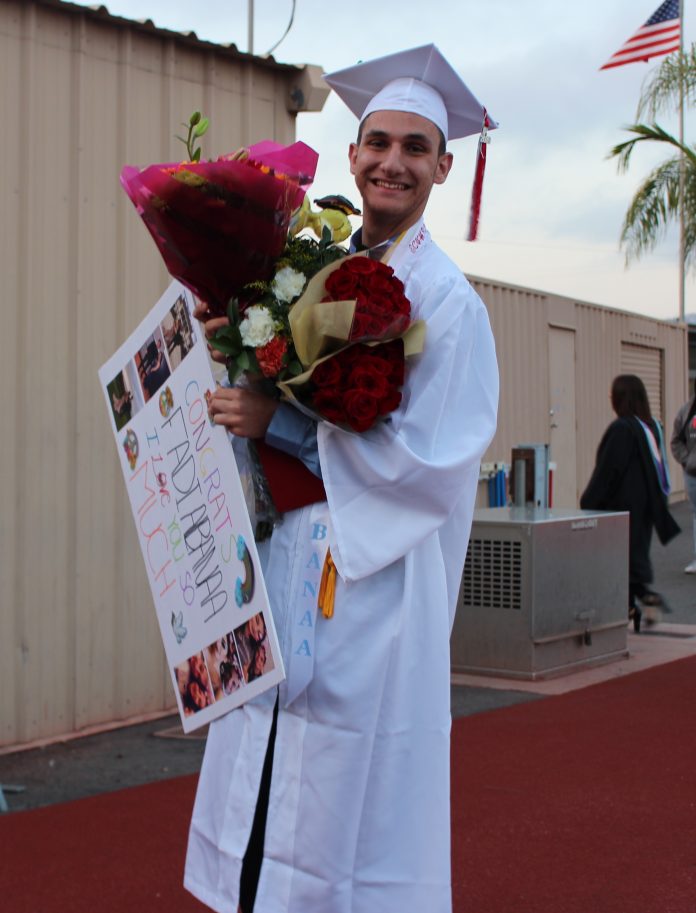 It seems one generation is always looking for promise in the next – El Cajon Valley High School graduate Fadi Albanaa may just be that hope. He is indeed a young man outside of time.
Graduating with multiple scholarships to University of California, Los Angeles, including the USS Midway Scholarship, a Boys and Girls Club scholarship and a Grossmont High School District scholarship, Albanaa is not an average student. He is an AP student, a student athlete and an AVID (Advancement Via Individual Determination) student.
"He joined AVID his 10th grade year," said his AVID teacher Elizabeth Wright. "It's that kind of class that students have to prove every year that they deserve to stay in the class. They have to maintain a high GPA, attendance and behavior and generally demonstrate their desire to pursue higher education."
Albanaa definitely proved that he deserved to stay in class, Wright said. On top of being a varsity athlete for both cross country and tennis, he put in roughly 600 volunteer hours at Grossmont Hospital and took four AP classes, all while working a part time job at Jack in the Box.
"That was really difficult junior and senior year because I also did cross country, so it was both quarters, I had a lot of school work, four AP classes and sports," Albanaa said. "In tennis my junior year, I was the co-captain of the varsity team. It taught me to be a role model to other players and it taught me better communication skills."
Learning from his circumstances seems to be a common practice for Albanaa. His time as a volunteer was also an education, Albanaa said.
"I've been volunteering at Sharp and it taught me so much about community service and involvement in the community because I got to interact with the patients and it crystalized for me that I want a career in the medical field."
Albanaa also received the Founders Scholarship, put on by AVID, which Wright said she nominated him for.
"I chose Fadi because he really embodies what the AVID program is all about," she said. "He definitely has that individual determination. His junior year, I also had selected him for the Lamp of Learning scholarship. They have to have the academic achievement, obviously, but it's mostly for students who show community service beyond the typical service. So it was kind of natural his senior year for me to choose him."
Wright, who has been a teacher for 19 years, during 16 of which she has been involved in AVID, said that she knows how to spot a special student.
"It's really easy for me to identify students who are a standout," she said. "If you were to look at him on paper without talking to him, he's going to stand out on paper. But to me he's also a student who stands out beyond the paper, especially from the background he comes from. But what I really admire most about him – I met him in tenth grade when he was 15 or 16 years old – and most boys his age were caught up in the here and now, what's going on in high school – but Fadi showed a focus that I hadn't really seen in my 19 years teaching high school."
Wright said his work ethic and determination are rare in a boy his age.
"I would always ask him, 'why do you work so hard?' and he would always talk about his future," she said. "Everything he is doing now is to help him with his goals and what he wants to accomplish, and that's not a mindset you see in a lot of high schoolers, especially nowadays."
Albanaa said his focus is driven by his motivation to redeem the efforts of his parents, refugees from Iraq.
"What really motivates me is that my parents came all this way and sacrificed so much for me and my sister to achieve the American Dream and get the quality of life in the U.S. and to become successful in the future," he said. "All this hard work is hard but living up to my parents' expectations to live up to this opportunity to be someone successful in the future. I'm not going to waste that opportunity."
The Albanaas left Iraq when Fadi was seven years old after his father was kidnapped (he was returned when they paid a ransom).
"We moved to Jordan because my aunt moved there, we applied for immigration, but we didn't hear for anything so we moved back to Iraq again," Albanaa said. "The first year of Jordan I didn't go to school because I couldn't afford it."
By the time Albanaa and his family arrived in El Cajon, he was middle-school age, but he said he struggled to make it in a new school with a new language.
"Middle school was super difficult to assimilate into the new culture because people are immature and it was hard to make friends and I got bullied a lot," he said.
High school was different, he said.
"El Cajon Valley is such a diverse high school that in the first few weeks after getting into the school I felt like I belonged there," he said. "I thought this is where I wanted to be."
Inspired by his time volunteering at Sharp Hospital, Albanaa said he wants to become a cardiologist.
His rather traumatic childhood also had an impact on his decision to go into medicine – witnessing so much violence in Iraq had a significant effect on him, he said.
"I hope that i can build my own hospital in the Middle East for people who are disadvantaged," he said.
Albanaa will be beginning the fall semester at university, and he is leaning towards accepting UCLA's offer.
He said that seeing the fruits of his labors finally fall into place feels good.
"It feels really great because that's what I've been working toward," he said. "Since we've come to the U.S., my parents have worked so hard to give me a good life, me and my sister. I'm proud that I'm making them proud."