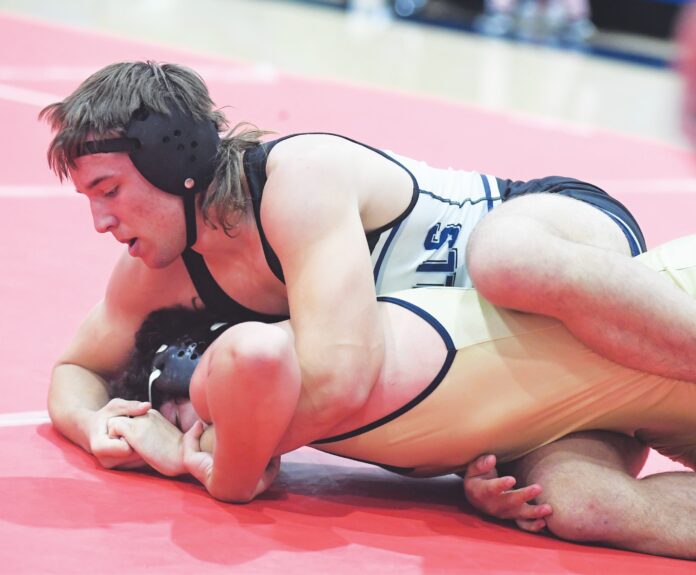 The venerable El Cajon Invitational celebrated its 50th anniversary season this year. Renowned as one of the top regional tournaments in the state and an early season preview for top local mat men, the tournament took place Dec. 16-17 at Montgomery High School.
East County wrestlers represented themselves well among the 31 scoring teams in the county's longest-running regular season tournament.
West Hills placed fifth in the team standings with 131 points while Steele Canyon (89 points) and Helix Charter (83 points) finished 11th and 13th, respectively.
Santana (62 points), El Capitan (61.5 points) and Valhalla (58 points) followed in order in 16th, 17th and 18th places.
Mountain Empire (45 points) finished 22nd while Christian (22 points) finished 28th among the region's smaller mat programs.
The tournament overall was a showcase for the San Diego Section with the top eight scoring teams all representing the section.
Rancho Bernardo captured the team title with 322 points followed by runner-up Brawley with 230 points. Eastlake finished third with 166 points, followed by Mt. Carmel in fourth place with 161 points, Imperial in sixth place with 115 points, Central Union in seventh place with 106 points and St. Augustine in eighth place with 105.5 points.
West Hills finished the two-day tournament with four place-finishers and three finalists, including weight class champions Ryder Dearborn (5-0) at 182 pounds and Lance Briseno (4-0) at 285 pounds. Tyler Davis (4-1) finished runner-up at 152 pounds while Cezar Aguilar (2-3) placed sixth at 170 pounds for the Wolf Pack.
Dearborn scored four pins — all in the first period — in his five trips to the mat. He opened the tournament with a 50 second pin against El Capitan's Charles Welsh and followed with a 1:26 fall against Olympian's Jakob Frijas. Dearborn pinned Canyon Hills' Samuel Lam in 53 seconds before recording a 7-1 decision against Brawley's Philip Castro in the semifinals.
Dearborn reached the championship match undefeated and remained so after scoring a quick 16-second pin against Southwest's Jorge Soto in the gold medal round. The West Hills grappler spent a total of 9:25 on the mat in his five matches.
Briseno recorded three pins in his four matches. After receiving a bye in the first round, Briseno pinned Valhalla's Alberto Perez in 3:37 and Southwest's Anthony Molina in .1:56 to reach the semifinals. Briseno scored this third consecutive pin in 5:57 in a buzzer beater against Brawley's Julian Diaz to advance to the championship round.
Briseno out-pointed San Ysidro's Angel Daniel Martinez by a score of 8-2 to crown himself tournament champion.
Davis won his first four matches by pins to reach the championship match — 1:35 against Vista's Issac Callejas, 2:28 against Christian's Jordan Moreno, 1:20 against El Capitan's Nicholas Patterson in the quarterfinals and 5:03 against Rancho Bernardo's Dyllan Irmen in the semifinals.
Davis' mat odyssey came to an end, however, after being pinned in 55 seconds by Rancho Bernardo's Marcus Caro in the finals.
Aguilar wrestled five matches. He won his opening two matches but lost to Eastlake's David Mitrovich in the semifinals to drop to the consolation semifinals. Aguilar lost by a 2:24 fall against Steele Canyon's Javier Sanchez to place sixth in his weight class.
Eastern exposure
Steele Canyon recorded five place-finishers: Johnathan Kaiser (fourth at 145 pounds), Sanchez (fifth at 170 pounds), Jacob Jimenez-Santillan (sixth at 160 pounds), Sergio Romero (sixth at 285 pounds) and Jadan Fugate (eighth at 132 pounds).
Kaiser (10-5) won four matches by pin, including his opening three matches, to advance to the championship semifinals. He lost to Rancho Bernardo's Brandon Eusebio in the semi to drop to the consolation wrestle-backs. Kaiser pinned RB's Jase Gillespie in 4:04 in that round to advance to the third-place match. Kaiser finished fourth following a 9-7 loss in sudden victory to Shadow Hills' Felecito Nunez (9-2). Sanchez (13-6) wrestled six times in the tournament, winning his opening three matches by pins.
Rancho Bernardo's Suni Motas halted Sanchez's advance by a 13-6 major decision in the semifinals. Sanchez lost his next match by a 7-6 score to Valhalla's Victor Gosswiller in the consolation semifinals to drop to the fifth place match.
Sanchez rebounded with a 2:24 pin against West Hills' Aguilar to place fifth.
Jimenez-Santillan (9-6) also wrestled six times. He won his opening three matches before San Ysidro's Rahman Ferguson, the eventual runner-up in the division, defeated him in the semifinals. The Steele Canyon grappler then lost this next two matches to place fifth.
Romero (10-6) made seven trips to the mat over the two days, finishing with four wins (three pins). He opened with a 22-second fall against Cienega's Marco Baradllardos, then pinned Del Norte's Matthew Kallas in 53 seconds in the second round before coming up short on the scoreboard with a 5-2 loss to San Ysidro's Angel Daniel Martinez in the quarterfinals.
Fugate (6-5) also wrestled seven times, winning four times. He won his opening-round match by a 9-2 decision over Mt. Carmel's Tyler Chan but lost his second-round match by a 5:00 fall to St. Augustine's Gabriel Estrada. Fugate won his next three matches in the single-elimination wrestle-backs to remain in medal contention.
Helix finished the tournament with four place-winners: Ames Hoevker (fifth at 138 pounds), Fa'atui Schwalger (sixth at 182 pounds), Alijah Davis (sixth at 195 pounds) and Ryuto Peery (eighth at 160 pounds).
Hoevker (7-4) made his trek to the awards stand with four wins (two by pin and two by technical fall). He recorded tech falls against Cienega's Jared Rogness (20-4) and Central Union's Jesus Bracamonte (18-1) and pins against Canyon Hills' Dylan Krugh (4:42) and Victor Valenzuela (3:39).
The Helix wrestler defeated Imperial's Izak Barragan (10-8 in sudden victory) in the fifth-place match.
Davis (8-8) wrestled eight times and had to buck the odds after losing his first match by a 3:05 pin to Shadow Hills Juan Limon (19-5). Forced to the single elimination wrestle-backs, Davis won five consecutive high-stakes matches (two by pin and three by minor decision) to make it to the consolation semifinals.
Davis lost a 10-6 decision to Montgomery's Esteban Gonzalez to place sixth.
Schwalger (5-5) lost in the quarterfinals and had to battle back in the consolation rounds, winning twice by fall to advance to the consolation semifinals.
Peery (11-8) logged six matches. He won his opening two bouts by pins but could not get past Steele Canyon's Jimenez-Santillan in the quarterfinals. Peery remained in contention for a medal with an injury default win over Mountain Empire's David Lothspeich.
Santana left the event with three place-finishers: Gavin Clark (fifth at 182 pounds), Michael Gans (fifth at 113 pounds) and Gage Malott (seventh at 170 pounds).
Clark (8-3) had six matches, winning four (three pins). He pinned Cienega's Blake Lofthus in 1:16 in his opening match, then came back to pin Rancho Bernardo's Isiah Kim in 1:03 in the second round. Clark continued his winning streak with a 12-8 decision over St. Augustine's Santiago Holland in the quarterfinals.
Southwest's Jorge Soto (10-4) pinned Clark in 2:34 in the semifinals. The Santana wrestler won by a 1:58 pin against Helix's Schwalger to place fifth. Gans (6-5) finished 2-3 in five trips to the mat, winning both times by fall — 1:39 against Mountain Empire's Corbin Wilkins and 1:45 against Cienegas's Ethan Anderson.
Malott (12-4) finished 4-2 in six matches with an 18-8 major decision over Steele Canyon's Yuui Ortega, 51-second pin against Southwest's Justin Ayala, a 2:06 fall against Helix's Peery and a 7-4 decision against Central Union's Diego Gonzalez. Malott defeated Perry in the seventh-place match.
El Capitan had three place finishers: Riley Jones (second at 120 pounds), Lucas Maddalone (fifth at 132 pounds) and Nicholas Patterson (eighth at 152 pounds).
Jones (8-1) received a bye in the first round but promptly got to work with a pair of wins to land himself in the semifinals. Jones pinned Central Union's Hector Cabrera in 2:59 in the second round and followed with a 31-second pin against Imperial's Rooney Arreola. Jones defeated Rancho Bernardo's Elias Ramirez by a 9-5 count in the semis to advance to the championship round against Brawley's Evan Velez, who won by a 4-0 decision.
Maddalone (9-3) had seven matches over the two-day event, recording five wins (three pins, one technical fall). He won his opening two matches — a 1:14 fall against Del Norte's Hunter Stainbrook and a 19-1 tech fall against Christian's Colton Evernham. The El Cap wrestler lost his quarterfinal match against Central Union's Santiago Pacheco but rebounded with pins against Mt. Carmel's Chan (2:28 fall) and St. Augustine's Byron Cunningham (3:24 fall). Maddalone lost his consolation semifinal match against Eastlake's Alexander King by a 1:34 pin but rebounded to win his fifth-place match against Brawley's Noah Calderon by a 3-2 decision.
Patterson (4-7) wrestled six times, winning three times. He won his opening two matches — 3-1 over Del Norte's Matthew Salas and 9-3 over Southwest's Issack Cordero — before dropping his quarterfinal match against West Hills' Davis by a first-period fall.
Valhalla finished the tournament with three place-winners.
Arseel Eliya (4-1) finished second in his 113-pound weight class with three pins and a sudden victory (overtime) win. Eliya pinned Del Norte's Felipe Martinez (1:31), West Hills' Bryan Minsky (1:44) and Shadow Hills' Fabio Spoonemore (1:47) in succession to reach the semifinals where the Norseman managed to navigate past Olympian's Alex Sarabia in overtime by capturing a tight 11-9 decision.
Rancho Bernardo's Lex Ladao won the weight class title by pinning Eliya in 3:57.
Gosswiller (10-2) and Nathaniel Anderson (4-2) both placed at 170 pounds — Gosswiller in third and Anderson in seventh.
Gosswiller had a marathon tournament by wrestling seven times over two days while posting a 6-1 mark with one pin and three major decisions. Gosswiller won his opening two bouts — a 3:02 pin against Canyon Hills' Conrad Russell and a 12-2 major decision against Brawley's Nathan Torres. However, Eastlake's Mitrovich sidetracked the Valhalla wrestler by a 10-5 decision in the quarterfinals.
Gosswiller dropped to the consolation wrestler-backs at this point. He responded with three elimination victories to medal, defeating Helix's Troy Nguyen by a 8-0 major decision, Coastal Academy's Giancarlo Tolentino by a 10-2 major decision and Steele Canyon's Sanchez by a 7-6 decision in the consolation semifinals. Gosswiller then topped Mt. Carmel's Samuel Gledhill by a 5-3 decision to earn his third-place trophy.
Anderson wrestled five times with four wins and two setbacks. He defeated his first two opponents — 5:33 against Christian's Nathan Cena and 7-0 against St. Augustine's Yvan Sevilla.
Dropping to the consolation wrestle-backs, Anderson won his first elimination match by a 10-6 decision over Santana's Isaiah Lloyd but was pinned in 3:32 in his next match by Mt. Carmel's Samuel Gledhill to drop to the seventh-place match. The Valhalla mat man won by an 8-5 decision over Coastal's Tolentino to secure his award.
Mountain Empire brought 13 wrestlers to the tournament. Several Red Hawks advanced deep into the brackets but only 106-pounder Jason Brennan managed to place (sixth).
Brennan (3-3) lost his first match by a 5-4 decision to Cienega's Jaden Javier and bounced back with three pins to gain a rematch with Javier in the consolation semifinals that Javier won by a 6-3 decision.
Brennan lost by a 10-2 major decision to Rancho Bernardo's Joe Jeon in the fifth-place match to finish sixth.
Rancho Bernardo finished the tournament with seven weight class champions while Brawley and West Hills both had two division champions. Imperial, Eastlake and Canyon Hills each had one champion.