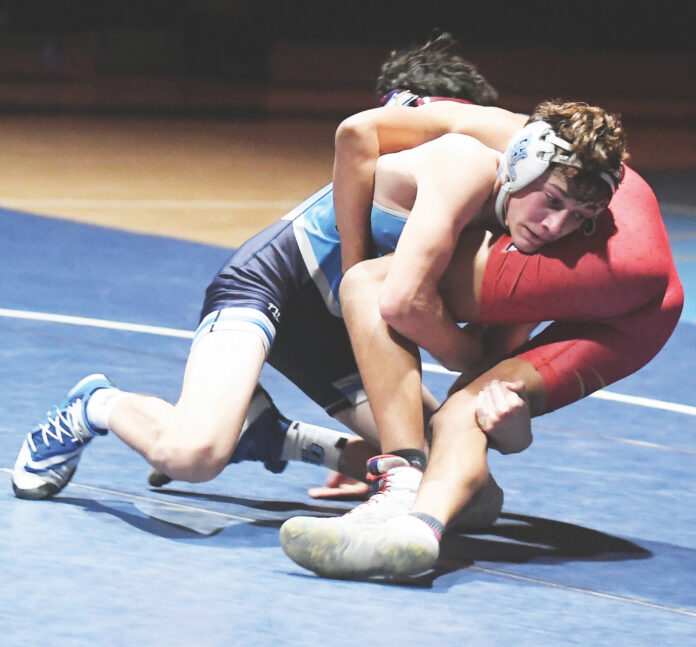 Current Granite Hills High School sophomore wrestling standout Collin Guffey is the son of former Valhalla High School standout Shawn Guffey, a 1994 alumnus, who made a name for himself during his own mat career with a trip to the state championship meet.
While the father-son connection to the sport may seem a natural fit, the younger Guffey said his involvement in wrestling started at the youth level through friends.
He's gotten used to winning.
As a freshman at Granite Hills last spring, he won the 122-pound championship at the Division II section finals. Between his freshman and sophomore years, he captured a national championship at 120 pounds at last April's USA folkstyle nationals, the first leg in the Triple Crown series, and also took first place at last October's World Challenge at Clovis West High School in the 133-pound Elite High School Division.
"Winning CIF as a freshman was cool but I would have liked to wrestle at state," the younger Guffey said.
He may get his chance this year if the ongoing pandemic doesn't cancel the high school state championship tournament again.
He's ranked fifth in the state this year in his weight class.
The Granite Hills mat man opened the 2021-22 season by winning the 139-pound weight class at the second annual Granite Hills Invitational on Nov. 20, then followed that with another first-place performance at the 41-team Jimmy Hamada Classic at La Costa Canyon High School Dec. 3-4.
The Eagles competed at the national showcase Reno Tournament of Champions Dec. 17-19. Guffey led Granite Hills on the mat with a fourth-place individual showing in his 138-pound weight class.
Talented and focused, he remains extremely competitive by nature.
When informed he had just extended his record to 17-2 with an 18-3 technical fall against his opponent from Steele Canyon High School in a Grossmont Hills League dual meet Jan. 5 on campus, he promptly furrowed his brow. "19-0 would be better," he said.
A three-sport student athlete (cross country, wrestling, track and field), Guffey has understandably developed a particular affinity for wrestling. He's also become a standout cross country runner, though he said he uses that sport as cross-fit training for wrestling.
Positive thinking is his mantra.
"My teammates really motivate me a lot when I'm down," Guffey said. "My coaches and my family also motivate me."
Tall at 5-11 for his 132-pound weight class, the Eagle sophomore standout has set his goals in order for the rest of this season.
"Win CIF, win Masters, win state," he said. "I don't care who my opponent is. I just want to wrestle my best every match.
"I think I have a lot of determination. I can think outside the box in some situations. I have endurance and I'm fairly flexible."
So far, it's added up to a winning combination.
"I would say he has very good technique and body positioning," his coach, Jesse Sheard, said. "He works very hard and hates to lose."
Guffey dropped an 8-4 decision to Poway's Johnny Lopez in the bronze medal match in Reno, and obviously will be looking to avenge that at the section's Masters state-qualifying tournament in February at Christian High School.
Hungry like the wolf
West Hills junior Ryder Dearborn is currently ranked 21st among the top 160-pounders in the state. At 16-2, he opened the season by winning his weight class at the Granite Hills and Hamada events. His only losses came in the Reno tournament; he has not lost to anyone in California this season.
"He has put a lot of work in during the off season with the intent on punching his card to state this season," said Dearborn's coach, Mike Proctor of West Hills. "Ryder is a captain for our team and truly leads by example on and off the mat. That says a lot about a kid who wasn't sure if he was going to join the wrestling team as a freshman. I am very proud of not just his wrestling ability but of the young man he has become. I am excited for the opportunities he is creating for himself."
Dearborn pinned Poway's Cullen O'Mahony in 4:34 to cap his championship performance at last weekend's 25-team Mission Hills Invitational.
Best of show
East County weight champions at the Nov. 20 Granite Hills Invitational also included Grossmont's Jacob Barnes (114), Granite Hills' Camren Carmickle (121), Devon Wells (133), Carson Boehm (183) and Joey Smith (221) and West Hills' Tyler Davis (153).
Granite Hills senior Logan Ransdell finished runner-up in his heavyweight division at the Hamada Classic.
Santana, Grossmont, El Cajon Valley, El Capitan and Mount Miguel participated at Battle by the Beach tournament at Mar Vista High School on Dec. 4. Santana led the East County contingent with an eighth-place finish in the 23-team field.
Grossmont's Barnes won the 113-pound title while Grossmont's Christian Kidder finished second in the heavyweight division. Santana's Jessie Hernandez placed runner-up at 126 pounds while third-place finishers included El Capitan's Riley Jones (113) and Santana's Patrick Sommer (132) and Gavin Clark (195).
The Mira Mesa Marauder and Carlsbad tournaments both took place on Dec. 11. Santana placed ninth in the 27-team field, followed by Grossmont (14th), Valhalla (15th), El Capitan (16th) and Mount Miguel (20th).
Grossmont's Barnes earned a runner-up place-finish in his 113-pound weight class at the Mira Mesa tournament while Santana's Hernandez posted a runner-up finish at 120 pounds. Valhalla's Ezra Moore finished second at 170 pounds while Mount Miguel's Martin Moya was second at 195 pounds.
Helix (14th) and Steele Canyon (18th) participated in the 20-team Carlsbad tournament.
Mountain Empire's Larry Clark finished second in his 195-pound weight class as the Red Hawks finished 14th in the team standings at the 21-team Christmas Showdown event held Dec. 17 at Edenpark in San Marcos. Valhalla (18th) and Steele Canyon (19th) fielded teams at the holiday event. Steele Canyon had one Individual place-winner: Liam Johnson (fourth at 126 pounds).
Mountain Empire's Chaz Ennis captured his 222-pound weight division at last Saturday's Mission Hills Invitational while Clark took second place at 197 pounds.
Ennis pinned San Pasqual's Kevin Velasquez in 4:30 in the finals while Clark dropped a narrow 4-3 decision to St. Augustine's Kyle Clements.
The Red Hawks finished 12th in the team standings.
Mission statement
Santana topped East County teams at the Mission Hills Invitational in sixth place with 89 points, followed by West Hills (13th, 67 points), El Capitan (16th, 58.5 points), Christian (17th tie, 46 points), Valhalla (17th tie, 46 points) and Helix (19th, 40 points).
Valhalla's Moore finished in second place at 172 pounds.
Santana's place-winners included Hernandez (fifth, 122), Sommer (fourth, 128), Damien De La Vega (sixth, 140), Gage Malott (fifth, 154), Adler Osborn (fourth, 184) and Clark (sixth, 197).
El Capitan had three place-winners: Jones (third, 108), George Spears (third, 115) and Josh Rosson (fifth, 134),
On the awards stand for Helix were Jaylen Bey (sixth, 115) and Timmy Nguyen (fifth, 140).
Christian High School had two placers: Jacob Morones (sixth, 147) and Daniel Marquez (sixth, 222).
Poway won the team title with 230 points ahead of runner-up Rancho Bernardo (134.5 points), third place San Pasqual (132 points) and fourth place Vista (129.5 points).
Add Wolf Pack
Junior heavyweight Lance Briseno placed fourth at the Granite Hills Invitational and third at La Costa Canyon.
Davis, a junior, took fourth place at 145 pounds with a record of 4-1 at the Mission Hills Invitational.  He was unable to compete in the third-place match because of the CIF five-match rule.
West Hills also competed in last Saturday's Queen at the Lake girls wrestling tournament at Eastlake High School. Junior Marina Morales claimed first place at 160 pounds while sophomore Kayla Lim took home a third-place medal.