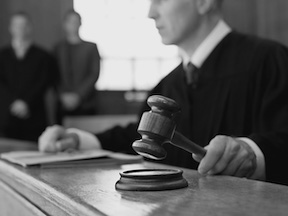 Robert "Trey" Whitaker, 57, appeared on a video screen from a room in jail before San Diego Superior Court Judge Jeff Fraser and pleaded not guilty.
Whitaker is accused of torture, kidnapping, assault, burglary, and attempt to dissuade a witness.
There are no jury trials until June under orders from the California Chief Justice and declarations of a state of emergency.
Deputy District Attorney Kristie Nikoletich and Whitaker's lawyer appeared on video before Fraser.
Whitaker had been set for trial on April 13, but the courts were closed. The time period from March 17 to April 30 is considered a legal court holiday.
Kafri testified over two hours in the preliminary hearing on Aug. 23, 2019, about the bizarre incident that left Kafri hospitalized for 3 1/2 days. He needed 18 stitches to his head and face to close wounds.