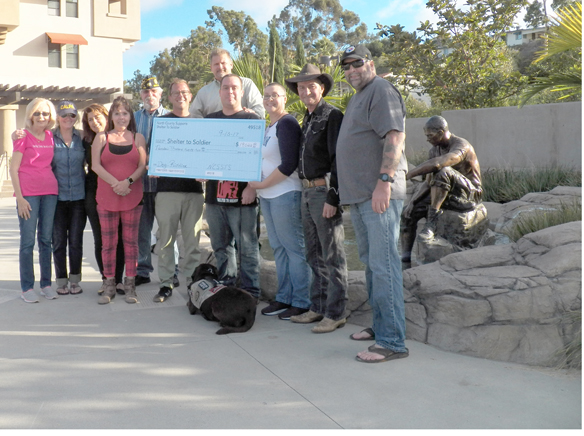 North County Supports Shelter To Soldier (NCSSTS) is a group of friends and associates united by a shared dedication to animals and veterans.

North County Supports Shelter To Soldier (NCSSTS) is a group of friends and associates united by a shared dedication to animals and veterans. NCSSTS was formed in 2016 as a support group to raise both money and awareness of Shelter To Soldier, a charitable nonprofit describing its mission as "saving lives two at a time," first by rescuing dogs at risk of being euthanized for lack of shelter space, and second by training and partnering those dogs as psychiatric service companions for recently separated veterans of military service, especially those diagnosed as experiencing post-traumatic stress, traumatic brain injury and depression.
The Executive Committee of NCSSTS assembled at the Veterans Memorial Park in Vista to deliver a check from this year's fundraising efforts to one East County representative of Shelter To Soldier. Accepting the money on behalf of STS were Vic Martin of La Mesa and Jonathon Marroquin of San Carlos, both military veterans who have received STS service dogs. His canine companion, Berkley, accompanied Marroquin.
Martin spoke with gratitude on receiving the check. "It's one thing to donate. It's another thing to see and make positive changes in lives," he said. "You are amazing sponsors, and you are saving lives with this money. You have found a purpose in your lives. You are helping veterans."
Spearheading initiation of NCSSTS in 2016 were Colleen Collazo, President of American Legion Auxiliary Unit 365, and Post 365 Legionnaire Tim Herington. They were joined by others affiliated with Post 365, who agreed to serve on the NCSSTS Executive Committee, organizing a series of fundraising and public outreach events throughout 2017.
On average, the care, boarding and training costs for each STS dog total $12,000. For this current fundraising year, NCSSTS set as the group's goal to pay for one service dog for a veteran in need. The group shattered that figure, delivering a check totaling more than $19,000 to the STS recipients.
Also present for the formal check handover were three volunteers from the most recent NCSSTS fundraising event, which was staged on Sept. 2, at Vista's Alvin Myo Dunn American Legion Post 365. Chances to shave these formerly longhaired and bearded volunteers, Joe Kuntz, Alina Diaz, and Daniel Humann, had been raffled off during the afternoon gathering. Joe Kuntz, American Legion Riders Chapter 365 President, had hair to the middle of his back and a fine beard until Sept. 2. Kuntz had challenged NCSSTS, that if the group could collect at least $10,000, he would agree to put his hair on the line to bring in more donations.
The post-service casualty rate, according to the Veterans Administration, is loss of 22 to 23 U.S. military veterans committing suicide daily. Among homeless dogs, about 2.7 million are put to death annually, for scarcity of adoptive homes and shelter space. Those startling numbers inspired longtime dog trainer Graham Bloem and his wife, Kyrié, to found Shelter To Soldier in 2012.
Information about NCSSTS can be acquired by email at NorthCountySSTS@gmail.com.