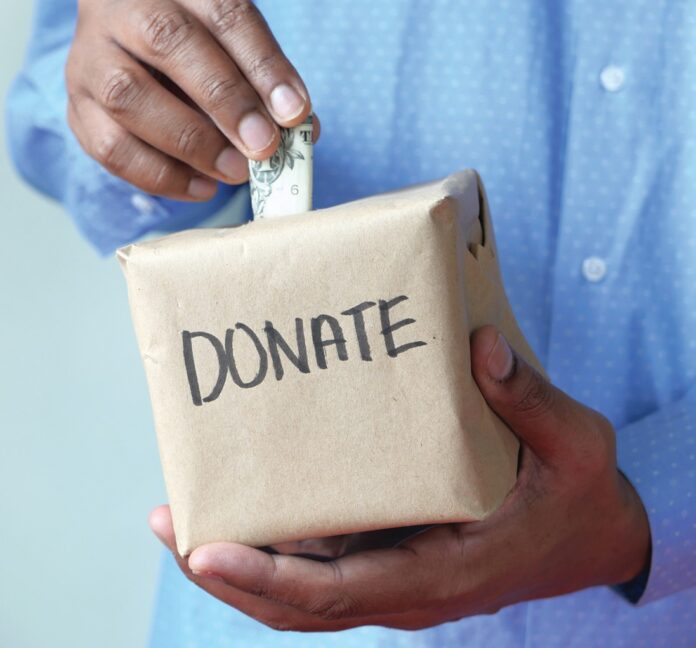 San Diego Gives, a non-profit Lauren Welch founded specifically to help local organizations leverage individual fundraising into a wider reach with more donations, is hosting a campaign that kicks off July 16 and runs through Sept. 8 with over 300 participating organizations.
Welch, who works in development at Urban Corps of San Diego County said GivingTuesday piqued her interest back in 2020, and prompted her to ask "can we do something like this but focus on San Diego?" before launching the campaign.
GivingTuesday was created in New York 2012 as a day to "do good" and has developed into a movement to support nonprofits across 70 countries. Welch has lofty plans for San Diego Gives but requires participating organizations to have a county office and funds must remain local.
"Besides that, we have a nonprofit sub-committee of San Diego Gives that reviews the nonprofits applying to make sure they are sound," Welch said.
The goal this year is to raise at least $2 million for participating nonprofits from a minimum of 4,000 donors to benefit at least 250 organizations with different causes but the same underlying need: funding.
Lakeside's River Park Conservancy Assistant Executive Director Julie Turko said the environmental organization plans to direct whatever funding they end up receiving toward rejuvenating the High Trail which runs from Channel Road in Lakeside to the eastern edge of Santee.
"This trail is one segment of a larger San Diego River trail network that is free and open to the public, and is the primary way that people can enjoy two miles of wetland habitat restored and maintained by LRPC— it's wonderful for families, botanists, bird watchers, and nature lovers in general. We intend to improve our signage, give the pond overlook a new coat of paint, and make the trail more inviting and accessible to those who might be discovering it for the very first time," Turko said.
Although the COVID-19 pandemic "necessarily concentrated community resources into public health, direct assistance, and other vital services to help keep families afloat," Turko said, nonprofits are feeling an acute need to raise funds.
"Non-profit agencies provide public service, and costs have been rising in rapid and unpredictable ways. Since families and individuals are feeling these same pressures, we are reaching out more to companies, organizations and institutions for support," Turko said, although individual donors "continue to inspire" with their capacity to give.
Across town, El Cajon-based Youth Empowerment Development Consultant Trisha Gooch said the grassroots nonprofit, which provides mentorship and gang prevention programs for at-risk youth and their families, plans to use funding toward their Transforming Trauma initiative among other programs.
"We are working to make a real impact on young people from low-income neighborhoods, helping them leave gang life behind and learn to contribute to their communities as leaders. Our founder Arthur Soriano, most of the staff and all of our mentors have lived experience and address issues involving trauma, addiction, criminal activities and violence through a justice-involved lens," Gooch said, and funding from San Diego Gives will help support their work.
The pandemic changed everything, Children's Nature Retreat Foundation Founder and Executive Director Agnès Barrelet said. With schools limited to distance learning for so long, the retreat, which aims to connect children with nature in what Barrelet calls "our increasingly digital-dependent and urbanized world" lost all their field trip revenue for an entire year.
"The schools are slowly starting to come back, but in the meantime we have to survive. The pandemic affected a lot of people's revenues and therefore their ability to donate has been greatly affected. And now with inflation and gas prices in California, it makes our ability to fundraise even more difficult," Barrelet said.
Before the pandemic and the inflation, she said, they could reach out to 10 donors donating $100.
"Now, we have to reach out to 100 donors donating $10, and that takes much more time and investment to achieve," Barrelet said.
On the other hand, Gooch said the pandemic had an impact on Youth Empowerment's in-person events but "because we are a young nonprofit, it did not really affect our financial support" and most funding to date has come from contracts and Soriano's own pocket.
"All of our programs immediately pivoted online and continued uninterrupted. However, we need to be able to train and hire more mentors to reach more young people and their families," Gooch said and they plan to participate in future iterations of San Diego Gives.
With 327 organizations participating that run the gamut from social services to environmental advocacy, Welch said organizations have profiles which can be searched for geographically and by mission category.
"We want to make it easy for potential donors to find their favorite nonprofit. There is a 'find your cause' button on the website which will help people research and connect with what they care about," Welch said.
For Turko, the cause is the environment, "those who seek to protect biodiversity" and as a conservation organization, "our work includes fire and flood prevention, re-vegetation of native species, and the maintenance of over 100 acres of river habitat," Turko said but even a fresh coat of paint or new signage requires fundraising.
Next year, Welch said, San Diego Gives plans to broaden their volunteer support. Additional sponsorship and additional support and training are high on the priority list for next year.
Visit www.sandiegogives.org for a full list of participating non-profits and more information about the fundraiser.