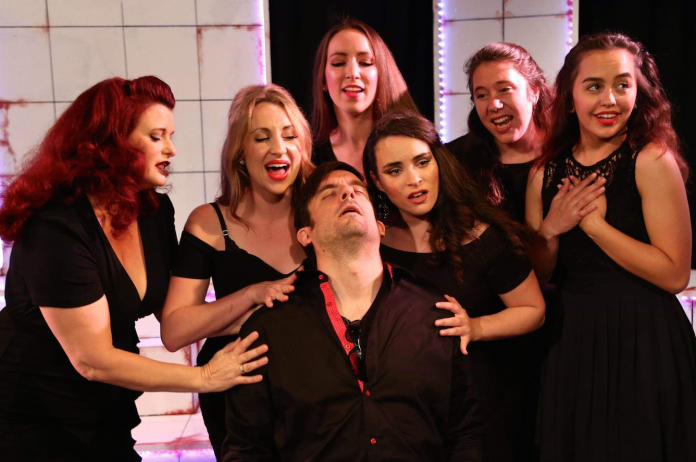 Guido Contini may be a lot of things, but he's certainly not nice.
It's not that he's particularly evil or anything; he just lives with more than he can handle, including a wife and about 93 women on the side. All that companionship fuels his creative spark, or so he thinks — he's a renowned filmmaker and performance artist, and why fool with the thing that's gotten you where you are, right?
Right?
The problem for the protagonist of "Nine – the Musical," currently staged by Lamplighters Community Theatre in La Mesa, is that all those distractions compound Guido's impending midlife crisis as he sets up a plot for his next movie, to be filmed in Venice.
His doubts have leaked into his subconscious, fueling his artistic decline and setting the stage for this musical, which is a winner of five 1982 Tony Awards. It's designed to ratchet up the legendary Federico Fellini's "8 1/2," the 1963 film whose Guido Anselmi sorts out his own set of entanglements and finds his latest movie has become more and more autobiographical.
Lamplighters has a fair amount here, with some excellent voices and a good bit of casting to type. You'll like this show if you take your theater with lots (and lots) of subtext — the 24 songs are the drivers for director George Bailey's story of love and loss, and some may feel they're a tad too influential on the outcome.
The music's persistence does drive the piece toward the operatic, but the lack of opulence in the costumes and lights doesn't match the art form's signature treatments.
Moreover, we're nearly a generation removed from the unchivalrous behavior that marks Guido. While that's not the end of the world, neither does it reflect Guido's duality of character — he's a cad, but he is also one of history's truly great filmmakers, and his female charges ideally respect him for what he's become.
Arthur Kopit's libretto falls short of this approach as Maury Yeston's music and lyrics hammer at Guido's roguishness — but the showcase yields several impressive turns, chiefly from Keri Miller as Luisa, Guido's long-suffering wife. The tune "Be On Your Own" is gold in Miller's hands as her Luisa has finally reached her limit, and her speeches echo the same level of confidence. Music director Christopher T. Miller's good Guido has a quiet and controlled swagger about him, a trait that surely enhances his allure ("Guido's Song").
Everybody else is in decent voice, including Linda Snyder as the tough-talking Liliane le Fleur and choreographer Alyssa Austin as Carla.
Also, kindly note that Vanessa Miller, Our Lady of the Spa, has a wildly animated vibrato she manages to contain — that's a skill in itself. Abraham German adds a nice touch as the Guido of 30 years ago; his face reflects the polar opposite of the man Guido will become. Meanwhile, Pam Stompoly-Ericson's costumes and Chad Oakley's lights are one-note affairs (in a good way) amid O. P. Hadlock's set.
We'd like to think Guido ends up the better for his errant escapades (witness the number "The Bells of St. Sebastian"). He probably does, but Kopit and Yeston take their sweet ol' time getting him there. Even so, this "Nine — the Musical" has its moments, and La Mesa's community performance enterprise is to be commended for tackling it.
This review is based on the matinee performance of April 28. "Nine — the Musical" runs through May 19 at Lamplighters Community Theatre, 5915 Severin Drive, La Mesa. lamplighterslamesa.com, (619) 303-5092.