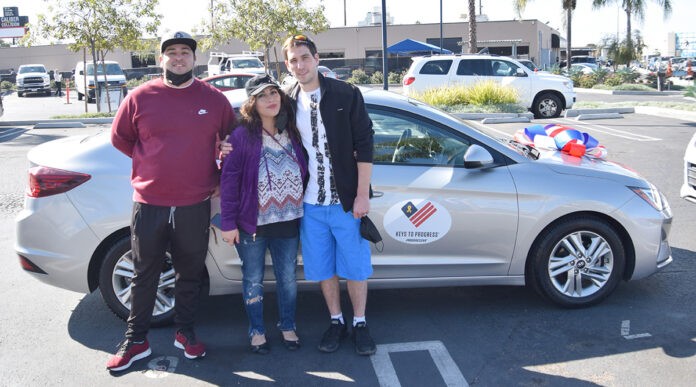 Ahead of Veterans Day, 45 veterans across the nation received keys to vehicles in Progressive Insurance's Keys to Progress program, giving these veterans reliable transportation and helping them "get back on the road and move forward in life." Progressive worked with Enterprise Rent-a-Car's fleet to obtain high-quality vehicles, and the Keys to Progress program has now donated more than 800 vehicles to veterans in need.
Ryan Ingersoll and his family received a 2020 Hyundai Elantra at Enterprise located in La Mesa. Ingersoll, from El Cajon is a U.S. Marine veteran who served for five and a half years with two deployments working as an aircraft avionics technician.
"This is coming for someone who needs it, and lucky enough, I was able to receive it," said Ingersoll. "Thank you to everyone who made this possible because it does help. It does."
In addition to the car, Ingersoll received the registration for the vehicle from 1-800 Charity Cars, a care maintenance kit, a $300 gift card for Pep Boys, a 12-month drive from Preferred Warranties Inc., a special sanitation package, a $300 gift card and thank you cards from Progressive employees, donated from all over the country, recognizing Ingersoll's service.
Progressive Insurance Claim Manager Frank O'Grady said he realized that Ingersoll had several challenges adjusting to civilian life, and that Ingersoll told him one of the first thing he and his family were going to do was to travel to see family on the east coast, and also take his wife Irene out on a date night.
"We all thank you for your service," said O'Grady. "Life was a challenge, and it was made even more difficult due to the COVID pandemic. But, you have a supportive family at home, and they have a family van, but it is always breaking down."
Ingersoll said he heard about the program from a friend who knew his situation, but he was hesitant because when you enter anything your chances are so low to win, but his wife Irene said that he should give it a try. He said transitioning has been tough on him, and his family.
"In transitioning, I did not have much luck getting jobs, even with my aviation training, and the work I did," he said. "I tried going to university for a bit, but it just did not work out. I just got a job at PetSmart now, and am working on getting back on my feet. It is not easy."
Enterprise Replacement Sales Manager San Diego Chase Rogers said it was honored to be part of this event for the ninth year in a row.
"And this moment possible for Ryan. Our business began in the neighborhood, and we owe our success to the people and the communities where we live in work, and so we're committed to supporting them and growing together," he said. Rogers added that Enterprise was founded by Jack Taylor and named it after the U.S.S. Enterprise where he served in World War II.
"He represents two of the values that are most important to Enterprise, supporting our community and giving back to our veterans and members of the military," he said. "Enterprise continues to honor its military in three key areas by providing employment opportunities to the men and women who have served our community through local operations and supporting community. Today, we are privileged to offer this token of our appreciation, to Ryan, and his family Progressive has been so kind to purchase and donate the vehicle from our fleet. And we're thrilled to provide six months' worth of insurance to help him get started on his way."