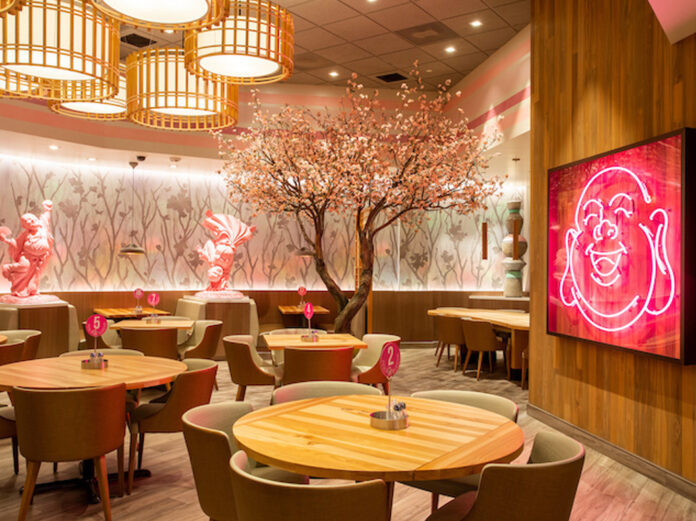 Sycuan Casino Resort unveiled its newest attraction with the grand opening of the Pan-Asian themed Pink Buddha restaurant and the Karma Lounge on March 3. Menu choices at the Pink Buddha captures the inspiration of Chinese, Thai, Japanese, Vietnamese, Pilipino, and Hawaiian cuisine, with the Karma Lounge dedicated as a comfortable cocktail retreat to pair cocktails and small bites.
Sycuan's Food and Beverage Vice President DeVere Jones said the new restaurant and lounge is as much about atmosphere as it is in its chef-crafted menu and signature cocktails, replacing its former Chinese restaurant House of Fortune.
"Upon entering the restaurant, you will be greeted by our original eight foot pink Buddha statue," he said. "Inside there is a collection vibrant artwork, playful sculptures, a massive cherry blossom tree, along with pink accents that you will find throughout the inside of the restaurant. It truly creates a wonderful whimsical experience inside of the restaurant."
Jones said it got away from focusing on Chinese food, and now offers a broader take on Pan-Asian cuisine, which is indicative to many of the casino's guests. He said Pink Buddha's chef prepared a mix of cuisines that represent Pan-Asia with noodles, fried rice, pho, dim sum, Bahn Mi sandwiches, stir fry dishes, so that there is a little something for everyone.
"The character was created as a lighthearted happy Buddha that represents prosperity and good fortune, which most people strive for in the casino," he said. "The lively atmosphere and the cheerful Buddha design, accompanied with our Pan-Asian menu makes for a really fun and appealing dining experience."
Jones said Karma Lounge is a carryover from the Buddha theme of the restaurant as a "cozy cocktail hideaway" right off the casino floor for guests to enjoy specialty cocktails and small bites in a beautifully crafted atmosphere.
"The lounge is intimate," he said. "Featuring plush seating areas with ambient lighting, neon-pink signage, and another floor to ceiling cherry blossom tree in the center of the space, which is fun."
Jones said both are open from 11 a.m. to 2 a.m., and only due to the lack of employees, which Sycuan is desperately hiring, it is closed on Tuesdays and Wednesdays for now, but looks to be open seven days a week very soon. For more information, visit www.sycuan.com/restaurants/pink-buddha.