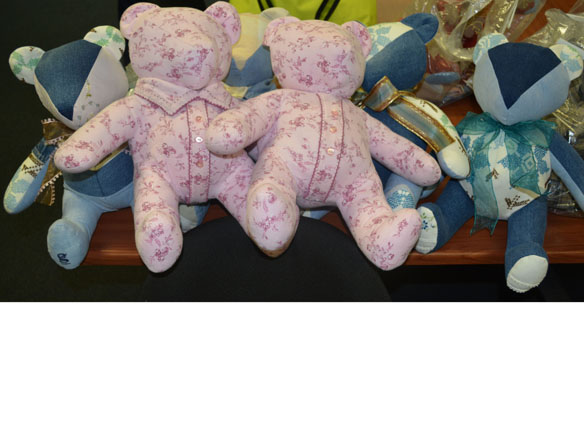 SPECIAL TO THE EAST COUNTY CALIFORNIAN
It has been proven by medical science that participating in arts and crafts cannot only be rewarding, but also has many self-health benefits. As we celebrate National Craft Month, the staff at Sharp Grossmont Hospital realizes the importance of utilizing arts and crafts that not only benefit the person creating the craft, but with its many opportunities to take that craft and turn it into a gift of love and healing benefits the patients that Sharp Grossmont serves on a daily basis..
SPECIAL TO THE EAST COUNTY CALIFORNIAN
It has been proven by medical science that participating in arts and crafts cannot only be rewarding, but also has many self-health benefits. As we celebrate National Craft Month, the staff at Sharp Grossmont Hospital realizes the importance of utilizing arts and crafts that not only benefit the person creating the craft, but with its many opportunities to take that craft and turn it into a gift of love and healing benefits the patients that Sharp Grossmont serves on a daily basis..
Crystal Beanies: crocheting for a cause
"I love sparkle," said Gloria Repik. "If you know who I am, you know I love sparkle."
Repik is known by her friends and family for her sparkle, but at Sharp Grossmont Hospital, she's known as the volunteer who handcrafts crocheted beanies for cancer patients. She gives every beanie a touch of sparkle and then donates them to women undergoing chemotherapy who lose their hair.
Colorful, warm and fuzzy, the beanies are adorned with sparkly glitter, ribbons, buttons, small jewels and lots of love. They're called Crystal Beanies, named after her daughter-in-law Crystal Ojeda, a non-smoker who passed away after a yearlong battle with lung cancer.
Diagnosed in August 2015, Crystal had PEH (pulmonary epithelioid hemangioendothelioma), a rare form of lung cancer. She was only 34 at the time.
"PEH is a cancer of the blood vessels of the lungs, often seen in young females," says Dr. David Bodkin, a board-certified oncologist affiliated with Sharp Grossmont.
Trini Perez-Ojeda, Repik's daughter, works at Sharp Grossmont as a compliance manager in the engineering department. She was married to Crystal.
"Crystal worked at San Diego County Juvenile Hall as a teacher's assistant. People would say 'Why don't you do something else?' but she loved helping teenagers get their diploma, regardless if it was at juvenile hall. She wanted to help these kids get off the street. She was an inspiration to everyone," says Perez-Ojeda.
Indeed, Crystal's illness inspired her mother-in-law to start making the beanies. "I know these women are in a bad place right now. A women's hair is her crown; if you lose it, I know it takes so much from you. If your head is covered, and you're 'blinged out,' you feel good again — if only just for a moment."
As she peruses the beanie options, cancer patient Patsy Drury says, "There are so many different colors it's hard to pick one," finally picking an elegant winter white cap. "This will keep my head warm," she says.
Repik's mother taught her to crochet when she was only 6 years old. "I think I was supposed to learn so that when this part of my life came, I would be able to do this," she says.
Each beanie is tagged with two small laminated cards. One is a photo of Crystal, the other says Crystal Beanies in her honor.
Repik has six children and four grandchildren, whom she has also taught to give back. And already there are plans to participate in the next American Lung Association walk.
Perez-Ojeda says, "I went to the recent lung cancer walk and it made me more motivated to prepare for next year. We already have more than 200 people that want to walk in honor of Crystal, and that's just family."
"Crystal's case was very rare and even though we couldn't help her, this is our way to give back and help others. It all starts with one person."
Love etched in stone
Joe's* mother had just passed away. Unsure of whether to leave or stay, he paced quietly back and forth between the front door and kitchen of LakeView, the Sharp HospiceCare residence where he spent her final days with her.
"While Joe's mother was in our care, he came to visit her daily," recalls Wendy Gray-Bois, a hospice nurse. "He formed strong relationships with the staff, with this house. So when his mother passed, it was difficult for him to make that transition, to walk out that door."
Gray-Bois encouraged Joe to take a seat and inscribe a "love stone" as an act of both closure and celebration of his mother. Love stones — smooth, sometimes speckled — adorn the gardens of Sharp HospiceCare's residences: LakeView, ParkView and BonitaView. Each stone is lovingly marked with personalized messages, memories, quotes, poetry and drawings for those who have passed while in hospice.
Comforting all
The love stone idea was born when Gray-Bois noticed the emotional toll on staff who cared for the dying. She also saw how the patients' family members — some never leaving their ailing loved one's bedside for weeks at a time, others sharing meals that they had brought from home with staff — had a hard time adjusting once their loved one had passed.
"The love stones came out of our own need to relieve the emotional stress of caring for our patients, while also serving as a non-abrupt transition and closure for family members," says Gray-Bois, who along with Solomon Hailu, Sharp HospiceCare spiritual chaplain, launched the love stone initiative in 2012.
"The nurses are very loving and careful. Even through the worst of times, they were very good about surrounding us with care," says Claudia Garcia, whose mother was a patient at Sharp HospiceCare. "They helped my mom and all of us."
Lasting elements, memories
When deciding on the creative medium for what would eventually become the love stones, Gray-Bois knew she wanted it to be something that would outlast time and the elements.
"It's always good if you can make something that is organic," she says. "So I thought, 'What about stones?' Paper will just go away."
To date, more than 2,600 love stones have been created. Family members can choose to leave the stones at the hospice residences or take them home.
Garcia and her family made nearly 30 love stones to remember their relative who passed away from cancer. Some of the stones are at LakeView, while the rest grace her mother's garden.
"The stones are a way for us to say the things to my mom that she could no longer hear," says Garcia. "It was a way of accepting what happened at that moment."
Making Memory Bears
She sits patiently in a white paper bag. Made from the fabric of a silky blouse, the stuffed bear, although inanimate, appears to be waiting in anticipation. Moments later, she's lifted from the bag by the gentle hands of Dr. Eva Leonard.
"Oh, this is so nice," exclaims Dr. Eva Leonard, an internal medicine specialist affiliated with Sharp Rees-Stealy Medical Group. A smile traces her face as her eyes beam with gratitude.
Having lost her mother last year, Leonard decided to keep the spirit of her mother alive with a memory bear. Volunteers sewed the bear as part of Sharp HospiceCare's memory bear program. The program is open to Sharp HospiceCare patients and their families, as well as the community.
Launched in 2002, the program was the brainchild of former Sharp HospiceCare volunteer coordinator Camelia Gower and Pam Kay. The two belonged to the same quilting guild. Approximately 35 volunteers and more than 13,000 memory bears later, the program is still going strong.
"Every bear we sew is unique," says Kay, who teaches the memory bear sewing class, a four-hour class for new memory bear volunteer sewers. "We're turning these garments into these cuddly little things that you can hold close to your heart. It's pretty great that we can give these to families who have lost someone."
A bear is born
The life of a memory bear begins when a family visits Sharp HospiceCare to drop off garments belonging to a loved one who has passed. Given the popularity of the program, coupled with the care and love that goes into sewing each bear, it can take nearly five months to create one bear. When a bear is ready to go home, the family is notified to pick up the bear.
"It's fun to be able to give your time, since people don't necessarily have time to do direct patient care. And this is just a bonus for the families who have received care," says Denise Kelly, Sharp HospiceCare volunteer coordinator.
Sweet reminder
Whether given as gifts to family and friends or finding a forever home with the requestor, the bears are sweet reminders of their loved one.
"The bears I requested will go to my two brothers, who live out-of-state, my mother's adult grandchildren and me," says Dr. Leonard. "My three children were very close to my mother — their grandmother — because she helped raise them while my husband and I worked full-time. I will apply her favorite perfume to the bears so that when we hug them, we are further reminded of her, not just by the blouses she wore, but also by her scent."
Dr. Leonard's eyes well up.
"My mother was a special lady, full of faith, grace and love," she says. "Even though she lives in our hearts and minds, the opportunity of giving her a hug is now gone. These bears allow us to pretend that we can still physically hug her in memory of a beautiful and precious mother and grandmother."
Hope and healing through crafts
Busy fingers braid brightly colored thread to create woven loops similar to friendship bracelets one may recall from childhood. Craft time is part of a typical day for patients and staff at Sharp Grossmont Hospital's Behavioral Health Services. During this time, they gather to make hope bracelets.
The creative activity is the brainchild of Sharp staff members Jacquelyn Blaha, Megan Conrad and Krista Dille. The three recreational specialists came up with the idea in order to better engage patients and create a more social and relaxing environment.
"The patients make the bracelets in our locked, high-security unit, which can often be chaotic and noisy," says Kelly Tapp, nurse manager for Behavioral Health Services. "This activity provides an enjoyable outlet to help patients focus. Plus, it is a time for staff to build rapport with patients and for everyone to learn a new leisure skill."
The patients have made approximately 6,000 bracelets over the past three years in groups facilitated by the recreational specialists.
"Recently, a patient in our locked unit was in a group making a hope bracelet and noticed another patient in the unit who was having a difficult time," recalls Tapp. "The other patient was agitated and distressed. After the patient in the group finished his bracelet, he gave it to the distressed patient. She was overwhelmed by the act of kindness and immediately calmed down."
When returning to work the next day, the specialists frequently notice that a different patient will be wearing the bracelet than the patient who originally made it.
"Often, patients will make bracelets in a group and then share the bracelets as an act of peer support. It creates a healing environment for both the giver and the receiver," says Tapp.
The daily group activity can accommodate up to 14 patients at a time. A bracelet-making session is typically 45 minutes or less, depending on how focused the patients are during the activity. It takes a couple of days to complete a bracelet.
"After the bracelet is made, the idea is to wear it, and when it falls off you make a wish or think of something you hope for or dream of, and maybe it may just come true," says Tapp.
For more information about the craft programs for patients visit www.sharp.com/health-news.