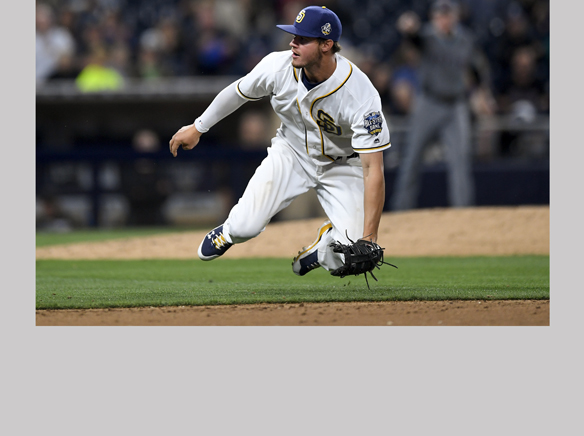 Got your tickets yet to this year's Major League Baseball All-Star Game at Petco Park?
The July 12 game is certainly commanding ticket prices worthy of baseball's proverbial "Midseason Classic." Tickets, as of Monday, started at $374 in the upper pavilion on StubHub.com and at $242 on Vividseats.com for standing room only in the outfield Park in the Park grass seating area.
If you're priced out of the event, you can watch the game at home on television (FOX network) or on other streaming media platforms, starting at 4:30 p.m. Pacific Time.
Got your tickets yet to this year's Major League Baseball All-Star Game at Petco Park?
The July 12 game is certainly commanding ticket prices worthy of baseball's proverbial "Midseason Classic." Tickets, as of Monday, started at $374 in the upper pavilion on StubHub.com and at $242 on Vividseats.com for standing room only in the outfield Park in the Park grass seating area.
If you're priced out of the event, you can watch the game at home on television (FOX network) or on other streaming media platforms, starting at 4:30 p.m. Pacific Time.
Actual online fan voting ends Thursday, June 30, at 8:59 p.m. Pacific Time. While fans will have their say in who makes the starting lineup, the game's managers and coaches will sit down to fill out the rest of the teams. Starters and reserves will be named on Tuesday, July 5, on EPSN television.
The format remains the same: National League versus American League. At least one player from each team is represented and there is one back-up for each position. The winner of the 87th edition of the game also gets to host the first game of the World Series at the end of this season.
Memory lane
The first MLB All-Star Game took place in Chicago as part of the 1933 World's Fair. This is the third time the event has been held in San Diego. The 1978 game took place at what was then known as San Diego Stadium. It featured pitcher Rollie Fingers and outfielder Dave Winfield as the Padres' two representative and a 7-3 victory for the National League.
Winfield scored a run in the game as the NL rallied from an early 3-0 deficit.
The Padres were making up ground in the late 1970s after owner Ray Kroc had opened his wallet and began signing big-name players (Fingers among them). The Pads finished 84-78 during the 1978 season when they hosted the MLB All-Star Game, though they still finished 11 games behind the Dodgers (95-67) in the NL West Division standings.
Winfield hit .308 with 24 home runs and 97 RBI while Fingers went 8-13 on the mound with a 2.52 ERA, 37 saves and 72 strikeouts in 67 game appearances.
A three-time World Series champion with the Oakland Athletics (1972-74) and 1974 World Series MVP, Fingers was a Padre from 1977-80. His best years in San Diego were in 1977 and 1978 when he posted back-to-back NL-leading seasons with 35 and 37 saves, respectively. He won three Rolaids' Relief Pitcher of the Year awards with the Padres in 1977, 1978 and 1980 (when he posted 23 saves).
He made an immediate impact in his first season by notching 35 saves for a team that won only 69 games. However, the Padres only scored one winning season – that in 1978 – during his four years in San Diego (where he amassed 108 saves)
The 1978 season was a notable one for the Padre pitching staff as Gaylord Perry won the Cy Young award after posting a 21-6 record, 2.73 ERA and 154 strikeouts in 37 game appearances.
Better days were still ahead for Fingers, however, as he won the American League MVP award and Cy Young award in his first year with the Milwaukee Brewers in 1981 (with 28 saves and a 1.04 ERA).
A seven-time MLB All-Star, Fingers played in 17 MLB seasons with a 114-118 record, 2.90 ERA, 341 saves and 1,299 strikeouts in 1,701 inning pitched. He became only the second reliever to be enshrined in the National Baseball Hall of Fame when he was elected in 1992.
The Padres hosted the 1992 MLB All-Star Game at what was then known as Jack Murphy Stadium. The American League won 13-6. The Padres had five representatives: catcher Benito Santiago, first baseman Fred McGriff, outfielder Tony Gwynn, third baseman Gary Sheffield and shortstop Tony Fernandez.
Santiago, McGriff and Gwynn all earned starting assignments. McGriff would go on to win the NL home run championship that season with 35 round-trippers while Sheffield would go on to win the NL batting title with a .330 hitting average.
McGriff also drove in 104 runs that season as the Padres finished in third place in the NL West Division standings with an 82-80 record.
The game's arrival in San Diego was a big deal. The 1978 contest attracted 51,549 fans while the 1992 game drew even more – 59,372 — to the Mission Valley venue.
The Padres' average attendance in 1978 was 20,619 (fifth best in the National League and 10th overall among the 26 MLB clubs); it was 21,252 in 1992 (ninth best in the NL and 20th overall in the MLB).
Who's on first?
Royals catcher Salvador Perez and Red Sox designated hitter David Ortiz have already accumulated more than 3 million fan votes each to lead American League players in balloting for the 2016 MLB All-Star Game while first baseman Anthony Rizzo and second baseman Ben Zorbits, both from the Chicago Cubs, top National League players with 2.5 million votes each.
Padres manager Andy Green will be part of the NL coaching staff headed by New York Mets manager Terry Collins.
Green is hoping several Padres players join him, at least as reserve selections to the NL All-Star team. Top candidates include outfielders Jon Jay and Matt Kemp, first baseman Wil Myers and pitcher Fernando Rodney.
All-Star Week
While the actual MLB All-Star Game remains the focal point, there are plenty of associated activities for fans to enjoy during All-Star Week at Petco Park.
The MLB All-Star FanFest takes center stage July 8-12 at the San Diego Convention Center, while All-Star Sunday on July 10 features the SiriusXM All-Star Futures Game and All-Star Legends & Celebrity Softball Game. The Gatorade All-Star Workout Day featuring the T-Mobile Home Run Derby is on July 11, followed by the MLB All-Star Game presented by MasterCard at Petco Park on July 12.
The festivities actually tip off Thursday, July 7, with PLAY BALL Park, an interactive youth event that runs through All-Star Game day. The event, which will encompass an 80,000-square-foot outdoor space for various programming partners to provide fun, engaging and educational activities for youth baseball and softball players and their families,will be set up in front of the Hilton Bayfront hotel.
Admission is free for all participants. Hours are 10 a.m. to 7 p.m. through its six-day run.
Events include an all-star wiffle ball series competition for youth, ages 10-12, from San Diego area Boys & Girls Clubs as well as a junior home-run hitting contest.
Other youth-oriented activities include the national finals of the 2016 Scotts Major League Baseball Pitch, Hit & Run competition, the official youth skills competition of MLB, which will take place on the field at Petco Park on July 11 at noon, prior to Gatorade All-Star Workout Day, and the All-Star Youth Classic for participating teams comprised of 11-12 year-olds from around the country and from the San Diego area. Games are scheduled July 8-11 at Robb Field in Ocean Beach.
That's just the teaser.
The MLB All-Star FanFest will feature more than 40 legends of MLB and the San Diego Padres in attendance.
MLB legends scheduled to appear include Lou Brock (St. Louis Cardinals), Bert Campaneris (Oakland A's), Rod Carew (Minnesota Twins), Orlando Cepeda (Cardinals), Andre Dawson (Chicago Cubs), Fred Lynn (Boston Red Sox), Ferguson Jenkins (Cubs), Dale Murphy (Atlanta Braves), Tony Oliva (Twins), Tim Raines (Montreal Expos) and Luis Tiant (Cleveland Indians), among others.
More than 30 ex-Padre greats are also scheduled to appear at FanFest. They include Andy Ashby, Heath Bell, Kurt Bevacqua, Chris Cannizzaro, Archi Cianfrocco, Nate Colbert, Dave Dravecky, Juan Eichelberger, Rollie Fingers, Steve Finley, Steve Garvey, Brian Giles, Chris Gomez, Chris Gwynn, Tony Gwynn Jr., Sterling Hitchcock, Trevor Hoffman, Damian Jackson, Bobby Jones, Randy Jones, Terry Kennedy, Ryan Klesko, Mark Loretta, Fred McGriff, Kevin Mitchell, Gaylord Perry, Randy Ready, Gary Sheffield, Ozzie Smith, Garry Templeton, Greg Vaughn, David Wells and Dave Winfield.
Hours are Friday through Monday 9 a.m. to 8 p.m. and 9 a.m. to 6 p.m. on Tuesday (game day).
Tickets for FanFest range from $12 (military) to $35 (adults). Children 12 and younger, seniors (65 and older) and college students may purchase tickets for $30. Children under 2 years old will be admitted free of charge. Discounted tickets (two-for-one) are available for the opening day (July 8).
All-Star Sunday
The Futures event, which starts at 4 p.m., features top minor league players – the MLB stars of tomorrow — while the second half of the double-header (the celebrity softball game) is strictly a fun event.
Teams in the Futures game generally consist of young players from the United States on one team and young players from all other nations on the other team. Selection is usually based on prospect status in the minor leagues.
Several former Padres are expected to compete in the celebrity softball game, among them Fingers, Hoffman and Ozzie Smith. Celebrities include Nina Agdal (model), Sterling K. Brown ("Whiskey Tango Foxtrot"), Landon Donovan (Major League Soccer), Mark Paul Gosselaar ("Pitch"), Tyler Hoechlin ("Teen Wolf"), J.K. Simmons (Academy Award winner) and Pete Wentz (Fall Out Boy).
Going, going, gone
The Gatorade All-Star Workout Day, featuring the Home Run Derby, will be broadcast on the MLB Network, starting at 5 p.m. PT.
Additional events include the Budweiser MLB All-Star concerts, part of the Pepsi Music Series, on July 8 (One Republic from 7 to 10 p.m.) and July 9 (Tori Kelly from noon to 3 p.m. and Gwen Stefani from 7 to 10 p.m.) at San Diego's Embarcadero Marina Park South, all-star yoga sessions on July 9 (starting at 8 a.m. and 11 a.m. at Waterfront Park) and the Color Run MLB All-Star 5K, presented by Nike, on July 10 (7 a.m. start at Waterfront Park).
Baseball ambassadors
Myers, the 2013 American League Rookie of the Year while with the Tampa Bay Rays and now in his second year with the Padres, has been selected as this year's All-Star Week ambassador and will help generate awareness for the various activities.
Myers old MLB.com it was an "honor" to be chosen as a baseball ambassador. "I'll be at a lot of the events and get to interact with the fans," he told the website. "It's a cool opportunity for me and I'm very honored to be chosen for that."
Padre legends Hoffman and Winfield were named official spokespeople for All-Star Week in April. They will join Myers in helping generate public awareness for the various events during All-Star Week.
For more information about MLB All-Star Week and to purchase tickets, please visit AllStarGame.com and follow @AllStarGame on social media.
Sidebar story:
Padre legends to help generate awareness for MLB All-Star Week
Two San Diego Padres legends – pitcher Trevor Hoffman and outfielder Dave Winfield – will assist Major League Baseball in helping promote awareness for the various events connected to the upcoming MLB All-Star Game at Petco Park.
Hoffman had an 18-year Major League career that included parts of 16 seasons with the Padres, as well as time with the Florida Marlins and Milwaukee Brewers. With the second-most career saves in MLB history (601 in 677 opportunities), Hoffman completed his career with a 2.87 ERA, .211 opponent batting average and 1,133 strikeouts in 1,035 relief appearances.
The seven-time All-Star finished in the top 10 in Cy Young voting and was a key contributor to the team's National League Championship in 1998. In 2011, the Padres retired Hoffman's no. 51, an honor bestowed upon only four other Padres — Steve Garvey, Tony Gwynn, Randy Jones and Winfield — and Jackie Robinson, whose number was retired throughout MLB in 1997.
In 2014, Hoffman was inducted into the Padres Hall of Fame. Also in 2014, MLB announced that Baseball would annually honor the top relief pitchers in the game, and the National League award would be named the "Trevor Hoffman National League Reliever of the Year Award presented by The Hartford."
A California native, Hoffman has been heavily involved in the local community since first joining the Padres in 1993. Now in his second year in the role of senior advisor, baseball operations for the Padres, he has held several roles within the organization since his retirement in January 2011, including special assistant to the president and CEO (2011-13) and upper-level pitching coordinator (2014).
Winfield, a 12-time All-Star and Hall of Famer (2001), began his 22-year Major League career with the Padres in 1973. He chose Major League Baseball after being the only athlete in history to be drafted by four different leagues, including the NFL, the ABA and the NBA.
In eight seasons with the Padres, he was named to four NL All-Star teams (1977-80), led the club in home runs five times (1976-80) and paced the team in RBI six times (1974-75, 1977-80).
From San Diego, he moved on to the New York Yankees, where he had a career-best .340 batting average in 1984 and five Gold Glove Awards. Playing for the California Angels in 1991, he became the oldest player to hit for the cycle at the age of 40.
The seven-time Gold Glove Award winner became a member of the Toronto Blue Jays in 1992 and was a key part of the franchise's first-ever World Series championship, highlighted by a run-scoring double in the top of the 11th inning in Game 6 against the Atlanta Braves.
In 1993, he collected his 3,000th career hit with the Minnesota Twins. Overall, Winfield amassed 3,110 hits, 465 home runs and 1,833 RBI.
Currently, he is an advisor to the executive director of the Major League Baseball Players Association.