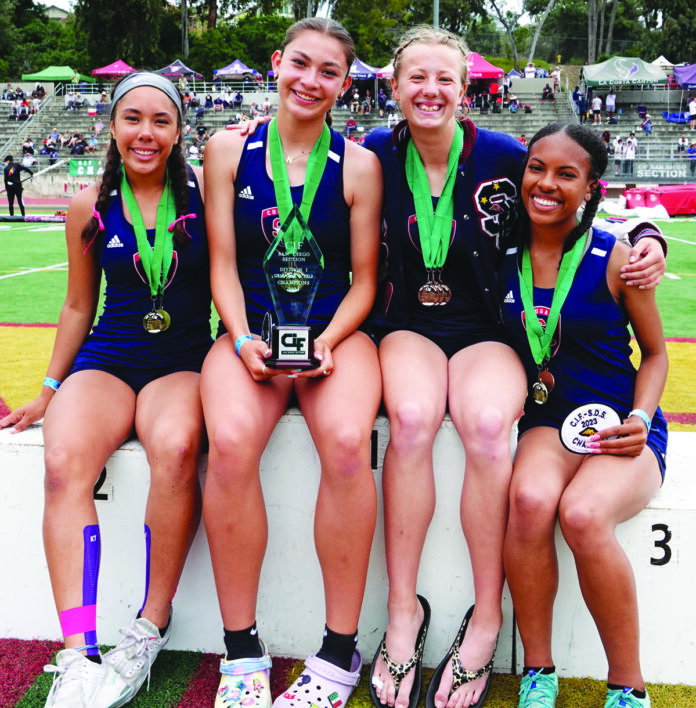 Much has been written about the exploits of the Men of Steele.
Now seems the appropriate time to write about the equally intrepid adventures of the Women of Steele.
It's required reading in the wake of last Saturday's San Diego Section track and field championship meet that saw the Steele Canyon High School girls team capture the Division I team title.
The CIF championship is the second in school history for the girls team — the first being in 2009 in Division II — and matches the two CIF titles the boys team won in 2008 (Division I) and 2009 (Division II).
"Our girls team in considerably strong and our boys team continues to compete above where they should be," Cougars coach Charles Tyler said in giving an overview of this year's 2023 team. "It was just a phenomenal job by a phenomenal group of girls. We're excited."
Tyler said 22 girls qualified to compete in last Saturday's finals at Mt. Carmel High School, placing student-athletes in 14 of the 17 events.
The Lady Cougars won Division I titles in six events: 4×100 relay, 100 and 200-meter dashes (freshman Ily Barclay), 400 dash (junior Nicoletta Burkhardt), shot put (senior Kennedi Jones) and triple jump (senior Amari Vaughn). Barclay, the Grossmont Hills League Track Athlete of the Year, timed 12.05 seconds in the 100 dash and 25.06 in the 200 dash while Burkhardt timed 55.13 in the 400 dash. Jones recorded a mark of 39 feet, 1.5 inches in the shot put while Vaughn, the GHL Field Athlete of the Year, jumped 37-4.
The top six place-finishers in each event received medals.
Jones also won a silver medal as the second-place finisher in the discus throw (126-2).
Junior Lillian Cook earned Division I bronze medals in both the 100 low hurdles (15.25) and 300 low hurdles (45.02).
The ladies from Steele opened the meet by setting a school record (47.58) in the 4×100-meter relay. Junior Jahmyia Richardson, Barclay and juniors Brionna Dickens and Burkhardt each ran legs. Rancho Bernardo finished second in 48.29.
The new school record was not a surprise to any of the baton bearers.
"We expected it," Dickens said. "We wanted to break the record at this meet and we did," Burkhardt added excitedly.
Overall, Cook collected four medals (bronze in the two hurdles events and fifth place in both the long jump and triple jump) while Barclay (gold in the 4×100 relay and 100 and 200 dashes) and Burkhardt (gold in both the 4×100 relay and 400 dash, fifth place in the 200 dash) both left the track with three medals apiece.
The top three marks, inclusive of all three divisions, plus those student-athletes who made a pre-determined standard in each event, qualified to compete in this weekend's state championship meet in Clovis.
For first-time qualifiers, reaching the state meet is a huge accomplishment.
"Amazing," Cook said. "I had done the long jump before the 100 hurdles, so I only wanted to do the best I could. At least I survived for another week."
"It feels good," Barclay,said. "I had a big PR (personal record). I'm hoping to get a PR at state."
Barclay said she accepted the challenge of being a first-year high school runner. "It motivates you (going against upperclassmen), but it pressures you to compete with them," she said.
Amazingly, the top five place finishers in the Division I girls shot put were all from East County schools. Following Jones on the medal list were four Helix Charter throwers: sophomore Shani Ford (second, 37-9) and juniors Tesa Liafau (third, 37-7), Leilah Liafau (fourth, 37-5) and Hailey Lauifi (fifth, 37-2.5).
Hailey Lauifi placed fourth in the discus throw at 113-10.
Among Division II place-finishers, Santana senior Jenna Fields, the Grossmont Valley League Female Field Athlete of the Year, won gold medals in both the girls long jump (17-10) and triple jump (37-3.5).
West Hills junior Alexis Leath won a silver medal in the girls 100 dash (12.32) while Monte Vista freshman Timyra Payne finished with the bronze medal in the girls 200 dash (25.10).
Mt. Miguel junior Kanayiah Cook-Weaver finished second in the girls triple jump (34-11) while El Capitan senior Aliyah Thibeault finished third in the high jump (5-1).
Liberty Charter sophomore Haley Svendsen led East County female athletes in Division III with silver medals in both the 100 low hurdles (16.18) and 300 low hurdles (47.63), both PR times.
"I love it, it's so much fun and exciting," said Svendsen, a former classmate of Cook's in middle school. "I love running in races against those who I've run with in invitationals."
Twenty-four teams scored points in the Division I girls field, 26 in Division II and 29 teams in Division III. The numbers in the boys field included 25 in Division I, 27 in Division II and 30 in Division III.
Steele Canyon won the Division I girls team trophy with 102.5 points ahead of runner-up Rancho Bernardo (78 points) while Helix Charter won the Division I boys trophy with71 points ahead of Rancho Bernardo (57.7 points).
Senior Adren Parker (gold in the 4×100 relay, 200 dash and 400 dash) and junior Shon Martin (gold in the 4×100 relay, 110 high hurdles and 300 intermediate hurdles) helped lead Helix to the division championship.
Parker lowered his existing section record in the 400 to 46.48 while timing 25.56 in the 200.
Martin, who competed in last year's state meet for Eastlake, timed 14.64 in the high hurdles and 38.64 in the intermediate hurdles.
Parker and Martin joined forces with sophomores Laurence Burston and Spencer Gray to claim victory in the meet-opening 4×100 relay om 42.04.
Liberty Charter senior Micah Sanchez dominated the distances at this year's CIF finals by winning gold medals in the Division III 1600 run (4:11.64) and 3200 run (9:10.66). Both times were personal bests. Sanchez qualified for the state meet in both events but has elected to run the 3200 this weekend.
"I wanted to get a 4:20 first mile, then wait for the group to split from there to the top four," said Sanchez, a state meet qualifier in cross country as well. "I wanted to stay in second behind them, then the last 50 meters to surge."
Valhalla senior A.J. Cornthwaite won the Division I gold medal in the boys long jump (23- 2.25), a PR.
"It was really exciting," the Norseman jumper said of his state-qualifying mark. "I knew I could get 23 feet; it was just waiting for the right moment. I'm really excited. I'm the only one from my school to qualify for state."
Grossmont senior Ian Rosen claimed the silver medal in the Division I boys 800 run (1:54.26) to also qualify for the state meet.
Santana junior Ryan Richter won the gold medal in the Division II boys high hurdles in 15.06.
El Capitan junior Jonathan Biffle eared a silver medal in the Division II boys 300 intermediate hurdles (39.49) and a bronze medal in the 110 high hurdles (15.28).
West Hills junior Joshua Carson finished runner-up in the Division II boys discus throw (149-10).