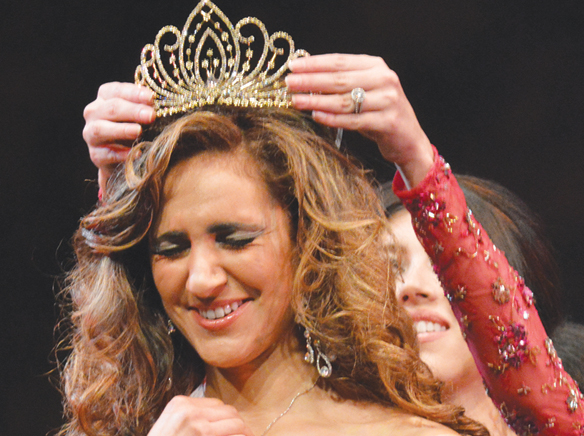 A first, the Miss Middle East California 2014 Scholarship pageant promised to highlight Middle Eastern culture and captivate the audience with Middle Eastern beauty. But this grandiose event did much more than that. It demonstrated that diverse Middle Eastern communities could come together as a whole, representing the entire Middle Eastern region and embrace its cultures, empower its women and be a vital presence in the communities they live in. Held at the Museum of Contemporary Arts San Diego La Jolla on April 3, 17 women proudly wore their heritage in representing their countries of origin in Iraq, Lebanon, Jordan and Kurdistan.
Founded and sponsored by the San Diego East County Chaldean American Chamber of Commerce and put together by pageant Executive Producer Jessica Kalasho and Executive Director and emcee Anna Hirmiz, the evening of competition was filled with surprises. Exquisite formal wear, casual wear and dazzling ethnic wear shimmered each contestant's beauty and personality. San Diego designer Andre Soriano unveiled his Screen Sirens Fall Collection and 17 women showed through their poise, confidence and commitment to their community that they had the ability to make a difference in being an ambassador that breaks cultural boundaries.
After narrowing the contestants down to eight, they were all asked impromptu questions from the five celebrity judges to narrow it down to the final five.
Stephanie Malouf, 17, representing her country of origin Lebanon, earned the title and was crowned Miss Middle East California 2014. She will be the ambassador representing the entire Middle East. After her service as Miss Middle East California, Malouf will compete in the Miss California pageant. Malouf received a $1,000 scholarship donated by the Kurdish Regional Government and an impressive array of gifts and opportunities from sponsors of the event.
Dyari Ahmed, president of the Kurdish Community of California and representing the Kurdish Regional Government, presented Malouf with her scholarship. He said he hoped that this event, and Malouf's presence in the community would show people the other side of Middle Eastern people.
"We are not all fighting wars," he said. "Both here and in our home countries we live in harmony and I look forward to many more events as this that enforce the true solidarity of the Middle Eastern nations."
First runner up, Nicole Mansour, representing Iraq received $500 provided by Valley Foods and second runner up Brandy Seman, Iraq received $250 provided by Tara's Boutique. Seman also earned the Susan B. Anthony Award, given by the Chaldean American Chamber of Commerce for her hard work and devotion to the empowerment of women.
Ben Kalasho, Chaldean American Chamber of Commerce president, presented the Susan B. Anthony Award and recognized the many sponsors that made the event possible with awards and plaques. He said the support for this pageant and the hard work that everyone involved embraced made the event as successful, entertaining as it was, and that four young women have already stepped forward to compete for Miss Middle East 2015.