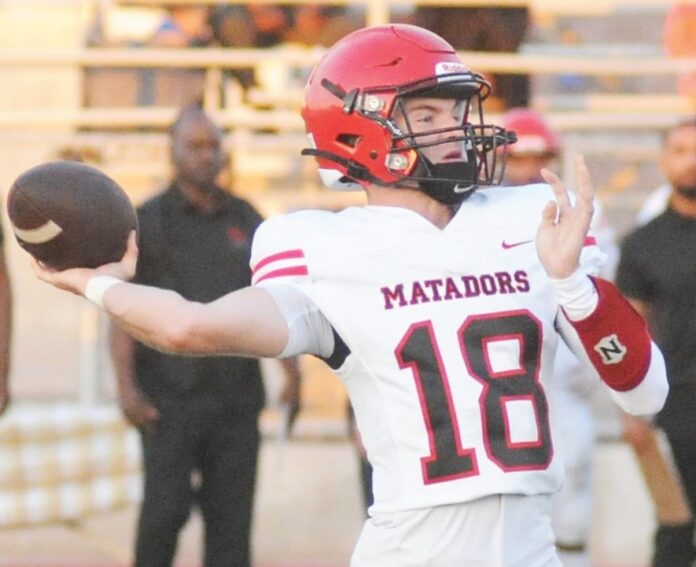 The Mount Miguel Matadors, braced by a new coaching staff anxious to make its mark, enter the 2023 high school football season with much promise.
Certainly, the Matadors did little wrong in last Friday's 48-14 non-league victory at Sweetwater High School in National City in the season opener for both teams.
The game was a near repeat for last year's 42-0 runaway win over a mistake-prone Sweetwater team.
The result obviously has to please new Mt. Miguel head coach Verlain Betofe, who enters his first season with the Matadors after winning four state titles as an assistant coach (two with Madison and the past two with Mater Dei Catholic).
Last Friday's win was the first for Betofe in his first game as varsity head coach.
"The standard is always going to be set high for me," Betofe acknowledged. "Our goal is to win a CIF championship. I want everyone on the team to believe and know that every game they are in that they have what it takes to win it."
Key players on this year's team include senior quarterback Matthew Barton, senior receiver/cornerback Jeremiah Castillo, senior running back/receiver/free safety Davian McGowan, senior running back Caprece Pressley, senior outside linebacker Eric White and freshman receiver/free safety Delontay Williams, the team's impact newcomer.
Barton passed for 2,298 yards with 31 touchdowns last season while Castillo finished as the top receiver in the San Diego Section with 1,432 yards and 23 touchdowns. Both players appeared to pick up right from where they left off.
Barton completed 14 of 25 passes for 272 yards with three touchdowns while rushing twice for 90 yards and one touchdown.
Castillo had four receptions for 78 yards and one touchdown and one two-point conversion while making an interception on defense.
White scored Mt. Miguel's first touchdown in the game on a three-yard catch and would go on to lead the defense with 10 tackles, including one for a loss.
Pressley scored on a five-yard run early in the game to make the score 12-0 in favor of the visitors and later scored on a blocked punt, falling on the ball in the end zone to hike the score to 26-0 with 40.8 seconds left in the opening quarter.
Williams also scored two touchdowns in the game while making four catches for 92 yards. He made six tackles on defense.
McGowan, who had two receptions for 29 yards, scored on a 15-yard touchdown run with 3:17 remaining in the first quarter to make the score 20-0. He also had eight tackles on defense, including one for a loss.
Senior outside linebacker/receiver Hector Armenta logged eight tackles, two sacks, one tackle for a loss and one blocked punt to go with seven receiving yards.
Senior receiver/free safety Jordan Shane had one interception on defense.
Senior Tyler Lopez had five tackles, including one for a loss.
Mt. Miguel led 34-0 with 11:39 still left in the first half.
Joining the Mt. Miguel coaching staff are defensive assistants Isiah Olave and Aaron Jones.
Olave prepped at Eastlake High School before attending UC Davis where he was an All-Big Sky third team selection in 2018.
Jones, who comes over from Mater Dei Catholic, and Betofe won two state titles together at Madison and two at Mater Dei Catholic for a total of four between them.
"It was great," Betofe said. "I've been fortunate to win four state titles in 10 years."
Next up for the Matadors is Friday's non-league home game against the Chula Vista Spartans, who kicked off the new season on a winning note with a 48-26 victory against visiting La Jolla Country Day (0-1).
Prep Football Scoreboard
NON-LEAGUE
Thursday, Aug. 17
Santana 40, Canyon Hills 21
Mission Bay 31, Christian 19
Friday; Aug. 18
Mt. Miguel 48, Sweetwater 14
Grossmont 34, San Diego 14
Hilltop 27, Valhalla 21
El Capitan 47, Valley Center 18
Crawford 35, El Cajon Valley 6
Vincent Memorial 29, Monte Vista 13
Steele Canyon 42, Heritage 15
West Hills 14, Imperial 7
Helix 38, Edison 34
Hoover 52, Mountain Empire 14
Saturday, Aug. 19
Granite Hills 27, Mission Hills 17