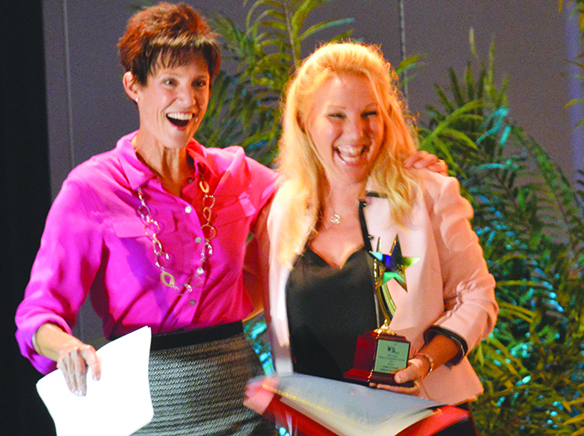 Around 350 people gathered at the Town and Country Resort Hotel for the San Diego East County Chamber of Commerce's 12th Annual Women in Leadership Luncheon. With a diversity of nominees in seven categories: Arts, Culture and Media, Business, Government and Defense, the Michele Tarbet Healthcare Award, Non-Profit, Hospitality and Education/Academia. Honorees were selected for outstanding leadership, efforts to empower women to succeed and prosper, exemplary character and integrity in the community. Former TV anchor Carol LeBeau served as the event's emcee and keynote speaker for the day was the founder and president of Puente Consulting, Patricia Perez.
Founder of the Pacific Arts Movement in 2000, and spending 12 years working in local TV news, Lee Ann Kim took away the 2014 Business WILL award. Her nonprofit organization is noted for producing the San Diego Film Festival and Spring Showcase, both of which promote Asian cinema.
Honored with the Business WILL award, Odie Goward, California Bank & Trust, served on the Chamber's board of directors since 2008 and honored as the 2011 El Cajon Citizen of the Year. Her persistent activeness in the community with several nonprofit organizations include the Salvation Army, St. Madeleine Sophie's Center, Run EC Foundation and Stoney's Kids.
Taking away the Education WILL award, Pam Meisner, aka "Ms. Smarty Plants" at The Water Conservation Garden has presented her programs to more than 55,000 students from pre-school through high school during the 2013/14 academic year. Meisner's programs teach the next generations about water preservation, smart gardening, nature and conservation.
For the past 20 years, Beth Morgante, Grossmont Hospital Foundation, has worked diligently in the altruistic organization that raises funds for Sharp Grossmont Hospital in La Mesa. Since 1985, the Foundation raised more than $50 million for the hospital. This healthcare category was renamed this year in remembrance of former Sharp Grossmont Hospital who passed away this year, with Morgante being the first recipient of the Michele Tarbet Healthcare Award.
Lorie Stelle Contorer, Everyone Counts, Inc., took the Government/Defense WILL award. Her accomplishments include developing electronic voting software with a higher level of accuracy, quicker posting, fewer employees and cost and are utilized in several states in the nation and in several countries throughout the world.
Taking away the Non-Profit Will award, Peggy Buffo, El Cajon Animal Center for Education and Services Foundation (ACES), is a founding member and current chair of the nonprofit that raises money through fundraisers since 2005. Most notable: Putt for Pets, Cookout for Critters, the Jingle Paw Walk and Barkitecture.
Sue Schaffner, Hostelling International USA, took away the Hospitality Will award. With the company since 2002, she was promoted to vice president of the Southwest region overseeing hostels and programs in seven states. Improving hostels in Point Loma and downtown San Diego, she is credited in bringing more than $500,000 in transient occupancy taxes to the city.