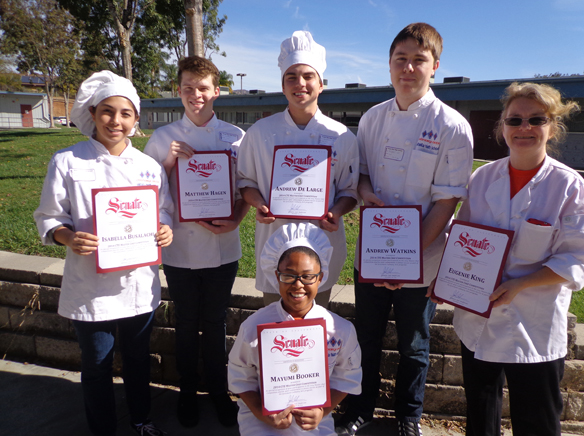 Student chefs from Santa High School, Valhalla High School, and Granite Hills High School recently competed at the second annual Master Chefs competition on Nov. 18 at Orange Glen High School. This competition featured the work of Career Technical Education (CTE) program students from 12 different high schools in San Diego County. These CTE programs have provided students with hands-on skills they can use to pursue different careers. The Master Chef competition was geared to give an opportunity to the students of the culinary arts program to showcase what they have learned to the community. At Orange Glen High School's jaw-dropping kitchen facility, prospective student chefs created their own dish and presented them to a panel of judges.
Sen. Joel Anderson, whose district includes five schools in the competition recognized the participants with certificates of recognition for their outstanding work and said, "I'm so proud of all of our East County students in the competition who have been planning and practicing for this moment. The CTE programs give our students essential skills that will make them career and college ready by the time that they graduate. When I see the energy and focus that these students put forth every day to expand their skillset, it gives me great hope for the future of our community, state and country."
Eugenie King, the culinary arts program teacher at Valhalla, anxiously watched her students cook in the kitchen through the judging area because teachers were not allowed in the kitchen during the competition. After watching her students present their impressive dishes, King's face showed the big smile of a proud teacher.
King shared her experience with CTE's culinary arts program when she said, "I love the fact that my students enjoy coming to class. They always have questions. There are always new things to do. They come in with 'Can you teach me how to do this?' or 'I tasted that' or 'Can you make this?' They are willing to learn. And they're refining skills."
At the end of the day, Vista High School took first place and Grossmont Union District's own Santana took second. The judges were: Amy DiBiase (Executive Chef and General Manager Tidal of Paradise Point Resort and Spa), Trey Foshee (Executive Chef and Partner George's at The Cove), Carissa Giacalone (Executive Chef and Director of culinary operations at Rancho Bernardo Inn), Marie Kelley (professor, consultant, TV producer), Ron Oliver (Chef de Cuisine at The Marine Room) and Barry Schneider (Premier Food Services).
In addition to participating in competitions, Students in CTE's culinary arts program also donate the products of their talent and skills with the community. King recalled one heartwarming moment in her teaching career when her culinary arts program students volunteered to cook for local seniors.
"They came at 7AM to cook breakfast. School didn't come until several hours later. They were early. They were excited. It is a very fulfilling job," said King.