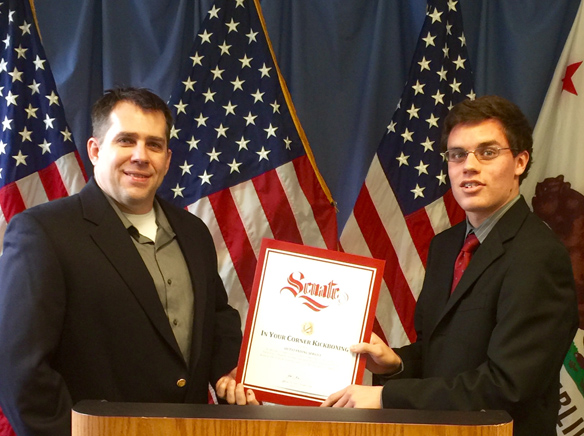 SPECIAL TO THE EAST COUNTY CALIFORNIAN
SPECIAL TO THE EAST COUNTY CALIFORNIAN
California Health Network is hosting Santee Health Awareness Month in Santee throughout the month of January. This campaign is supported by more than 30 businesses in the East County Community that are offering services for free or at a discounted rate as well as California State Senator Joel Anderson and Santee Councilmember John Minto. Anderson provided a certificate of recognition to each partner of Santee Health Awareness Month. Darryl Johnson, Chief Instructor and Head Trainer of In Your Corner Kickboxing was among those recipients. About Johnson's outstanding community service, Anderson said, "I am grateful Darryl is sharing his talents to help our Santee community start this new year with an active mind and body by participating in Health Awareness Month."
Johnson shared that Santee Health Awareness Month is just one of many community events in which In Your Corner Kickboxing has been involved.
"We do a lot of work with the school districts, [including] fundraisers with the Santee School District Foundation. We get involved with our community events, our street fairs," Johnson said.
Johnson has been involved in martial arts for almost 30 years and competed in full contact kickboxing in the early 1990s.
"As exercise science has caught up with the martial arts world, fitness kickboxing provides the best medium to get a great workout, have fun, and learn a usable skill," said Johnson.
He also wants his clients to have fun while working out in his classes.
"You can have the best workout in the world, but if you don't enjoy it, it's just not something that you're going to stick with," he said.
Johnson enjoys being able to have an impact on the community and is proud to play an active role in Health Awareness Month.
"Once I got involved with Santee, I've really enjoyed the community and look forward to serving it for years to come," he said.
To learn more about In Your Corner Kickboxing and Santee Health Awareness Month, visit www.californiahealthnetwork.org/healthawarenessmonth.