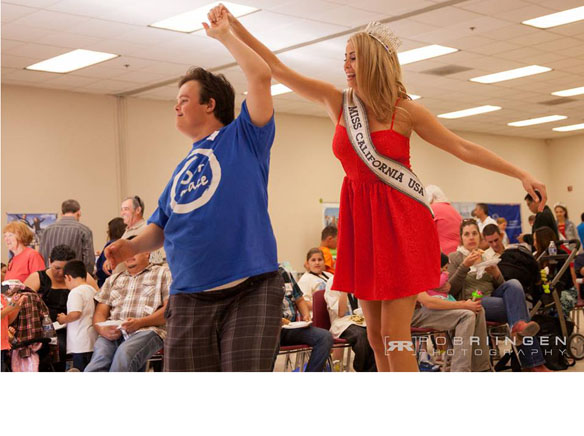 One in every 800 births may result in Down syndrome and now there are around 400,000 people in the U.S. In the early 1900s, the life expectancy was 9-years-old and it is now 55.
One in every 800 births may result in Down syndrome and now there are around 400,000 people in the U.S. In the early 1900s, the life expectancy was 9-years-old and it is now 55.
March 21 is significant because Down syndrome is caused by a natural occurrence of chromosomal arrangement. Instead of two copies of the 21st chromosome, a person has three copies—hence 3/21. By having three copies of that 21st chromosome there are certain physical and intellectual characteristics and other medical issues that accompany a person with Down syndrome.
There are different categories, the regular trisomy 21, and there is also a mosaic Down syndrome where a person still has the third copy but it is not present in every cell of the body. In those cases, many times, people do not have all of the manifestations of Down syndrome. However, it is very variable in all individuals. Everyone is different. Much of it has to do in how much early intervention is done, family support, inclusiveness and activities.
This is where San Diego Down Syndrome, based in Lakeside steps in. President Kimberly Hutchinson jumped into helping SDDS when she was searching for support with her son, now 3-years-old, born with Down syndrome.
"I was looking for information myself and invited to a free day at LEGOLAND, sponsored by this organization," she said. "I attended that event, met John Leslie (founder) and he said, 'I sure could use some help with some of the activities,' and I said yes. I really liked what he was doing and I felt that was something I wanted to do. As I learned more I wanted to share with people, especially families that were new and in the same place that I was."
Established in 2011 by John Leslie who has two children with Down syndrome, he felt that San Diego lacked in services, communication, and networking with families that could provide them with services that they needed. He reached out to families to provide education, support and bring families together to work with each other and connect them with local resources. It serves all of San Diego County and reaches out to the Riverside area.
Overtime, Leslie knew this was something he could not do fully with all his obligations so Hutchinson took over, but he still continues to support her with his many years of experience.
These peoples are amazing people and they can do wonderful things and should be encouraged and embraced for who they are.
Hutchinson said the largest stigma is that these people cannot do what others can do. They cannot get married, go to college or have a job. Yet, you can look at the news and television and see that they are a large part of the community.
"Down syndrome is not a disease, it's not to be feared, and not a curse. They are actors, they work, and they participate in Special Olympics, sports and many other mainstream activities. There are so many things that they can do. And we continually want to promote that and people to know that they can do amazing things," she said.
World Down syndrome Day is on March 21 at the Arc of San Diego, 3030 Market Street, San Diego, CA from 12:00 – 3:00 p.m.
It was established by the United Nations in 2011 to recognize Down syndrome and its purpose is to celebrate, promote inclusion, raise community awareness and encourage people to come together, promote education to the community, and support other persons with disabilities as well.
For the event SDDS is flying in the Ransom Notes from Nashville. They are a country western bluegrass band and one of the band members, the fiddler, has Down syndrome. She is amazing and her Down syndrome is not big deal, said Hutchinson.
It is a free event with food, drinks and dessert. SDSU's Phi Beta Pi will be conducting activities, face painting, games and crafts. Kid Ventures will be there with equipment, tumbling mats so the kids can play. It will have a raffle; silent auctions and many people and organizations will be there to support the event. There will be free books because SDDS promotes literacy. Other guests include Sen. Joel Anderson, Miss San Diego Cities, McGruff the Crime Dog and Fire and CHP vehicles.
A big goal for SDDS this year is opening up a Down syndrome achievement center, Gigi's House. It is all across the nation, but not in San Diego. It will be free to the public, with math tutoring, reading tutoring, cooking classes, the arts, sports and other classes and activities to learn different skills. With a coffee shop, it will employ people with Down syndrome and it will have another level, Gigi's University that will have more advanced educational programs. It is fully supported by volunteers and in other cities where it is present it brings such needed services to the community.
"We are in fundraising mode now for this and for start-up, we need around $200,000, then we can continue to make it grow," said Hutchinson.
For more information about SDDS visit www.sandiegodownsyndrome.org.