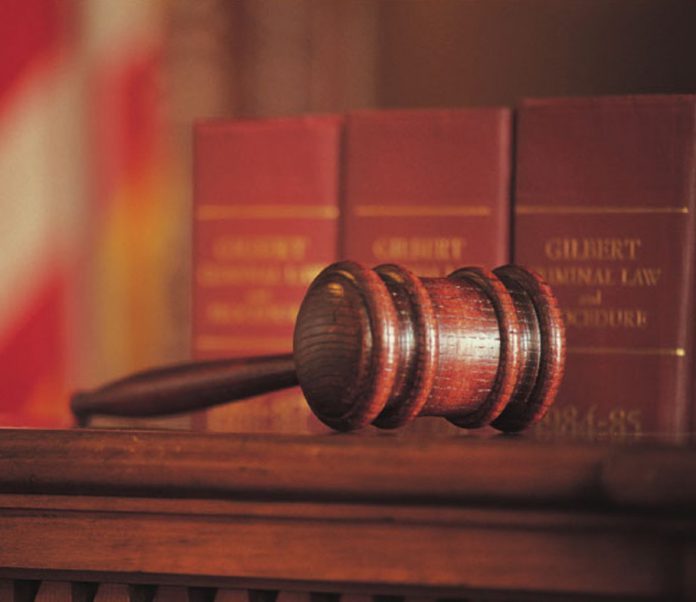 A young Spring Valley man was sentenced Feb. 1 to 16 years and eight months in prison for two armed carjackings while being on probation at the time for an armed robbery.
Jaden Razell Jones, 21, hit a taxi driver in the back of his head with a gun on March 6, 2019, at 1:03 a.m. not far from the Denny's Restaurant at 6970 Alvarado Road in La Mesa.
A second man, Jacob Ronald Jensen, 20, of El Cajon, was sentenced to six years in prison for pointing another gun at the same taxi driver.
El Cajon Superior Court Judge Robert Amador said Jones poses "a great degree of danger to society" as he was convicted of three violent felonies.
While Deputy District Attorney Jim Koerber asked for 20 years for Jones, the judge said the 16 years and eight months "is sufficient punishment." Amador mentioned that Jones received credit for 787 days in jail, and that he would have to serve approximately 12 more years.
Jones' attorney, Bart Sheela, Jr. said the offense occurred when he was 19 years old and that "he's matured significantly" in jail.
"What he did was horrible to several people," acknowledged Sheela.
"I know I have caused trauma," said Jones. "I truly regret and I'm sorry. I've grown. I've changed."
Jones pleaded guilty to two armed carjackings. He had been placed on probation for an armed robbery in a 2018 incident. Jensen only pleaded guilty to armed carjacking of the taxi driver.
Kaitlyn Gendelman, 20, pleaded guilty to carjacking and she was placed on probation in 2020. A 17-year-old boy's case was handled in Juvenile Court, but those proceedings are not public record.
                     •••
A judge suspended criminal proceedings Feb. 5 for a man suspected of killing an El Cajon woman in 2018 during a robbery after his attorney said he doubted his client was mentally competent.
A death penalty trial had been set in April for Shaun Douglas Ward, 41, who is charged with stabbing Diane Spaguolo, 65, over 60 times while she worked at the X-Spot adult bookstore in San Diego.
San Diego Superior Court Judge Joan Weber was required to suspend proceedings because of his attorney's doubts and she appointed a psychologist to examine Ward in jail.
A hearing before another judge was set for March 18.  A similar proceeding occurred in 2019 when Ward was found to be mentally competent.
At issue is Ward's muteness, which was an issue when he was first arraigned in 2018 and declined to say a word in response to questions from a judge. A not guilty plea had to be entered on his behalf.
Deputy District Attorney Melissa Vasel said Ward is "selectively mute" and that he talks to his mother when she visits him in jail.
"Mr. Ward is manipulating the system," said Vasel, who added that deputies working in the jail have noted no delusional behavior.
His attorney, David Thompson, told Weber that he didn't know if his client understood what was going on.
Ward appeared on a video screen from the George Bailey Detention Facility. The hearing was broadcast online because the courts are partially closed due to the coronavirus outbreak.
As the hearing ended, Thompson said, "Hang in there, Shaun." Ward then spoke, and replied "OK."
Ward is charged with two special circumstances charges that allege he killed the woman during a robbery and during torture. The DA's office announced in 2019 they would seek the death penalty if he was convicted of first-degree murder.
A detective testified in 2019 that she searched Ward's home and found $300 in cash with blood on it in Ward's wallet which was also stained with blood.
The victim's daughter, Alexis Wylie, told a reporter her mother was a kind person who also worked at the Goodwill thrift store for many years.