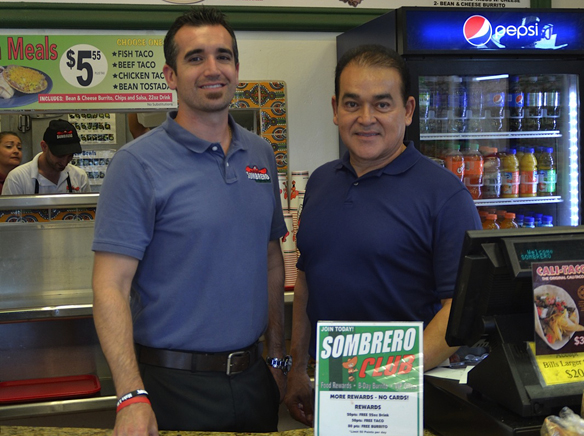 There is no shortage of taco shops in Southern California. The market for cultural singularities like the California burrito or favorites like rolled tacos is fairly saturated in this region, so how does one chain of Mexican food restaurants stand out above the rest? The winning formula is comprised of simple ingredients created from scratch by the Correa family. Since 1984, Javier Correa Sr., has been creating, cooking, marketing and drafting his vision of Sombrero Mexican Food to Californians and has seen it grow to nineteen stores—nine company stores and ten franchises in California, Arizona and Texas. Though Correa Sr.'s first Sombrero, (Sombrero #1) was in the South Park neighborhood, the El Cajon location at 1215 Main Street is considered its "home base." It is its busiest location, which also has a warehouse and serves as their catering facility.
In East County, there are six "quick serve counter service" type eating establishments, as Javier Correa, Jr. describes them—two in Lakeside, three in El Cajon, and one in Spring Valley. Quick serve is a departure from the old type sit down Mexican restaurant, the type his grandparents opened in 1968 and ran until 1980.
Back then, Correa, Sr., gone to school of drafting, but found himself opening a panaderia (a bakery outlet and Mexican market) on 28th & B. Street instead. When his parents Arturo and Maria Correa closed the restaurant they had opened on El Cajon Blvd. in 1968, Correa, Sr. lost his main supplier of bakery items. He took their equipment and began to scratch make empanada, pan dulce, and Mexican pastries. He tossed around the idea of opening a new Sombrero's for a couple of weeks, borrowed some money, and in entrepreneurial spirit, opened up Sombrero #1 in 1984.
Anyone who has ever eaten a carne asada burrito knows that it is more than just the perfect 2:00 a.m. snack for twenty-somethings, it goes beyond just a drive-thru option, and it is not just a fix someone needs front time to time. Correa, Jr. calls the mystique of local Mexican food "San Diego style." "San Diego style is really unique because we're so close to the border so it's very authentic, everything is made from scratch, but we put French fries in our burritos. Even in LA carne asada is different," said Correa, Jr. What has evolved here is a regional comfort cuisine, and the Correa's take pride in the emblematic flavors and preparations that their hungry patrons have appreciated for thirty years?
To celebrate three decades of success, Sombrero's has launched new promotions such as a rolled taco challenge, teacher appreciation, and a trip giveaway to Cabo San Lucas. They have also incorporated a blog into the business model. Good corporate citizenship is also important to the Correa's. For three years now, Sombrero's has been partnering with the Muscular Dystrophy Association in efforts to raise money to send local children to MDA camp. The past two years they have sent 22 kids to camp. This year, their goal is $30,000.00 to represent their 30-year anniversary. The funds would send 37 children to camp. The 2014 fundraising effort began the last week of August and runs until Sept. 30. Customers can donate $1 or $5.
"It's so cool to see the transformation in these kids," Correa, Jr. said of their record-breaking fundraising with MDA. "They get a lot out of this camp, all of these kids from San Diego. They do a week in Cuyamaca—they swim…they have a dance."
Whatever the Correa's add to boost their brand or help the community, the food and cognizant approach are the foundation of the family business, which has grown, but remained consistent. This models the appetite of Sombrero's customers.
"Carne asada is king," said Correa, Jr., who describes their "fork and knife burrito" as a mainstay on their menu. "Our signature has always been our Special Burrito Jumbo Deluxe, a big burrito with a sauce on it."
The sauce is Maria's scratch enchilada sauce.
"It's not your typical enchilada sauce. It's savory, almost like a Mexican gravy," Correa, Jr. said. Their hot sauce, however, is most beloved. "One thing people really love about us is our hot sauce. It's not extremely hot, it's more about the flavor. The roasted red chilies, the thickness of it, it's tomatoey," Correa, Jr. explained. Green "verde" sauce is another staple offered so the Sombrero's staff asks the customers when ordering, "Red, green, and how many?" to make sure people get exactly what they want.
There is also a special menu item, a throwback to the old days of Sombrero's called the $1.99. Even though prices have changed over the years, customers would and still do ask for the "buck ninety-nine" which is simple rice and beans together with a side of tortillas. People have not had to give up filling meals because Sombrero's knew what a customer needed without breaking the budget. (If what a customer needs is menudo, it's made and offered at Sombrero's daily.)
Almost everything made fresh daily—pico de gallo, sauces, shredded meat, to name a few. For the few items that Sombrero's brings in, close, long-time partnerships with those purveyors are key to maintaining the quality Sombrero's customers expect. Why mess with a winning formula? People covet that special taste. But the business, as the Correa's know, requires change. For Sombrero's Club, their rewards program, benefits and offers come easy to the member, no card stamping required. Phone numbers are given and recognized during transactions, and free food is earned.
Keeping the employees happy is also paramount and not taken for granted. Sombrero has incentives for top sellers in the MDA fundraiser, such as paid days off. Correa, Sr. has also been known to roll up his sleeves and wash pots and pans. He still enjoys being in the kitchen, cooking cleaning, and being with his staff.
"They're still impressed by how well I roll a burrito," he said.
The Sombrero expansion has created the need for standard operating procedures, with Correa, Jr. taking on much of this legal side of the business.
"We're very hands on with them [franchises]. They get a designated operator training," he said.
Sombrero's sends staff to open the franchises, down to the last detail of pre-opening to grand opening. They recently trained a woman from Lakeside who moved to Texas and wanted to open a franchise in Ft. Worth. Since opening in July 2014, San Diego style Mexican food has been a hit with Texas natives, and a welcome addition to San Diegans who have taken up residence there.
Sombrero is a taste of home for many San Diegans. Award-winning band Blink 182, who frequented the Sombrero's in Carmel Mountain Ranch, have hired Sombrero's for multiple catered events. When traveling abroad, they have taken their favorite Sombrero's bean, rice and cheese burritos with them.
"I really can say I truly enjoy my food," said Correa, Sr. Red or green, knife and fork or unwrapped, with fries or without, East County and San Diego are passionate about it, too.
Visit Sombrero's online at www.sombreromex.com.