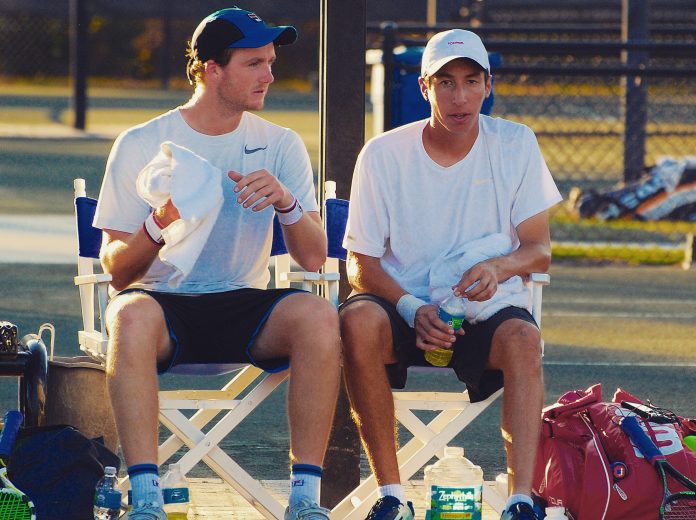 Isaiah Strode promised that he knew what he was doing when he turned down a full ride to the University of Alabama to pursue a professional tennis career at age 18. Two years later, ranked 973th in the world, he does not regret a thing.
Isaiah Strode promised that he knew what he was doing when he turned down a full ride to the University of Alabama to pursue a professional tennis career at age 18. Two years later, ranked 973th in the world, he does not regret a thing.
The twenty-year old from East County has had an interesting journey on the tennis court. Swinging the racket began unofficially at two-years-old, said Strode, who now finds himself on the road most weekends of the year for professional tournaments. He is making money, he said, but only just enough to pay the bills right now. Tennis is expensive.
Growing up, Strode said, he did not travel as much.
"Equipment is expensive, playing tournaments is expensive, travel is expensive and tennis requires a lot of that, so most of the people that I played with came from families with a little more money or financial backing," said Strode. "My parents weren't really in that group and didn't have that much money for me to travel."
Lucky for Stode, San Diego is a hotbed of tennis talent.
"Because of our financial state, we couldn't travel out of the state, but it didn't matter because the competition in SoCal was such a good level," he said. "I got the best of the best where I was at."
Strode is fortunate in another way as well. Both his father and uncle played professional tennis, which means he has never been in want of a coach. Strode said his father taught him how to play as a toddler and has coached him ever since. His father and uncle have both proven to be hugely influential in Strode's pursuit of a professional tennis career, he said.
At 18, as his peers were committing to colleges, Strode said he was wrestling with a tough decision: should he go pro?
He reasoned that, in college, his time would be too divided to focus on his sport.
"It's just not the same as when you go out and play pro full time," he said. "Even if you are really good, if you lose four years of your life, you can't compete at the highest level with these guys who've been doing it since they were really young, especially in today's game. The chances of you actually becoming a pro after college: next to none."
A look at the top 100 men's tennis players in the world right now seems to support Strode's theory, which has generally been acknowledged by the tennis community for the last two decades.
"I look at the guys in the top hundred, maybe three of them went to college," said Strode. "Those years you lose [at school], you can't get them back any other way. It makes it so much harder because you're playing catch up now."
Strode started seeing some success at tournaments and the college question became even more difficult.
"I was top ten in my age division at 16 and I had a lot of support from my dad and uncle," he said. "They thought I had a lot of potential in the pro world so I decided to just go for it. It was a sacrifice I was making for my tennis just to see how good my tennis could be, and when it's done, it's done."
If Strode thought making the decision to turn professional was the hard part, he was mistaken. Tennis is as brutal as it is lonely. With travel taking a physical and financial toll, the sport itself takes a mental one.
"In tennis, you lose every single week unless you win the tournament," said Strode. "It is so easy to get negative. And you're by yourself, you don't have teammates to help pick you up, so it's very tough mentally."
Not that the young athlete is at a loss for friends. He travels often with fellow tennis player Joey Corse, 19. This week, they embark on a five-week tour that will take them from Memphis, Tenn. to clubs in Florida and Georgia. A self-professing introvert who appreciates quality "chill," Strode said life on the road can be stressful.
It can also be expensive.
Although some of the tournaments provide housing, Strode said he likes to find host housing himself when he needs to find a place to stay – not just because it saves him a few dollars on hotel rooms, but because he has discovered how deeply generous and kind the tennis community can be.
"When I first started, I was really surprised," he said of his experiences staying in people's homes while at tournaments on the road. "It's a huge blessing. As I've been doing it more, I found out that a lot of people want to help out which is huge for me because I need the help."
Strode said he keeps in touch with many of his host families and returns to stay with them again the next year.
"Having good hosts who are just really friendly, who just want to make sure you're comfortable and having a good time, that can make a tournament really enjoyable," he said.
And it takes some pressure off his wallet.
Strode is in roughly the top fifty percent of professional tennis players in the world, but that means that his pocket book is just barely breaking even.
"It is a grind, especially if you don't have a significant financial backing," he said. "But right now I'm seeing where God takes me."
Although Strode said it is important to him to be able to reach a level where he can sustain himself financially, money has never played into his decisions regarding tennis — and certainly not his choice to forego college for the time being.
Many have criticised him for not taking scholarship opportunities, and he already knows that he is giving up any hope of playing on a Division I team if he ever decides to go to school, but Strode said he is confident in the path he has chosen.
"I'm not doing it for financial reasons," he said. "I've made my decision."
There is a chance he may one day fill out a college application form, but Strode said he has some goals to reach first.
"If I made it to the top 100 in the world and was able to play all four of the grand slams, everything that I'm doing now would be well worth it to me," he said. "Well worth it."
And what he is missing at college right now, Strode said he is gaining in life experience.
"Even what I'm doing now is worth it, no matter how it turns out, because I have learned so many life lessons," he said. "I have learned so much, it helped me grow up so fast. I felt like my best chance to do well was just to play and evaluate where I am later, and if I decide I don't want to do it anymore, I'll go to college."
Ultimately, Strode said he is playing pro tennis right now instead of sitting in a classroom because he wants to. He just really loves tennis.
"At the end of the day, the moment I want to stop doing this, I'm going to move on to something else," he said. "I do this because I love it. Even though it's hard, I love it."