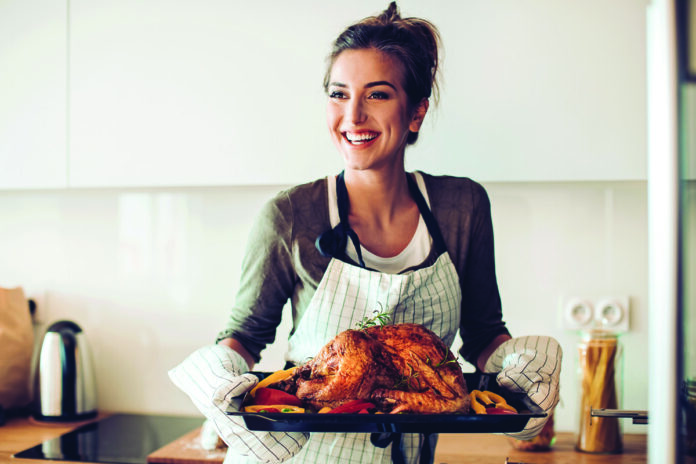 By Gloria A. Chadwick, RN
Special to The East County Californian
For centuries, children growing up in the United States have been taught that the first Thanksgiving occurred in 1621 with a feast between the pilgrims and Wampanoag Native American tribe. There is no record of turkey being served at this historic feast, but that has not stopped innocent misinformation from spreading like wildfire. Today, consumer industry surveys estimate that turkey is the choice served at nearly 90% of Thanksgiving family gatherings.
It was President Abraham Lincoln who established Thanksgiving as an official holiday in 1863, after the Civil War, to heal the country's wounds and division among families. When it comes to promoting unity, today is no different.  We seem to be a country once again at odds; hopefully, this year's Thanksgiving holiday will bring us back to the table with those we love, and differences can be put aside.
But back to the bird for a moment. Yes, the turkey is our nation's very own native bird. No, Benjamin Franklin did not want it as the national bird. That is a myth and an old example of the ever present "misinformation" phenomenon.  Benjamin Franklin wrote a letter to his daughter expressing his disappointment that the bald eagle was chosen as the symbol for our country, because the eagle was a lazy scavenger whereas the turkey was smart and silly.  He never indicated what he wanted the turkey as a national symbol; he simply made a well-remembered statement that mushroomed into myth.
There is also a myth that eating a turkey dinner will put you to sleep because of tryptophan in the meat. According to modern science, it is more likely that the sleepiness that follows your big holiday dinner is a result of eating a large meal, which increases blood flow to the stomach for digestion while decreasing blood flow to the brain.
Misinformation is everywhere, in every place, in our history, and in our present. While some of the lasting myths that come about from misinformation are fun and harmless, others can be dangerous for all of us. In the modern age of online media and a wealth of information at our fingertips, there is no shortage of misinformation related to our own health and safety. This Thanksgiving, to ensure your family is safe, make sure those invited are protected from COVID-19 and the flu. It is not rude to ask loved ones to wash hands or ask those who are not fully vaccinated to wear a mask. Rather, it is a reminder of basic hygiene and a showing of respect and caring. We want our loved ones to survive to enjoy future celebrations.
Viruses look only for opportunities. Our older and frail community members are traditionally the targets who are most affected by the spread of an infectious disease, but when we are faced with ever-evolving, opportunistic viruses we need to be smarter and better prepared for the sake of everyone. Vaccinations have proven effective and are free.  Please consider the above accounts of misinformation that occur when passed on by well-meaning friends and zealots. Our country has stood up for one another in the past, shedding our differences and uniting to save our American way of life.
Enjoy your time with family and friends at the dinner table. Have a safe and thoughtful Thanksgiving. For more information on facts, myths, and protecting yourself and your loved ones this season with free flu or COVID-19 vaccines, visit our website at www.grossmonthealthcare.org. 
About the Author
Chadwick has served on the Grossmont Healthcare District board of directors since 1998 and is a native San Diegan living in El Cajon.  She retired in 2008 as a retired psychiatric nurse after a 44-year career in the healthcare profession. She is also a nationally recognized artist, and past 4-H Community and poultry leader.