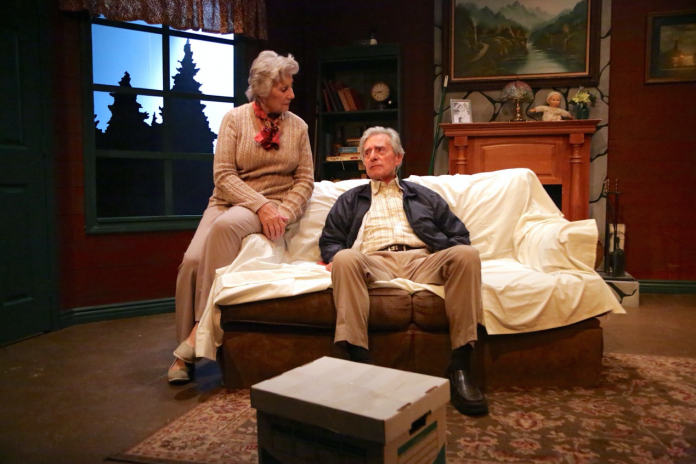 Just like that, baseball's American League East staple Detroit Tigers — winners of four World Series and parent club of everybody from Ty Cobb to Justin Verlander and then some — pulled up stakes for somewhere else. It's right there in black and blue. Norman Thayer's mighty angry about it, too, especially the way the newspaper covered the story. There's no mention of Detroit in the morning standings — if the franchise doesn't exist, then where's all the other information about the city's disappearance?
But that's Norman, see. He scoffs at such typos the way you and I mock the high price of gas — and now that's he's just turned 80, you can expect a lot of crotchety rebukes to go with it. Thank God for wife Ethel, whose annual trip to Golden Pond brings out enough wistfulness for both of them.
The plaintive calls of the native loons punctuate the summer Maine air, their so-called "crazy laugh" a makeshift commentary on the Thayers' stature after decades together. Norman's stubbornness is at the root of some family discord, and his daughter materializes to make peace before time steals the opportunity.
It all comes out in the wash in "On Golden Pond," writer Ernest Thompson's well-intended, if lightweight, nod to family longevity, now aboard at La Mesa's Lamplighters Community Theatre. Director George Bailey and assistant Elaine Litton draw the characters with more than sufficient disparateness, and they take advantage of what character exposition Thompson gives us.
The shortcomings make themselves known in due course — but they're already embedded in the script, out of the directors' and the cast's reach. All in all, this "On Golden Pond" is uniform, well-cast and, most important, greater than the sum of its faults.
The plot point lies in the relationship between Norman and daughter Chelsea, who's come for a visit with her new fiancé and his teenage son Billy (they're on their way to Europe, although Billy will stay behind with Norman to learn the finer points of fishing). Chelsea's conscience will eventually come to call, and her return finds her back at Golden Pond, attempting to smooth over years of tension with Norman while there's still time.
Thompson, to be sure, has a gift for subtext — Norman's fun relationship with Billy, his love for Ethel in spite of himself and his fear of death and old age in the context of a longtime marriage are clearly drawn; Ethel's impatience with Chelsea's beefs over the past are cadenced and to the point. Sadly, that kind of explicitness doesn't drive the crux of the show — Chelsea's flap with the overbearing Norman is woefully underexplained, leaving that part of her character wide open to interpretation, or, worse yet, the lack of it. The reconciliation is thus incomplete, but somehow, you couldn't prove it by Thompson.
Beyond that (and "that" is this show's positively paramount defect), the cast is thoroughly conversant with the story, evident in how well the personnel play in and out of one another's dialogue and bits of business. Haig Koshkarian's Norman is as hatchet-faced and cantankerous as the character allows, his old-man affectations no match for the intellect he retains. Ethel truly adores her summer trips to Maine, and Jo-Darlene Reardon's Ethel has the quiet, longing voice to reflect it.
Pamela Crane's Chelsea clearly needs stable guys like fiancé Steve (a good Bill Ray) and his son Billy (a nicely grounded Levi Laddon) in her life, lest she risk an existence of conceit and loneliness. Crane is exceptional at wearing this characteristic on her sleeve. And do enjoy Charlie Martin as Daniel, the community mailman. Daniel is the archetypal open book, as affable and glad-handing as the day is long (he used to date Chelsea, and it never would have worked out) — his entire world is defined within his infectious giggle and ear-to-ear grin.
Hadlock's set is nicely lived-in, and its deep red walls persistently direct our attention onto the action. Patricia Lynch's costumes rely on color to define the characters; Lynch has made the wisest choices. The rest of the tech is fine, although the outdoor scenery doesn't comport with the interior's realism.
Thompson adapted the 1981 screenplay from his live show, which he debuted two years earlier. The screenplay won three Oscars out of the ten for which it was nominated, including Best Actor (which went to Henry Fonda in his final performance).
The fact that the play came first (it won a Tony Award in 1979 and two more in a 2005 revival) is further evidence that the film trade, as one actor put it, "couldn't go to the bathroom without the theater's help." In this case, he may be right, which is recommendation enough.
This review is based on the matinee performance of Oct. 13. "On Golden Pond" runs through Nov. 10 at Lamplighters Community Theatre, 5915 Séverin Drive, La Mesa. $22, $19, $17. 619-303-5092, lamplighterslamesa.com.