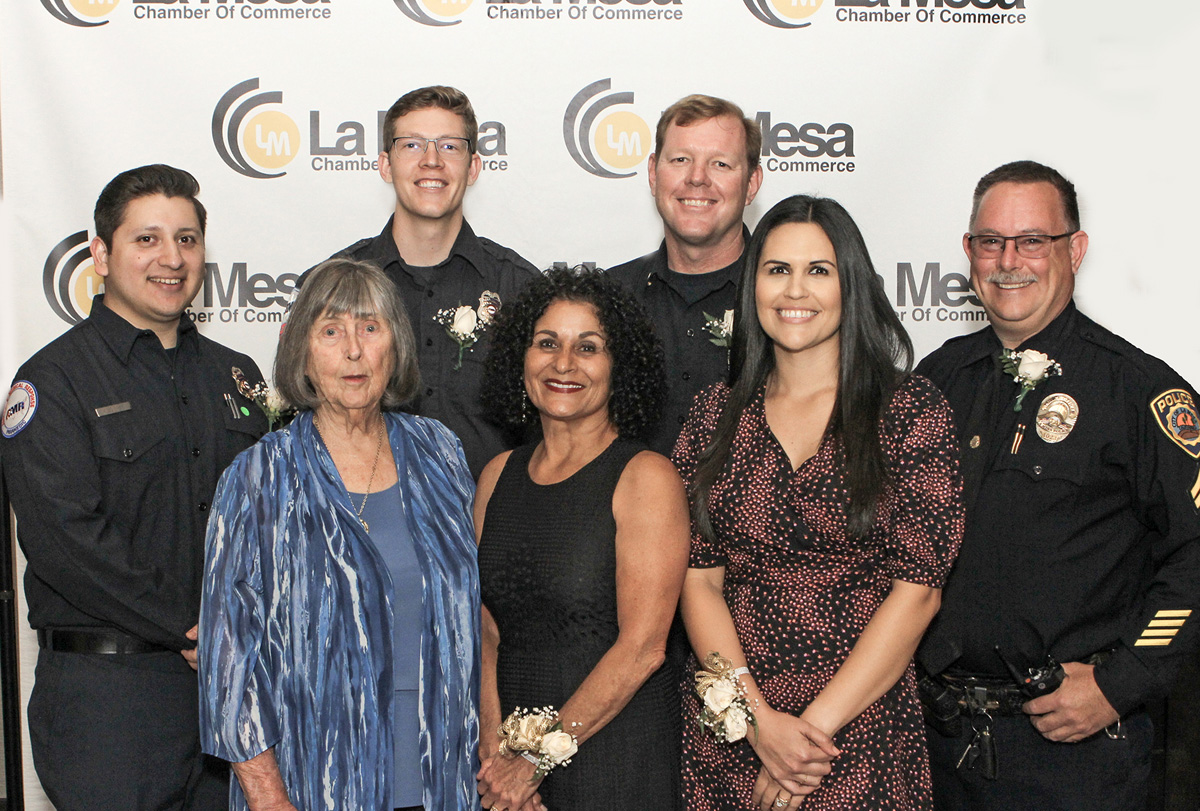 The La Mesa Chamber of Commerce Board of Directors celebrated its 12th Annual Salute to Local Heroes at a "Hooray for Hollywood" themed event at Sycuan Casino and Resort on March 12. This annual event gives recognition to persons that make a significant impact in the daily lives of the citizens of La Mesa and are selected by their peers. Leaders from American Medical Response (AMR), Heartland Fire & Rescue, and the La Mesa Police Department (LMPD) presented the awards to the seven honorees, telling why these people were deserving of such an honor.
American Medical Response recognized paramedics Chris Torres and Keenan Wayne. Heartland recognized Capt. Chip Tidball and the LMPD recognized Master Officer Colin Atwood, Crime Prevention Specialists Claudia Ortega, Ret. Senior Volunteer Patrol (RSVP) Tita Boatright and Pat Olow.
Chamber CEO Mary England said that this is not only one of its major events of the year, but one if its most significant events as it highlights the best of the best in La Mesa's people that work in public service, helping save and protect the citizens.
"Tonight, we are proud to honor local heroes who are being recognized for their dedication and service to La Mesa citizens," said England. "We celebrate the strength of our community."
Paramedic Chris Torres has worked with AMR since 2018, serving the citizens of La Mesa his entire career. In February 2019, Torres responded to a call to assist a male patient in cardiac arrest, determined to be caused by use of cocaine laced with Fentanyl. Torres and the first responders from Heartland Fire administered Narcan to the patient while performing CPR and resuscitated the patient on the scene. He was transported to a local hospital and made a full recovery.
Paramedic Keenan Wayne has worked with AMR since 2016, is also a part-time flight paramedic and pursuing a degree in molecular biology. His work has carried him in many areas of East County, but in September 2019, his expertise in working with other first responders, saved the life of a 59-year-old male under cardiac arrest. Keenan applied Advance Life Support skills and medications, successfully resuscitating the patient and made a full recover.
Capt. Chip Tidball is a 20-year veteran of Heartland Fire & Rescue, serving as a member of the Wellness and Peer Support Team. He travels the U.S. and Canada lecturing on behavioral health topics. As an IAFF Master Instructor, he assists fire departments by creating peer support programs. He recently traveled to El Paso, Texas to assist other PEER teams that were working with first responders that had responded to a mass shooting incident.
Master Officer Colin Atwood joined the LMPD in 1999. During his 21 years, he served as a patrol officer, field training officer, and traffic officer. He is a certified Emergency Vehicle Operations instructor and firearms instructor. Atwood has a longstanding dedication in community outreach programs benefitting children for more than 17 years, with the Shop-With-A-Cop program and primary planner and organizer of this annual event. He also organized and participated in the Tip-A-Cop program for the past 10 years, which benefits the Southern California Special Olympics. In 2019, he also organized a fundraiser for St. Jude's Children's Hospital.
Atwood is known for his dedication is the fight against drunk drivers. He is the recipient of the MADD DUI Officer Award seven times. During his 21 years, Atwood arrested more than 600 drivers who were under the influence.
Crime Prevention Specialist Claudia Ortega has worked with the LMPD since 2013 and considered a valuable asset within the Community Resource Unity. Ortega was selected as the LMPD Employee of the Quarter for the first quarter of 2019, as she willingly helped her peers and on two occasions assisted other agencies in identifying and arresting two suspects. Ortega is involved programs Life on the Beat, Kidz Watch Program, Youth Leadership Camp, Coffee with a Cop, Safety Fair, National Night out and many other local events. She also volunteered to be the head of the LMPD's social media team.
RSVP Tita Boatright joined the program in October 2018, since contributing more than 525 volunteer hours to the LMPD. Boatright is the agency's first fully cross-trained retired senior volunteer who can perform patrol duties, LiveScan operations and works with homebound La Mesa citizens through the You Are Never Alone program. In addition to her regular duties, Boatright readily volunteers to work the city's special events and assists other law enforcement agencies on special events throughout the county. In April, 2109, Boatright trained to become a volunteer with San Diego's Community Emergency Response Team.
RSVP Pat Olow joined the LMPD program in May 2012. In her 8 years, she contributed more than 640 hours of volunteer hours, working exclusively with the You Are Never Alone program, becoming a vital lifeline between homebound seniors and the community resources available to them. She has brought a high level of personal respect due to her weekly visits, call resulting in more than a service, but friendship. Olow is also a Lead City Volunteer, assists with public inquiries, volunteer timekeeping and Adult Enrichment Center membership database management.