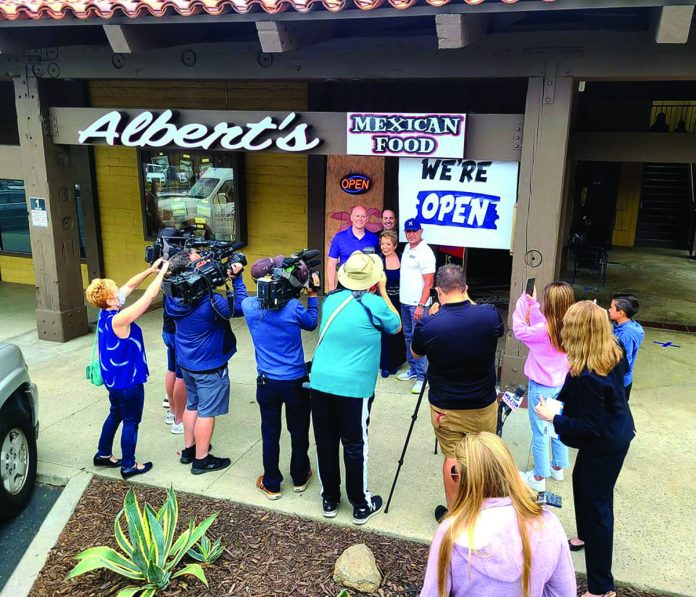 El Cajon City Council member and board member of the East County Chamber of Commerce Phil Ortiz summed up the heart of a community that has rallied behind the La Mesa businesses damaged and looted during the May 30 riots in the village and surrounding areas.
"Our community is different, we're close out here. If something gets destroyed, we're going to rebuild it, time and time again," Ortiz said.
"It's not uncommon for businesses to rally around each other in a crisis," he said, citing the numerous fires East County has been affected by and the generosity residents show to those in need, helping with evacuations, housing and animal care.
More than a month after the initial rioting, which piggy-backed on a peaceful protest about police brutality in downtown La Mesa and ended in a night of arson and looting, the businesses damaged in the chaos are seeing relief. Some of that relief comes from the La Mesa Business Disaster Recovery Fund, a gofundme campaign created by Ortiz and four others: Barry Jantz, Rick Wilson, Kyle Taylor and Patrick Howard. The fund has raised more than $250,000, according to Jantz. The gofundme page shows 2.1 thousand donors contributed to the campaign, mostly in small increments, but Jantz said SDG&E, CalCoast Credit Union, Sycuan and others sent much larger checks directly to the chamber.
"This entire effort just really speaks to how committed folks in East County are to making things right when someone is wronged and these businesses were really wronged. Despite the fact that this started out as a peaceful protest, what it ended up as was damaging to the business," said Jantz, who said that some of the people who came to help with the initial clean up of the area on Sunday morning, May 31, were people who had participated in the peaceful protest the day before.
Last week, the first round of checks went out to businesses in need. Roughly 60% of the donations from the gofundme campaign were distributed around the community to businesses who applied for help, said Jantz.
"When we're all said and done with the applications, we will take whatever is left and a round two check will probably go out to the same pool for some additional money."
The East County Chamber of Commerce and La Mesa Chamber of Commerce have banded together with the East County Economic Development Council to help coordinate distribution efforts.
"They're the experts, they know the best way to distribute the funding," said Ortiz of the Economic Development Council. "They volunteered their time and worked with our foundation's board."
In the first round of distributions last week, 27 seven businesses received $5,000 checks.
Some businesses owners, however, have opted out of the opportunity to receive a helping hand.
"I think one of the great stories in this is Randall Lamb, the engineering firm that burned down," said Jantz of the company whose Village-based building was completely burned out during the riot. "They did not apply… [The owner] said he decided not to apply because he wanted to make sure that all the other businesses had plenty of funds."
Jantz said the business actually contributed to other fundraisers to help their neighbors.
"So not only did they not apply for funds, but they are donating funds," said Jantz.
Albert Garzon, owner of Albert's Mexican Food in La Mesa, applied for a check after his restaurant was damaged during the riot, but said he changed his mind.
"We applied for the relief fund and we thought originally that if we could get the deductable back that'd be great, but when I heard it was $5,000, I felt weird accepting it because I knew there were so many businesses in a way worse situation than I was in."
Garzon owns four businesses, three of which are located in East County, and his experience running his sports bar has made him acutely aware of the pressure put on bars and wineries during COVID-19 restrictions, he said.
"As we all know, a lot of these bars, wineries and pubs were closed for about three months and fortunately for myself, other than dining in, we weren't affected by it," said Garzon. "When I got the check, right there and then I said, 'I'd like to give it back to the bars that are having to close down.'"
Ortiz said more funds are expected to be sent out at the end of July for those who missed the original application deadline, and he encouraged the community to continue donating online.
"I just encourage people if they have extra money to donate," he said. "A lot of these businesses, $5,000 isn't going to cover much. Play It Again Sports is having to start from the ground up."
Ortiz said he hopes the small financial support for these businesses will be an encouragement and a motivation to keep going. 
"It's us saying, 'hey the community values you, you're one of us,'" he said.
Although the bulk of the funds were donated in the first few days of the campaign, as recently as last week, residents and local organizations have been contributing to the fund, including the La Mesa-Spring Valley Teachers Association, Cabrillo Credit Union and St Luke's Lutheran Church. To help La Mesa businesses, go to: https://www.gofundme.com/f/la-mesa-business-disaster-recovery