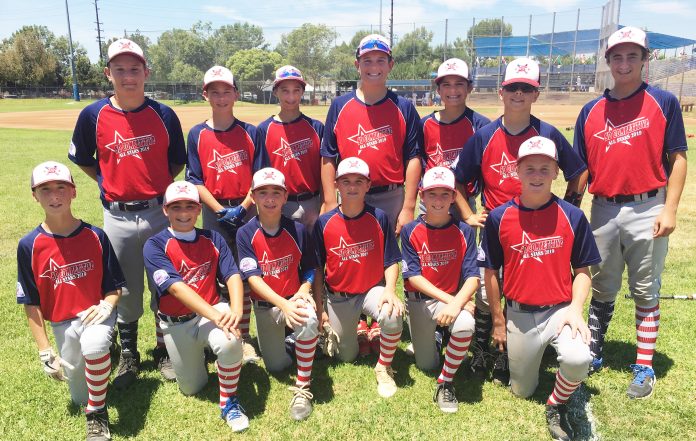 There are 14 Pony Baseball programs scattered throughout San Diego County. Two of them are sending age-group teams to world championship events.
San Diego Competitive, which operates out of the Junior Seau Sports Complex in La Mesa, has landed a berth in the upcoming Pony-13 International World Series while Tecolote, located in the area surrounded by the Morena, Bay Park and Linda Vista communities, has qualified a team to compete in the upcoming Mustang 9U International World Series.
Both international championship tournaments start Friday, July 26, and end Monday, July 29 — the Pony-13 World Series in Whittier and the Mustang 9U World Series in Walnut.
It's a big deal for Pony Baseball in the San Diego region and obviously a once-in-a-lifetime experience for the players and their families.
"It's a big accomplishment for us in a short time," San Diego Competitive manager Ryan Wheeler said of the program, which has been in existence for just four years. "It's a big deal for the parents, who have seen the hard work pay off in making the transition from Little League to Pony Baseball. It's a different pace of baseball."
It's also a big deal for Wheeler, who led the Valhalla High School baseball team to this year's San Diego Section Division III championship title as head coach.
The Norsemen finished the 2019 season with a 25-8 record, defeating San Pasqual, 6-5, May 24 at SDSU's Tony Gwynn Stadium. Prior to competing in the CIF playoffs, Valhalla won the Grossmont Valley League title with a 10-2 record.
Wheeler's Pony-13 team has been quite successful as well.
San Diego Competitive has played 17 games to get to the World Series. The team has had to overcome adversity several times by successfully navigating through the elimination bracket in qualifying tournaments.
"We've never given up, the kids have learned to deal with the hand they have," Wheeler said. "They have bonded together and understand the game, that when facing adversity they have the ability to make things happen… team chemistry is a big thing with this group."
Batter up
San Diego Competitive finished 3-1 in its bracket to place runner-up at the San Diego Section tournament June 15-21 at Emerald Pony in El Cajon.
After a runner-up finish at the Southern California Region tournament June 22-23 at Emerald Pony, San Diego Competitive had its resolve severely tested in the massive 16-team Southwest Super Region tournament July 11-16 in Whittier and Glendora after dropping a 4-2 contest to Heartwell in the second game of the tournament.
But San Diego Competitive regrouped to finish 6-1 in the tournament by winning its last five games to finish as the No. 1 seed from Southern California for the West Zone tournament July 26-29 in Whittier and Glendora.
San Diego Competitive finished 3-1 at the West Zone that ended last weekend in Whittier.
The East County-based team takes an overall 13-4 record into its opening game Friday at 10 a.m. against Johnstown, Pennsylvannia.
The winner plays the winner of the Seoul (Korea)-Redondo Beach opener in Saturday's second round while the losers of both first-round match-ups meet in an elimination game.
The tournament continues Sunday with elimination games. The championship game is scheduled Monday at 7 p.m.
San Diego Competitive wasted little time in making a statement at the West Zone tournament by defeating Scottsdale (Arizona), 14-5, in its opener last Thursday and adding victories against San Francisco, 14-6, and Walnut, 4-2, on Friday and Saturday, respectively.
The three wins propelled the San Diego team to the championship game against a team representing Hilo, Hawaii. The Hawaiians won, 12-0, but the top two teams earned berths to the World Series.
San Diego Competitive was among two teams from San Diego County that competed in the West Zone tournament. Eastlake finished 2-2, with both losses to Hilo.
The Hawaii team eliminated Eastlake, 18-8, to advance to the championship game.
Hilo finished 4-0 at the zone tournament, outscoring teams 48-14 in the four games and racking up 44 runs in its final three outings.
San Diego Competitive has advanced with a balance of pitching and hitting.
"Mace Wheeler has pitched in some of the bigger games to get us to the next level," the elder Wheeler said. "All round we have pitching depth. We're able to call on everyone for a couple innings."
Key contributors in the hitting department include Grant Yturralde and Nate Moulton. Meanwhile, Colton Stinkeoway and Tanner Lough have contributed both at the plate and on the mound.