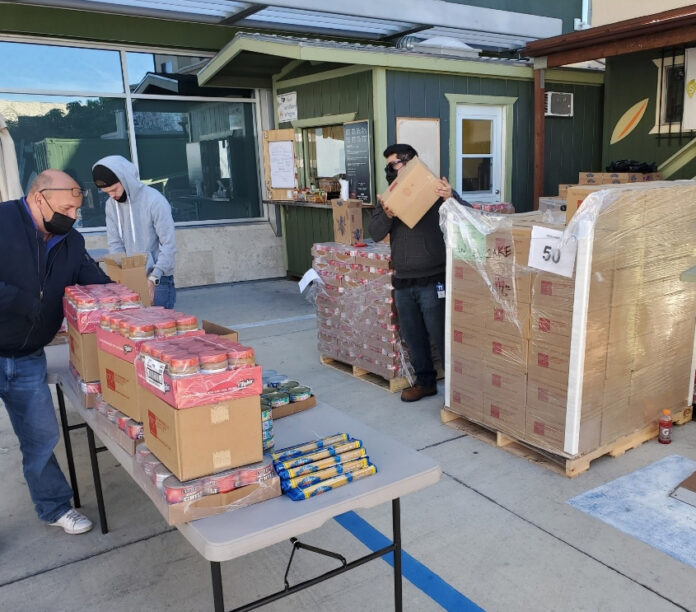 Serving low-income, uninsured, underinsured, immigrants, and refugee populations in central, east, and south San Diego County, La Maestra Community Health Centers has been busy through the holiday providing needed food and meals to those in need.
During the holidays, La Maestra distributed 300 hot meals to under-resourced families outside its main clinic in City Heights and distributed 60 meals per weekday to children participating in the organization's Center for Youth Advancement after-school care program. CYA provides after-school, and summer programs to youth in City Heights ages five to 18.
La Maestra also has an onsite food pantry known as the Healthy Choices Food Pantry. The pantry distributes fresh produce and shelf-stable foods to families several times per week. Families and individuals can receive around 15 pounds of groceries each week at no cost.
La Maestra operates 18 medical clinics, ten dental suites, three school-based sites, a mobile medical and dental unit, and a mobile mammography coach.
Robert Marquez said that is the coordinator distribution events, distributing unprepared food, mostly produce, rice, beans, if it is healthy for families.
"This event was the first time doing this with the Laotian community, organized by people in the City Heights area," he said. "At the food pantry, we distribute around 400 bags a week to families at the food pantry. We never turn anyone away. It is a program that I have overseen this for 10 years."
Marquez said he works with Feeding San Diego and the San Diego Food Bank to get the food for distribution.
"When COVID first hit, the first year, distribution pretty much stayed the same," he said. "From then, it just started increasing, so what I tried to do was make our bags larger so people would not have to come out as often. It has increased quite a bit."
Marquez said that there are plans to increase food distribution from the pantry in 2022.
"I have gone to the Food Bank and Feeding San Diego three days a week, but it looks like I will be going there four days a week so we can increase our distribution days," he said. "If we get phone calls, we will deliver food for emergencies."
La Maestra's main clinic is located at 4060 Fairmont Ave., San Diego. To find out more about its Health Choices Food Pantry visit https://lamaestra.org/index.php/healthy-choices-food-pantry.
La Maestra Healthy Choices Food Pantry Hours
(619) 779-7900
Tuesdays: 9 a.m. – 2 p.m.
Wednesday: 9 a.m. – 2 p.m.
Friday: 10 a.m. – 3 p.m.