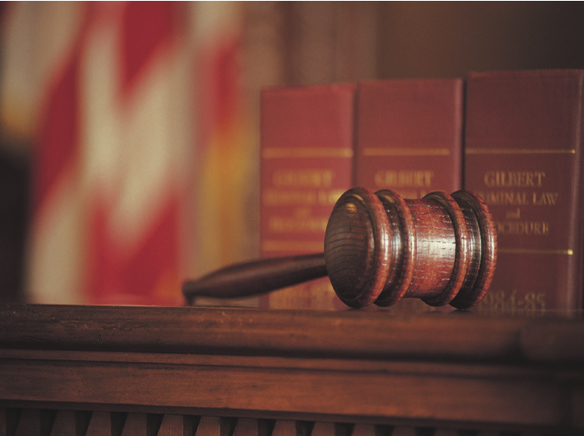 Everyone facing jury duty up to May 22 can disregard their summons to appear after the California Supreme Court suspended all jury trials March 25 because of the coronavirus outbreak.
Jury service will be considered complete for any juror within the time period of March 16-May 22, said a spokesperson for San Diego Superior Court.
"It does not appear to be in the best interest of our community's health to resume jury trials for the next 60 days," said Presiding Judge Lorna Alksne.
Supreme Court Chief Justice Tani Cantil-Sakauye issued an order March 25 allowing for the suspension of all criminal and civil jury trials.
People are encouraged to be six feet apart from each other to stop the spread of the coronavirus. The seats in most jury boxes are approximately several feet from each other.
Jury deliberations usually take place in a closed room without a lot of space.
Those with jury duty after May 22 have been asked to monitor the website sdcourt.ca.gov for more information.
The courthouses in El Cajon, San Diego, Chula Vista, and Vista were closed March 17 and will re-open Monday, April 6 following an emergency declaration and an order by Governor Gavin Newsom for the public to stay home with certain exceptions.
      •••
A bank robber who held up a Spring Valley bank and two other banks will be sentenced May 18 after a federal judge delayed sentencing March 23.
Andre LaFayette Holmes, 32, is also facing another case involving telephoned death threats to people associated with the LGBTQ Pride parade.
Those threats were linked to Holmes' cell phone and he was arrested on that case first.  Evidence at his home later linked him to the bank robberies, according to federal court records.
The caller said four times "I'm going to shoot up the pride event" on July 10, 2019 and repeatedly used a homophobic slur.
"I think I'm going to have to kill all the gays and the children," said the caller who is believed to be Holmes, records say.
Police found a semi-automatic pistol in his home along with a large bag of cash and a rubber "old man" style mask.
Holmes has pleaded guilty to robbing the U.S. Bank branch at 9831 Campo Road in Spring Valley, which lost $1,997, on Nov. 4, 2016.
Holmes also pleaded guilty to robbing two other banks in San Diego in 2018 and 2019. The U.S. Attorney's office is seeking at 15-year federal prison term.
Holmes has pleaded not guilty to making a criminal threat and interfering with civil rights to personnel from the LGBTQ Pride parade. He remains behind bars in the Metropolitan Correctional Center without bail.
    •••
The placement of a sexually violent predator in Jacumba Hot Springs has been postponed due to the outbreak of the coronavirus, the sheriff's department said on March 26.
Michael James Poulsom, 60, had been cleared to live at a house in Jacumba Hot Springs by April 3, but the director of the Department of State Hospitals suspended all releases of SVP patients for 30 days.
The postponement could be put off again due to the unpredictable spread of the coronavirus and using state resources in other ways.
A Lakeside woman and County Supervisor Dianne Jacob protested the release of Poulsom in a March 6 hearing. San Diego Superior Court Judge Jay Bloom ordered him released in March.
      •••
Leona Head, 76, will be arraigned April 6 on an arson charge involving a fire that was set by a cigar at a strip mall in the 500 block of Grand Avenue on March 24.
Sheriff's deputies arrested Head after she claimed to have started a fire by trying to extinguish a lit cigar with a flammable liquid. An electrical box caught on fire and it spread to a roof before firefighters put it out.
Head remains in the Las Colinas Women's Detention & Reentry Facility on $75,000 bail and is expected to plead not guilty.