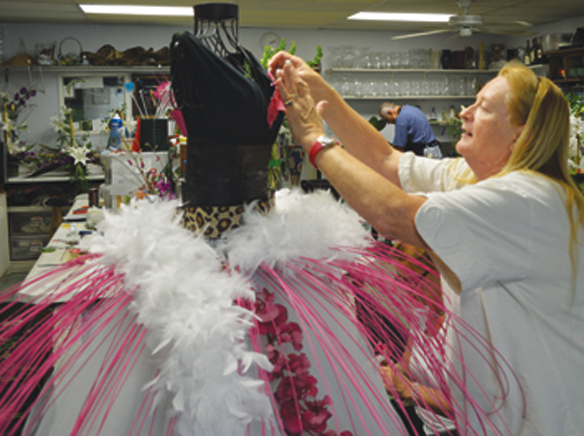 There is only one thing more passionate than a good squabble between lovers, family and friends—making up.
There is only one thing more passionate than a good squabble between lovers, family and friends—making up.
If a quarrel stands between you and someone you love, now is the perfect time to start the mending process. Whether a spat between friends, a family feud or lovers in trouble, the Ronettes knew only too well that "the best part of breaking up is when you're making up" taking their romantic soulful lyrics to the top of the Billboards' in the 60s. This week is the perfect chance to close those rifts. Aug. 25 is national Kiss and Make Up Day and flowers are a universal sign of love and passion and a sweet-smelling way of letting someone you love know you are ready to take that first step to mending a broken relationship.
Beverley Ireland, owner of Jasmine Creek Florist in El Cajon has spent the past 20 years helping people mend relationships with the perfect array of "I'm so sorry" flower arrangements.
"We are all about love and expressing love," she said. "Many times that is our most valuable message because many people do not have the words themselves to say what they want to say. But they know that flowers represent love, caring and all of those things. So they use our flowers to speak for them. A lot. We are a natural for Kiss and Make Up Day. Whether one or an armful of flowers it just depends on how much trouble you are in and what's it going to take to fix it."
But that is only part of the many services that Jasmine Creek provides all over San Diego County and the world in its ever-expanding business. With a majority of its highly trained staff that are members of the American Institute of Floral Designers, Ireland said her "cute little traditional neighborhood florist shop" focus mainly on business-to-business and household customers.
"We do everything from a new baby to providing flowers at the end of life," she said. "We take care of all of life's special occasions and occasions that need something cool, fresh and refreshing."
Ireland said Jasmine Creek does all those things for its business clients also, in addition to weekly flowers to office and reception areas. Every weekend is full of parties and weddings, with its market to brides coming mostly through word of mouth, which is the best way for them because there is already an element of trust. She said she donates flowers to just about anyone who ask, especially customers. Active in the community, Ireland is heavily involved in the Chamber of Commerce, a Rotarian and a floral networking group.
"I am always out there in the community," she said. "We are troopers here. You have to have passion. Passion keeps you going so that after 20 years you still feel the same way about your shop as you did the day you opened the door. We still get excited about a special flower that comes in, or even a regular flower that comes in and it is extraordinarily beautiful. We still love it."
On Saturday, along with its daily orders, Jasmine Creek had two large weddings and spent the week working on all the table arrangements and a dress made of flower petals for the St. Madeline Sophie's Center 36th Haute with Heart Fashion Show fundraiser. Along with a year of weekly flower arrangements at its silent auction, the table arrangements sold for a donation, Ireland said that all the labor and flowers were freely and happily given.
Ireland said she never has enough employees for demand, but the six she has are remarkable and have worked with her for the many years since her humble beginnings in 1993.
"Once I get my hooks into you, you are mine," Ireland said. "And it makes me feel good that they want to stay. My crew has everything they need to do their job. I like smooth waters and it is needed in this business, because every day, things change constantly and we do not need any other issues. We are set up for the constant change and expect it and work well with it. It is a normal day's operation, it is fine and it works."
Ireland said she is especially sensitive to young people. She is constantly building her base with high school and college students who do not have a culture of sending flowers and might not realize the value of them.
"We are constantly talking to schools and do advertising in their small school newspapers at prom time," she said. "I go to classes and teach them how to walk into a flower shop, what's going to be there and if you need to order a buttoner or corsage this is how you do it. That is helpful, especially for the guys because many times they are terrified, don't want to look stupid so I teach them enough to be comfortable, walk straight to the counter and tell them exactly what they need and it is all good. And it gets easier each time they go."
Kiss and Make up Day is right around the corner. If you need a little flower power to help break the ice, head on over to Jasmine Creek and talk to Beverley Ireland or one of her highly experienced florists. She's sure she can make the perfect arrangement.
Jasmine Creek Florist, 753 Jamacha Road, El Cajon www.jasminecreekflorist.com.