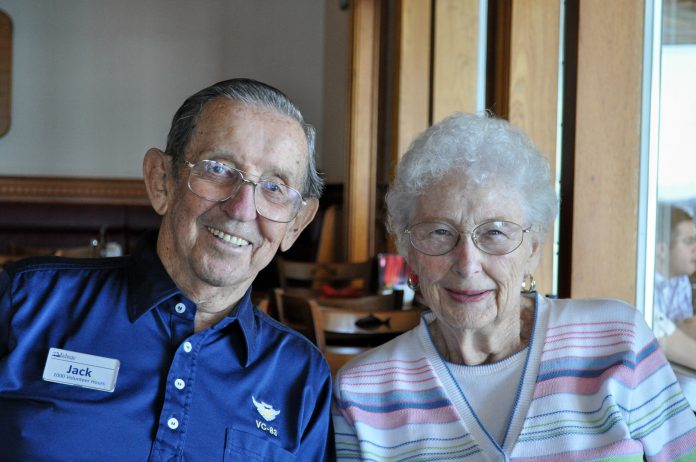 A Celebration of Life was held on Dec. 28 in the H. Lee House, Lemon Grove, in the heart of the city he loved. John S. (Jack) Durham died peacefully in the early hours of Dec. 12. He was 89. His wife of 69 years, Margaret, was at his side, together with his three daughters and their families. In death, as in life, Jack was the center of attention in the family he adored.
Born on May 29, 1925 at Centerville, Iowa to Ira and Julia Durham, he was the middle child of five. After the untimely death of Jack's older brother in the early 1930s, the Durhams loaded up vehicles and headed west to San Diego. In 1933 they settled on Main Street in Lemon Grove. Jack was 8 years old when Lemon Grove became his territory. He loved it and knew it well—the swimming hole, the rock quarry, fragrant orchards and local sports teams. Bike riding all over town and to and from the lone grammar school. And the fabled games of former childhoods, Run Sheep Run, Kick the Can and Ring-a-levio.
At 14 he became the stock boy at the famous Sonka Bros' General Store on Main Street near the Durham home. For $0.25 an hour, he stacked hay bales, swept the floor, restocked shelves, helped with inventory and climbed the rolling stock ladder to fetch items off high shelves for customers. As he grew older he worked at the nearby lumber mill on Main and North Avenue. He learned why the customer is (almost) always right and why the Sonka brand of diplomacy and geniality opened doors.
In interviews with the Lemon Grove Historical Society, he recalled how much he loved working for Tony Sonka, the head of the store that was "the Wal-Mart of its day," with customers arriving from miles around. After a year's excellent service, Sonka raised his salary to $0.30 cents an hour. Jack also had a paper route. These early experiences, together with assisting in his father's insurance agency, prepared him for life as an entrepreneur.
World War II defined his generation. Like millions of others, he played a part in this greatest American effort. After Pearl Harbor was bombed on Dec. 7, 1941 he left Grossmont High School at 17 to become a radioman in the South Pacific. His naval training took him to Memphis where he met and later married the love of his life, beautiful Margaret Virginia McKinnie. 1940s photographs reveal the elegance and charm she would transmit to her daughters.
Durham was shot down near the island of Chichi-Jima and sustained injuries that would send him home after three months in a Honolulu naval hospital. When pulled out of the water, he begged his rescuers not to tell his mother about his injuries. After all he lied about his age in order to enlist and didn't want to alarm his family. His Purple Heart became a prized possession and his original flight book was never far from reach.
In the post war economic and baby boom, Jack and Margaret started a family, producing three daughters, Kathy, Lori and Gayle. He also joined his father in Durham Insurance Agency, which he would run for 38 years in Lemon Grove. Father and son also started Cinema Dine, an innovative drive-in movie theater on Federal Boulevard. Waiters on roller skates delivered patrons' meals from a kiosk. In a town with a strong (and admired) Japanese immigrant presence, the first feature film shown at Cinema Dine was "Go For Broke," the story of the heroic all-Japanese American 442nd Brigade.
Route 94 in 1956 sliced into Federal Boulevard ending Cinema Dine and dictating a new world for Lemon Grove. Its business district was now a long strip next to an interstate and its major competition was the county's first shopping mall, College Grove.
Durham became an intrepid civic leader in the Chamber of Commerce, Rotary, Kiwanis and Lions clubs, and, with Margaret, a frequent volunteer in the growing Lemon Grove School District. Numerous photographs in the Lemon Grove Historical Society archives show him presiding over dinners, awards banquets, fundraisers, parades, annual festivals and business district promotions. He enlisted in the drive to gain cityhood for Lemon Grove (1977) and never ceased to promote local business and the joys of living in "the best climate on earth."
His businesses provided his "harem" with an idyllic, middle class suburban life style. During vacation breaks the family took cross-country train trips, Sunday rides to watch airplanes and get ice cream, and tours around the county. Their home was filled with music, stemming from his early training as a clarinetist and his participation in the Grossmont High School band. He loved playing his clarinet.
All three daughters grew up to become businesswomen. In Lemon Grove Lori and her husband, Bob Bailey, ran the iconic Food Factory lunch counter for 42 years, retiring in 2014 after throwing the torch to chefs John and Lori Barrios, who renamed it The Bleu Whisk Diner. Gayle Durham's company is Alvarado Pacific Insurance Services with 30 employees, including Kathy Durham.
In retirement he became a volunteer docent on San Diego's Midway Museum and a frequent consultant to the Lemon Grove Historical Society about all things "Grovian." He loved stopping by the Food Factory and holding court in the rear booth. But it was his role as family man that is perhaps his greatest legacy.
A note from his daughters:
"Our dad reigned supreme over a household of women, but he bowed to us. He never got to watch 'Gunsmoke!' He ruled with humor, compassion and gentleness. Mom could never say 'wait till your dad gets home!' He told us he loved us and we knew it. Each one of us thinks we were dad's special daughter, but dad never divulged it. He loved us equally, fully, and unconditionally. He respected our differences and always stood up for his family. His legacy to us is his kindness, his gentle nature, his absence of anger, love of music and family, and the greatest gift of all, humor. A joke works every time! We are an ordinary family with a dad who made us feel extraordinary every day of our lives."
He is survived by his wife Margaret, daughters Kathy Clifford (Larry), Lori Bailey (Bob), Gayle Bailey (Steve), four grandchildren including Lori Fentress (Jim), Jeff Bailey, John Clifford (Crystal) and Clint Bailey (Cristina), six great grandchildren, and his sister Mary Brooks.
Donations are suggested for the Lemon Grove Historical Society, P.O. Box 624, Lemon Grove, CA 91946 and Sharp HospiceCare Fund, P. O. Box 1750, La Mesa, CA 91944.