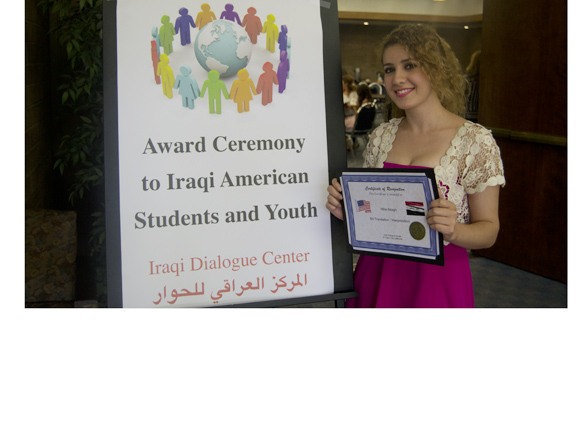 Ronald Reagan Community Center in downtown El Cajon hosted the first Iraqi student achievement awards on July 21, sponsored by the San Diego Iraqi Center for Dialogue.
Ronald Reagan Community Center in downtown El Cajon hosted the first Iraqi student achievement awards on July 21, sponsored by the San Diego Iraqi Center for Dialogue.
Students and youth that ranged from middle school to college, and trade schools received certificates of appreciation for commendable achievements in education. "Students who have succeeded despite immigration and reunification with their families," were also honored. Many award recipients were both admirable students, and victors of cultural transition from Iraq to the United States.
Hiba Alsagri is one of those students. A 24-year-old student in the U.S. almost three years, Alsagri has a BA in English translation that she received in Iraq, but that did not make her transition to America easy. With no car and all her family in Iraq, public transportation was essential for Alsagri but difficult.
"I remember I was standing on the street, and I was just crying because I didn't know where to go," she said. "It was real hard for me because we didn't have that back home."
Now Alsagri knows the streets well, and has since purchased her own car.
"I was kissing my car all the time," she said.
She is currently working as a medical translator and studying to be a pharmacy technician, and is striving to become a Dentist. Alsagri admits she likes teeth, and says this is her dream.
"I didn't have a chance to do it when I was back home but now I can do it," she said. "If you want to do something you can do it."
Fellow award recipient Sarah Taha is doing exactly what she wants and what she called "her life's purpose."
"My purpose is to help people and leave this world a better place," she said. "I feel like the awards is giving me force to do more."
Taha is 26 years old, and has lived in the U.S. for five years. She's an active community service volunteer, helping in beach cleanups, blood drives, gift drives, and other charities.
"I've been volunteering for a lot of good causes that I care about," she said. "When I get the award I feel like it's really appreciated."
Taha possess a 4.0 GPA, and is one of only 94 students in the world to be admitted to Haas School of Business in Berkley, one of the top business schools in the world. Taha is also the general director for the U.S. branch of I Care, an international charity based in New Zealand and Australia. And she shows no signs of slowing down despite her impressive resume.
"I need to do more," she said. "I want to do more."
Seventeen-year-old Grossmont High school student Ahmed Almudafar was excited to be honored in the ceremony.
"I've never received an award like this, it makes me proud," he said. "Being recognized as an Iraqi for something different, it means something to me, it's nice."
Tensions between Islamic State of Iraq and nations can generate negative conceptions of Iraqi people. But artist like Najlaa Shaker work to erase stereotypes with her art. She paints beautiful mosaic pictures that represent the Iraqi people and its history.
Guests were met with a delightful art gallery by Shaker upon entrance into the ceremony. Shaker's gallery featured oil paintings which exhibited Iraqi culture and life. She said she receives her inspiration from Iraqi folklore. Iraqi cultural traditions and history surge toward viewers in a 3-D like fashion in all Shaker's art pieces. In each piece symbolism is used as a path way into an older way of life. Shaker toured the gallery with attendees, including El Cajon Chief of Police Jim Redman, who also participated in handing out awards.
"I think this (ceremony) is great because these are our future leaders," he said. "I think we're all going to be better off because of that."
Other officials included City of El Cajon Councilwoman Star Bales.
"Education is the best tool to help anyone grow in a healthy and productive manner," she said. "Regardless of struggle they come seeking a better life and opportunity."
Jawadat al-Obeidi coordinated the event, and was pleased with its results.
"We like to encourage our students, youth, sons, and daughters to have a better future," he said. "I'm proud of Iraqi-American students, they deserve this ceremony."