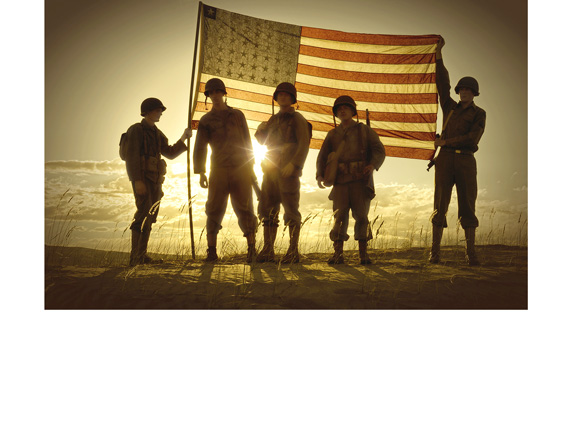 The war in Afghanistan and Iraq is hellish, seemingly never-ending. Yet U.S. troops see some hope in fighting the Taliban and insurgents through help from the people who live there and sign on as interpreters. They do so, risking their own lives to help the soldiers and sailors who are doing their best to bring stability into a country wracked with fighting.
The war in Afghanistan and Iraq is hellish, seemingly never-ending. Yet U.S. troops see some hope in fighting the Taliban and insurgents through help from the people who live there and sign on as interpreters. They do so, risking their own lives to help the soldiers and sailors who are doing their best to bring stability into a country wracked with fighting.
But when the interpreters are finished with their tour of duty, they often become targets for persecution by their own country for having helped the U.S. They seek refuge, often immigrating to the U.S, choosing our own East County for their new homeland. But finding housing and other basic needs can be challenging for them. Volunteers with the San Diego chapter of the non-profit No One Left Behind (NOLB) help these people coming in on a Special Immigrant Visa to adjust to life in their new country.
Matthew Makowski, Director of the San Diego chapter of NOLB explained that interpreters are paired with a government sponsored refugee resettlement organization that assists them in coming to the U.S. and offers support services when they arrive.
"They will usually help them find an apartment and also help with some job assistance and getting enrolled in government benefits. NOLB helps them with donations of furniture and household goods, resume and job search assistance, practice for the driver's license exam, and many other aspects of starting a life in a new country," Makowski said.
"We see each other as a big family—the interpreters and the volunteers," he said. "They had our backs on the battlefield, so now it's our turn to have theirs."
Three interpreters who live in East County talked about their experiences helping U.S. troops in the Middle East and then coming to the U.S. to start new lives for themselves. Initials instead of full names are used in this story to protect the interpreters.
RM, who grew up in Afghanistan, started a career as an interpreter in the Helmand Prince at Camp Bastion in 2011. RM chose such work hoping to assist the people who were there to help Afghans and to bring peace to the country.
"But that obviously hasn't happened, and every day it gets worse," RM said.
As a translator, RM worked alongside the U.S. Marines Special Forces in different sections as combat interpreter, participating in almost 20 different missions.
"Every day was started with fear and threat, even in the camp," RM said.
The very first stint as an interpreter began in Helmand Province known for its danger. When RM began working in Kabul Province the prospects were a bit better, but still full of danger and threats, especially with the Afghans attacking US/NATO allies.
About why RM fled to the U.S. once the work was done, this is the reply: "It's very complicated. For instance, in some cases individuals who are associated with the US government and military were called infidels even by their parents or relatives."
Other than leaving behind family and friends, the most difficult aspect of moving to the U.S. for RM has been to find a job with no professional credits or background in the country.
"I have come to this point that in the US, the bridge between being fortunate or unfortunate is having or not having a job. No one trusts our capabilities and skills, therefore we have to start a job that doesn't require any special skills and credentials. It will take years to rebuild your career," RM said.
Still, RM has no regrets for having worked alongside U.S. troops against the Taliban. "I feel proud for being a part of a war for a peace; we fought against terrorism and extremism. That is a [source of] pride and dignity. [Thousands] of interpreters and US Army [soldiers] and Marines lost their life for peace, to defeat enemies of humanity and freedom."
RM thanks volunteers Jamie Gold and Matthew Makowski of NOLB.
"I would like to ask [the] American people for their support for all interpreters and people who worked with the US military, it's very difficult to start your life [at age] 30 or 35 almost from zero and leave everything [behind], become self sufficient with no credentials where everything is new for you," RM said.
AR, also from Afghanistan, is currently working as clerical support in an El Cajon office. AR's his first job as a Language Assistant was in 2005 in the Herat Province, which is the western part of the country. This work lasted nine years, his last year in Kabul, and the capital of Afghanistan.
AR chose such work because after coming back from Iran in 2004, spending years in what AR called a "meaningless" domestic war was faced with three groups of people. "One, Taliban who were destroying my country and everything in it, my people. Second, anti-Taliban group fighting against the Taliban and wanted the country to be peaceful, and finally the third group who were irresponsible or carefree people.
"I thought myself that I am not going back to the hated country of Iran where the government teases Afghans for any ridiculous reason they possibly can get their hands on. I decided to do something to help bring enduring peace to the country so my people can return. So I chose a side. I decided to join ISAF [International Security Assistance Force—NATO'S joint mission]" said AR.
As an interpreter, AR worked three years with ISAF/NATO who were Advisors for the Afghan National Army (ANA) and 4 years for Marine Special Operation who were part of Reconnaissance Special Units. He worked an additional three years for a U.S. contractor within DynCorp International and Wackenhut companies.
"Working for Marine Special Operation Teams was kind of a hell job on a daily basis," AR said.
In his first two years, the team had to be ready 24/7 to deploy on an operation. After the notice, the team had only fifteen minutes to get ready and go either with Ground Mobility Vehicles or with Blackhawks.
AR said, "You always had to be super cautious about the atmosphere around you."
During daylight hours, the Taliban ambushed the team. They all had to respond back as soon and heavily as possible.
"I was involved in many close quarrel battles when we were searching suspicious houses, which was stressful as hell. Because many times while you [were] searching houses in [the] dark somebody [would] sneak [up] on you and shoot you from [the] side or back," AR said.
Even while working as an interpreter for a contractor in an office was dangerous for AR because there was safety only in that area. Many interpreters were identified and killed enroute to their own houses. They were captured, tortured and killed because of working for foreign forces. Interpreters are known as traitors even among Afghan Defense and Security Forces (ANDSF).
"To be honest, I prayed my last prayer [a] dozen times when I was working with ISAF/NATO and Marine Special Operation Force in particular. When you work for [the] military you are always in danger and if you don't expect any ambushes ahead of your way, you always can be surprised with an IED (improvised explosive device)," AR said.
AR said that the worst thing about being an interpreter was that they were civilian and never had the training that special units like MARSOF, ODA and Navy SEALs had. Yet the interpreters had to keep up and complete the operations with them.
"They have to do walk patrolling for hours and days. They have to stay up during nights and scan enemy radios. They have to shoot back [at the] enemy and protect [themselves] from getting killed or injured, which requires a lot of trainings and courage," AR explained.
When the duty was over as an interpreter, AR came to the U.S. "simply to be safe. To make sure my family and I can live a few years more," AR said, although the rest of the family is still back in Afghanistan.
It took five years for AR to be able to come to the U.S. After applying for a Special Immigrant Visa in 2012, AR arrived earlier this year.
A type of culture shock set in for AR, as with most interpreters when they immigrate to the U.S. Thankfully, NOLB assisted him with finding a place to rent and putting together a resume, "which is a lot for someone who doesn't have U.S. experience," AR said.
"Above all, NOLB gives me the feeling of having a family. I have no relatives [here] and at the beginning, my family and I felt depressed. I felt I am [in] the middle of nowhere. I don't know these people. Everyone is strange and so on. But soon NOLB became my family and started to build my friendships with them.
Ms. Jamie Gold and Mandy Matti especially are in touch with me almost [on an] everyday basis, which means a lot to family who have no one in this huge country," AR said.
AA is from Iraq. He worked in that country and Jordan from 2003 to 2011.
"I wanted to return the favor [to the] US Army [for] getting rid of Saddam Hussein's regime," AA said.
There was no typical day for AA as an interpreter. "It was either going on raids, cordon and search, big surges, or SKTs [Small Kill Teams], recon, training, interrogations," AA said.
Downtown Mosul and Tal Afar were the most dangerous places AA worked–"Tight corners and alleyways."
Like the comrades from Afghanistan, it was not easy for AA to arrive to the U.S. There was a lot of vetting and the rest of the family was detained in the first travel ban that included Iraq.
NOLB came to the rescue for AA. "They hooked me up with Jamie–awesome friend and great asset– and also Matt Makowski. NOLB helped me with everything: Furniture, hygiene items, clothes and blankets," AA said.
AA does not yet have a job but is currently building up his network.
"Thanks to all who stood for righteousness and justice towards refugees and immigrants. Please help the rest of my peers to come to the safe side, they need help and I can only imagine and feel their agony and fear. God bless America!" AA said.
For more information on how to help these interpreters, go to www.facebook.com/nooneleftbehindsandiego.