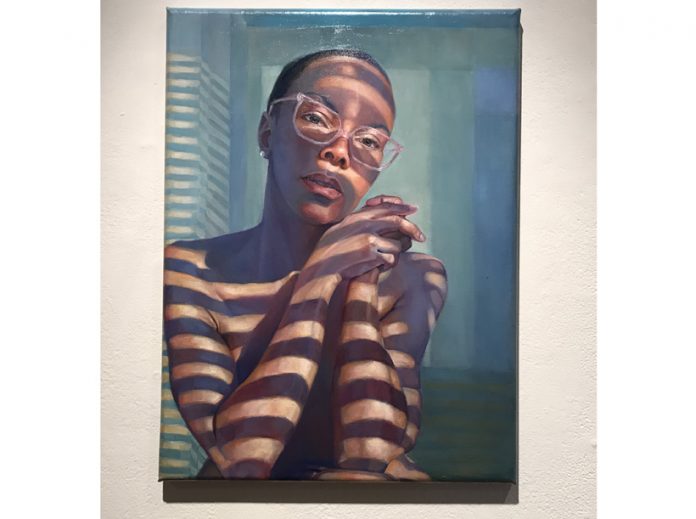 The evening of Feb. 5 was a cold, dreary one, the sky slate gray with intermittent cloudbursts. Mud and puddles were everywhere. It should have been enough to keep people away from the opening reception of Body Language at the Hyde Gallery.
Not so.
"We've had 150 people show up," said Alex DeCosta, gallery manager.
Within just an hour and a half of the opening, most of the cookies and brownies, cheese and crackers were gone, but some people huddled outside with hot cups of coffee or tea before going back inside where it was warm and welcoming.
The exhibit features works by Armando de la Torre; Chantal Wnuk; Gloria Favela Roca; Hugo Crosthwaite; Mario Chacon; Misty Hawkins; and Victor Ochoa, art instructor at Grossmont College.
"I put an open call out for art that had something to do with body language and visuals of the body," DeCosta said. "We have a very good representation across the board."
Always a central theme of visual art throughout history, the human figure is a primordial image, appearing abundantly in works of antiquity yet transformed in a boundless variety of formats. Today, the human figure is still used to express fundamental ideas concerning the human condition.
As soon as people walked into the gallery on the evening of the reception, they were met with the towering mix-media installation, Coyolxauhqui by Armando de la Torre. Instantly recognizable to anyone who has studied Spanish language and Mexican history and culture, the name Coyolxauhqui refers to the Aztec moon goddess as part of the Templo Mayor.
De la Torre explains in his artist's statement that in 1978, electricians were working on a new subway line in Mexico City and unearthed a giant stone relief featuring this goddess. De la Torre's theater installation invokes the story of Coyolxauhqui to help viewers understand how violence often underlies concepts of justice. The theater, de la Torre explains, creates a space for exploring Aztec mythology in order to understand the interplay of gender and power.
It is an examination of and visual insight to the underlying relationships of law and authority, gender and power.
Molly Gabbard, an artist visiting the exhibit, studied the installation for quite a while.
"There's a lot going on in here," she said of the installation. "For me, it's a reminder of the problems with white supremacy."
In a similar vein, Ochoa, long considered to be a pioneer of San Diego's Chicano art movement and well-known for his Chicano murals, had his Border Bingo/Loteria Fronteriza on exhibit. The silkscreen print, a composite of stereotypical caricatures and icons, calls attention to the socio-political and economic tensions and disparities of the U.S./Mexico region. The icons in Ochoa's piece include La Migra, La Turista and El Indio.
Mario Chacon, an associate dean at Grossmont College, has specialized in in public art with an emphasis on making murals reflecting of Chicano, Latin and Native American cultures. His piece Ceremonia Fronteriza, pops with color and strong lines. A study in the Native American ceremonial life, the piece sold on the evening of the reception but will remain on exhibit.
Other works that have people stopping and looking for a long while include those by Hawkins, who teaches at Mesa College. She specializes in creating intimate in-your-face body and face studies of friends, family and herself. One of her most evocative works, Insight, is a self-portrait in which stripes of sun and shade adorn her torso and face. Unsmiling, Hawkins stares out at the visitor, inviting them to stop, look and listen to what she says with her body, her face and eyes.
The visuals of all the people on the walls of the gallery catch and hold the viewer. Stop in for a look at the exhibit until Feb. 26,.
Gallery hours are Monday through Thursday, 10 a.m. to 6 p.m. and Fridays by appointment. For more information, go to www.grossmont.edu/campus-life/arts-culture/hyde.