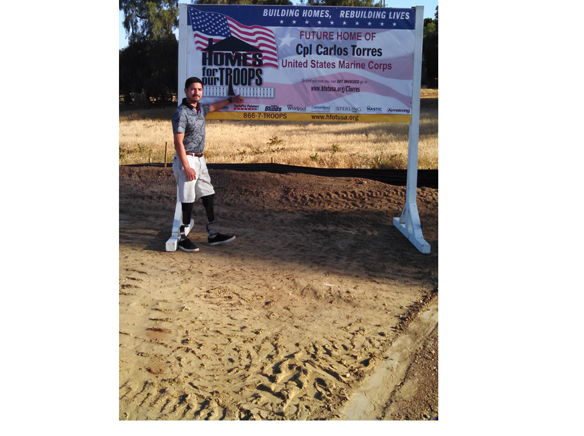 You might want to keep an eye on the currently vacant lot at 1461 Brayton Way, whenever you travel through that El Cajon residential neighborhood. A nearby bulldozer that graded the lot indicates that building is on the way. The sign on the property tells more of the story about the ongoing construction project there, reading, "Building Homes, Rebuilding Lives—Future Home of Cpl. Carlos Torres, United States Marine Corps."
You might want to keep an eye on the currently vacant lot at 1461 Brayton Way, whenever you travel through that El Cajon residential neighborhood. A nearby bulldozer that graded the lot indicates that building is on the way. The sign on the property tells more of the story about the ongoing construction project there, reading, "Building Homes, Rebuilding Lives—Future Home of Cpl. Carlos Torres, United States Marine Corps."
Torres was serving in Helmand Province, Afghanistan, on July 2, 2011, when he spoke with his mother by phone, letting her know that he was well and would be coming home in a few weeks. The next day, walking back from a meeting with locals, Torres was thrown to the ground. He returned to his senses, feeling intense pressure. He realized he had stepped on an improvised explosive device. The blast caused traumatic amputation of both his legs and extensive injury to his left elbow. Fellow Marines formed a security perimeter around him as a corpsman raced to his aid.
That was then. Now, Torres has resumed an active pace of living. He is pursuing more education. He enjoys such sports as fishing, cycling, running, surfing, scuba diving, and playing wheelchair basketball and tennis. In October 2013, he ran the Marine Corps Marathon 10K.
And the charitable organization Homes for Our Troops is building a specially adapted house for Torres on that now-graded El Cajon lot. Official groundbreaking ceremonies were held on February 7, when Torres was handed keys to his new home, which he calls "amazing."
Torres is living by himself in Irvine, taking 16 units of credit at Irvine Valley Community College, as he awaits completion of his new home. He visited East County to tour the site on April 17, after he had participated in an annual golfing event put on by Certa Pro, one of the sponsors for Homes for Our Troops. Torres says he expects his home to be finished in six to seven months.
While he was recovering at Naval Medical Center San Diego, Torres was urged by his case manager to apply to HFOT. The nonprofit group, headquartered in Taunton, Massachusetts, builds special adaptive homes for severely wounded veterans who suffered injuries in combat or in support of combat operations since the 9/11 terrorist attacks. The home, slated to be the veteran's primary residence, is constructed in the area where the veteran chooses to live. Each home is turned over, mortgage-free to its new veteran owner. The construction is based on single-level, open floor plans, with roll-in showers, roll-under countertops, cook tops and sinks, and other accessibility features.
HFOT has built 187 such adaptive homes, with another 49 projects under construction around the country. Since setting up charitable shop, HFOT notes that the group has spent 90 cents of each donated dollar on veterans.
Torres plans more schooling. His top choices for transfer by next fall are UCSD, UCLA, USC or Pepperdine. His interests are in business and mechanical engineering.
Torres had originally thought that his mother and 18-year-old brother and 10-year-old sister would move into the El Cajon home with him. He thinks now that perhaps only his brother will make the move from Inglewood south.
Torres is looking forward to the next few months. And he has encouraging words to say about East County, "To my future neighbors, I would just like to thank them for their support, and I can't wait to become a contributing member in the community."
More information about Homes for Our Troops can be found at www.hfotusa.org.