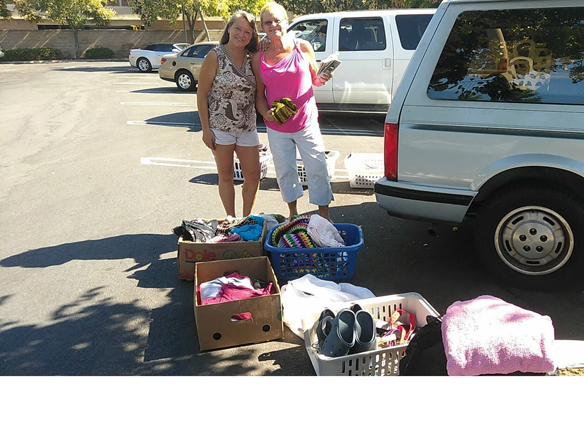 At first, people could mistake her for a street vendor displaying her merchandise on the scorching hot asphalt in the parking lot in front of the El Cajon library. Redd is not selling anything. Redd is giving everything away. The homeless people who sleep in their cars on the lot or hang out across the street on the Promenade come in waves, knowing that today is Redd's day.

At first, people could mistake her for a street vendor displaying her merchandise on the scorching hot asphalt in the parking lot in front of the El Cajon library. Redd is not selling anything. Redd is giving everything away. The homeless people who sleep in their cars on the lot or hang out across the street on the Promenade come in waves, knowing that today is Redd's day. Ones seeking cool air inside the library and an outlet to charge their Obama phones ("Bless his heart, one less bill to pay," prays Donna, also homeless) are spreading the word that's time to go outside and rummage through Redd's cleaned up and neatly folded and sorted out piles of goods. Is Redd her real name? No, it's her street name for protection inspired by her lava-red hair.
"I've been helping homeless people for at least 10 years. I just couldn't sit and watch them suffer and do nothing about it."
Redd and her disabled vet husband, Carl, started out by cooking four-five turkeys for Thanksgiving, getting permission from businesses to use lots to feed the homeless. Now, Redd is covering Santee, El Cajon, Lemon Grove, Lakeside and parts of La Mesa on a route that checks out one city per day. The homeless people know and trust her already and they text what they need, then Redd goes on Facebook with the list and her social media friends fill up her van with donations.
"I wake up every morning and I find boxes filled with things on my porch," she said. Redd learned the hard way to carry a pepper spray and a teaser and avoid certain areas where homeless people carry weapons and do heavy drugs. She doesn't venture at night anymore either.
"Do you have any bras?" "Donna" is a beautiful woman, recently recovered from cancer after going through the treatment while living on the street. Long, silky hair, dressed up stylish, it's hard to see her as homeless. She ended up in this situation because of her health four years ago when she was diagnosed with cancer and couldn't keep her job anymore. There it went her apartment as well and before she could realize what's happening, she was sleeping in a tent, with nothing else on her name.
"Oh, we wear the same size, but I don't have any here. Let me bring you some from home," says Redd, hugging her. "Do you want a Reese too?"
Kindness. Warmth. Love. And not from the sun above. The Rees candy gets dropped on the ground and we all bump heads trying to pick it up. Laughter. Redd turns around and whispers humbly: "This gentleman here is not homeless and he comes every single Friday looking for things, but I don't mind, God is great." Digging in Redd's white plastic laundry baskets and dodging a car that pulls out too fast from the parking lot, an old man holds a pair of pants and a shirt and leaves the crowd looking down, shyly mumbling words of gratitude in his native language.
"Do you have any belts?" Debra Winter has been homeless for a month. She sleeps in her car by the beach and rants about Golden Coral where she was supposed to start working, but "they give me the run around now and I think they found out I am homeless." She finds a belt, "Yeah, I am homeless, but I am still holding my head up, no reason to be ashamed," she said, sucking her belly in, trying to fit the belt on. Too small. "It's alright, makes you stronger and you find out who your real friends are. You know, not all of us are druggies and bad people. I am trying to get a job."
Now everybody is listening to David Sturgeon, looking for a sweatshirt. Winter is closing in and for the street people, temperatures in the 50s feel like 30s on the cold ground without a blanket. "There were three of them, one pulled my bike from behind. I fell to the ground and they all beat me up really bad, I don't know why. Hit my head, broke my leg, I just got out of the hospital after three months. No, I don't know why they beat me up. Because I am homeless? Yes, the police wrote down what happened. They work for a construction company in Lakeside, but nothing happened to them. Where am I going now? I have an appointment with a neurologist because of my head. No, I don't have a place to sleep tonight. Cal-tran guy came and took all of our stuff away on the bridge and then posted the notice. I need a sweatshirt, it gets cold, do you have a sweatshirt, Redd?" Redd is looking for a sandwich, "Debra, here, take this," receiving a hug and a whisper in return: "I think I found a place, a friend asked me to move in with her." Celebration moment, with peanut butter jelly sandwich. "Redd always feeds me." "Donna" finished half of her Reese and is keeping the other half. "Donna's" boyfriend is homeless too.
Redd does more than sandwiches and tennis shoes. She is not only feeding, clothing, comforting the homeless with her devotional pamphlets and preaching, "I am planting the seed of hope, this is my homeless ministry," when she gets out of bed in the middle of the night to answer emergency calls to take them to the hospital. Redd is also trying to save all the homeless people by pushing for policy changes. She joined the East County Homeless Task Force, an alliance making important strides in their effort to solve the homeless situations once and for all, with a permanent solution. "We pushed the city of El Cajon to install washing stations in several places. We should have had that and portable bathrooms before the hepatitis A started a year ago right here in El Cajon." 19 deaths, 516 cases of hepatitis A and 357 hospitalizations later, El Cajon has washing stations and one is just across from the library. Redd goes to the meetings and then brings nurses in the street to the homeless people to "check their blood pressure, their heart, make sure their medication is current," and also veterinarians, "because a lot of these people have animals and so they need so check ear mites and such."
"Donna" says the ambulance people don't always believe she is sick. Being diagnosed with cancer twice, she needed urgent care several times. Redd confirms, "Yes, it's true, they always ask, are you sure you are not looking for a place to stay? And they take them to a hospital far away from here, so nobody could visit them or bring them back here. I took a woman once and the nurses were like, we don't get paid to do this, and I was like, how could you say this, she is wheezing, she has fever, that's a horrible thing to say, you took a oath to take care for everybody. I took her to Grossmont, so her friends could hop on the trolley and be with her." Silence, and it's heavy. Sighing, Redd and "Donna" and the others are looking away, lost in their own stories of humiliation and despair. "Everybody treats homeless bad, as if they are second hand humans. We have a moral responsibility to help them. Mayor Bill Wells said he doesn't want them here. Now, the city doesn't even let us feed them anymore!" Indeed, on October 24, the El Cajon City Council passed "an urgency ordinance prohibiting "Food Sharing" defined as "non-social gathering that is planned, organized, promoted or advertised where food is distributed or offered for charitable purposes at no cost." In other words, birthdays and picnics at the park, yes, but feeding starving homeless – no.
Redd is making lists of things to bring next time: men's pants, jeans and sweatpants, hats, tennis shoes, hand sanitizers, shampoo, conditioner, deodorant travel size, blankets, sunscreen, gloves, jackets, baby wipes, sleeping bags, women's hygiene products." She has a week to gather everything and bring them back in her old van she uses to take her homeless family to the beach in the summer and to surprise picnic parties sometimes. "I am trying to find a laundry mat now, because they need to wash their clothes, right? I want to open an account, pay up front, so they can go in and say, hello, I am homeless, can I wash my clothes here, please?" Redd allows the air out of her burdened chest in one heavy sigh: "Nobody wants to do it, but maybe I will find someone. One day. We cannot give up on these people." Redd is sitting there, in the parking lot, a bright, pretty light in her hot pink top, cheering on "mama Kim" who holds the traffic as she stopped to let Redd know she found a place to stay. Grey hair, in her 70's, caregiver all her life. "Mama Cozmo died though, I went to say good bye to her in the hospital the other day." More hugs and more goodies leaving the van and Redd smiles, then laughs, then cries, depending on who's leaving their stories into her safe treasure keeping and taking a pair of worn out pants with them, to sail the world with a lighter heart and new hope. If Redd would let her hair out of that modest up do, her lava-red hair would fall in waves and Redd won't be "mama Redd" anymore, but an Amazonian warrior protecting the homeless with everything she's got, one peanut butter jelly sandwich and one cleaned up and neatly folded blanket at the time.