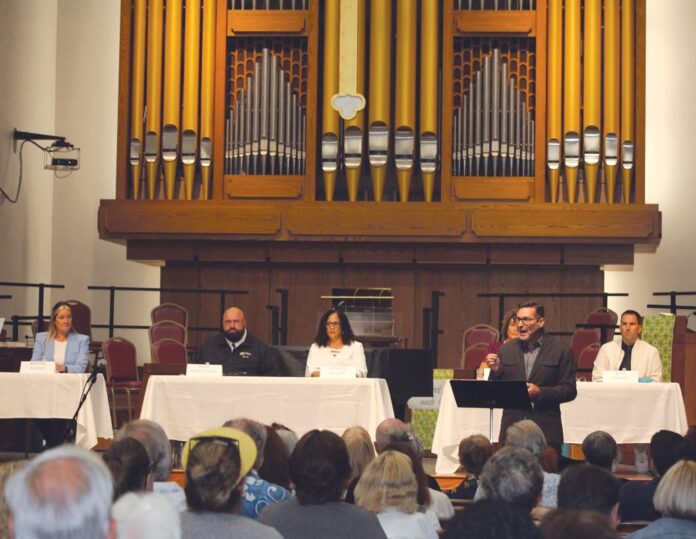 All six candidates running for La Mesa City Council or mayor gathered on Oct. 5 at La Mesa First United Methodist Church for a community forum moderated by Pastor Christian DeMent for about 125 attendees.
"Participating in democracy is an act of faith," DeMent said before turning the floor over to community members who pitched questions central to La Mesa at the candidates.
The first resident at the microphone said he was there to give testimony on his journey from homelessness in 2016 to where he now stood, housed and interested in hearing how the candidates would develop homeless outreach services in the city as the only transitional shelter for East county is in neighboring El Cajon.
Lifepoint Church Pastor Tony Orlando, who currently serves as a commissioner on the city of La Mesa's Personnel Appeals Board said homelessness is no longer an issue in the city, but a crisis. The only way to reduce homelessness, he said, is to segment the population into what he called "pre-homeless" residents who are staying in a hotel or are one crisis away from sleeping in their car, newly homeless who are within a month of having had a steady roof over their heads and chronically homeless individuals who have mental health issues or struggle with drug addiction.
Often, Orlando said, he hears people say La Mesa has minor homeless numbers compared to downtown San Diego but he wants to prioritize addressing homelessness before it escalates in the suburban community as it did downtown.
Current city council member Laura Lothian said the community doesn't talk enough about how homelessness affects home and business owners. Although she said the city needs to "help the ones who can be helped," assistance can't come at the expense of local safety, and she would like to see enforced trolley fares to keep the public transportation system from becoming a magnet for homeless individuals.
Patricia Dillard said she thinks the city is on the right path with the Homeless Outreach Mobile Enforcement team but would like to see more of a socialization component to homeless outreach.
Mayor Mark Arapostathis said he would continue to support multiple programs if reelected in an effort to address different populations. Those would include, he said, a housing first approach to get people off the streets, the HomeStart program which seeks to identify housing opportunities throughout a city, and rental assistance programs for people who are on the verge of homelessness.
"I agree: the HomeStart program is superb," former council but she would like to focus on consistency if elected and ensure grant-funded programs are permanently funded.
Mejgan Afshan said the city needs to expand the HOME program as there are only two fulltime employees in the program and build more affordable housing.
In answer to the next question, how candidates would bring more affordable housing to the city, Afshan said people "need to work collaboratively" to build more affordable housing but did not describe what that work might entail.
Lothian, a real estate agent by profession, said the city needs to simplify and expedite its permitting process so anyone from a homeowner building an Affordable Dwelling Unit to a developer seeking to construct multiple homes can do so more quickly and efficiently.
Orlando said the city is to blame for a permit process that takes 18 months for a resident to construct an ADU which could be rented at an affordable rate.
"ADUs came to a standstill and the city manager is pushing for an easier process," Arapostathis said.
"I cannot emphasize: the problem with building homes in California is 100 percent regulatory…we need to clean house, make it easier to apply for a permit and establish design guidelines so they're not incongruous with the community," Alessio said.
"We can't stop people from moving here," Dillard said, so two things must be done: first, build more affordable apartments on the trolley line then update the west end of La Mesa so vacant lots and older units are redeveloped for first time homebuyers.
Community activist Bonnie Baranoff said the city passed Measure U in 2016 which paved the way for a high number of marijuana shops in the municipality and asked what candidates would use to determine land use priorities for future business development.
"Regulation can only go so far," Arapostathis said, and tipped his hand at possible policy around which businesses caught selling marijuana to minors could be removed from the city, a way to restrict businesses to owners who remain in compliance with the law rather than relying on fines as a governing tool.
"I would like to see more of an educational approach for the public," regarding marijuana retailers, Dillard said, as the city needs to support businesses that bring in dollars.
Afshan said she applauds the city for bringing in businesses which help fund youth programs.
"We don't have the power to change what voters have enacted but we need to get out there and sell our city," Alessio said, with a promise to meet with interested business owners and personally welcome them, if elected.
La Mesa, Lothian said, is "infamous for being hard on permitting" but she is thrilled to see American Rescue Plan Act funding going toward a commercial facade improvement fund to help local business owners who are already in the city stay afloat.
"We're on the heels of COVID and should be bending over backwards to help businesses," Orlando said, and reminded attendees La Mesa's downtown village was primarily antique stores 25 years ago.
"Now, you mostly see eateries and it connects back to our homeless situation because businesses can't thrive with homeless camped on the street,"
Orlando said, emphasizing he would focus on supporting existing businesses.
A La Mesa's Arts and Culture commission representative asked the candidates what they would do to ensure a wide variety of artwork representative of different cultures, including the Hispanic culture seen locally.
Arapostathis said the city is already working toward incorporating more opportunities for women in the workplace as seen in the upsurge in new female La Mesa Police Department hires as well as encouraging Farmer's Market organizers to "cast a wide net" and seek out vendors with unique and diverse backgrounds.
"Christmas in the Village was renamed Holiday in the Village a few years ago, but nothing about the event has changed," Alessio said, and advocated for seeking political and economic diversity. She did not say how she would facilitate introducing multicultural artwork in the city.
Gesturing to the candidates, Afshan observed they include a Greek man, a part-Hispanic woman, a Black woman, candidates with European backgrounds and pointed out she was not even born in the United States. One thing she would like to introduce, she said, is a Spring Equinox festival that crosses all cultures.
"I co-chaired the Juneteenth celebration and there was music, dance, everyone was invited—we were hoping for 250 people and we got almost 1500," Dillard said, and agreed there is room for more cultural celebration throughout the city.
Orlando joked that he is a Sicilian who married a Mexican and now has two Mexicalian children, and said he would like to celebrate cultural diversity but thinks all cultures must be honored regardless of where a resident is originally from.
Lothian said she is half Guatemalan but has "never noticed we have no Hispanic event and really don't care— I don't like obsessing over identity politics," to a burst of applause.
The last question addressed the Climate Action Plan and asked candidates their stance on three related items: whether building codes should require all electric energy, whether the land use policy should call for more trolley development, and how each person would address social equity.
"I am not in favor of any modifications to the CAP that will increase the burden on working people… I make $65,000 a year and cannot afford to heat my house with all electric energy," Alessio said.
In contrast, Afshan said she is "absolutely in support of electrifying homes" and the CAP is "good governance."
Completely circumventing the question, Orlando said "nobody can argue with recycling" but his faith drives his approach to preserving the planet.
"My faith instructs me that our creator created our planet to enjoy, to steward… how I take care of his garden is how I show my love for Him," Orlando said.
"Net zero carbon is a step toward totalitarianism… if we don't stop this CAP lunacy, we're going to have an exodus. I'm sorry, we're just not going to become a society with trolleys everywhere," Lothian said.