Antoinette Orlando,69, retired and living on a fixed income describes her experience turning her Santee condominium around for a profitable sale with Greg May and his company, Renovating Lives.
"I was living in a really bad situation and what I had envisioned for myself in my condo definitely was not there. My niece offered to have me come live with her but there was so much repair work to be done to sell my place. We started talking about selling it as-is but that wasn't going to give me anything after living there over 20 years. It was a really dismal situation," Orlando said.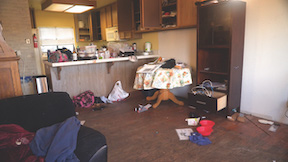 May and his team took the property that was expected to sell for approximately $275,000 without any changes, spent less than four weeks working on the property, and ultimately gained about $60,000 in profit.
"Lo and behold, we sold it for the highest price in that complex, ever.   I came out looking good," Orlando said.
May says he turns over 100 properties per year all over San Diego county and up into Temecula. Although he says he enjoys the business side of flipping homes for more profitable sales, he says the real reward comes from helping people with the company he created completely by accident.
"I'd been in real estate since '89 and had done it all- rental properties, fix and flips, office buildings, you name it. We had a property we couldn't fund because it didn't meet HUD (Housing and Urban Development) standards. Then, I had the realization there were tons of properties out there that could sell for a lot more. It was kind of an accident but it morphed into an amazing program. We improve the houses, and I get to wake up everyday making some money while helping people. 
It's a pretty awesome reason to get out of bed," May said.
Orlando says it sounds like it is too good to be true but sometimes, you have to take gambles.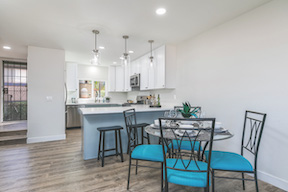 The key, May says, is trust.
"They have to trust in me and that can be hard but we're sourcing capital and funding and we don't get anything out of it until the house sells. We're not here to do poor quality work, we're here to do what is going to produce profit in the seller's pocket and our pocket.  They have to know that I have their best interest at heart. If you put a crappy product together then the house is just going to sit on the market," May said.
He says he asks for feedback with every sale and implements changes as needed.
"I see a lot of homeowners who have a personal vision of the house and I get them out of their own world into a flipping mindset.  It's interesting to change that view from a home they want to live in to a home that is going to sell so they can change how they're living. You can't do your dream, you need to spend as little as possible to produce a high-quality product that is going to sell quickly," May said.
He says the reality is some businesses aren't going to make it back after the COVID pandemic has lifted. He believes more people are going to find themselves needing to sell their home and he anticipates services like his will be needed to help turn a profit with a fast sale.