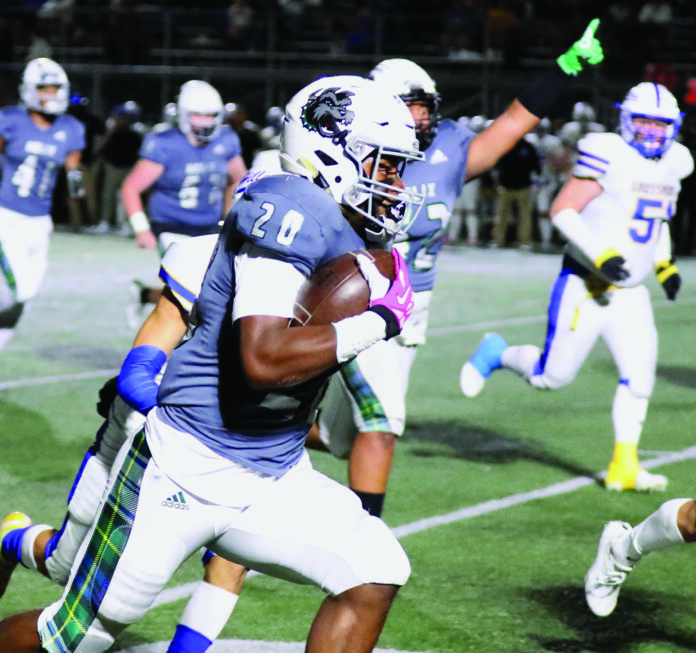 While there were no San Diego Section playoffs contested during the 2021 spring season, that hasn't stopped the Helix Charter football team from adding to its treasure trove of CIF championship trophies.
The top-seeded Scotties (7-3) will host the fifth-seeded El Camino Wildcats (7-5) in Friday's Division I semifinals after eliminating the ninth-seeded Grossmont Foothillers, 41-24, in last Friday's quarterfinals.
With a win on Friday, the Scotties will be bidding to advance to their seventh consecutive CIF championship game.
It's been a highlight run that few teams in the section can boast. Over the past six completed seasons, the Highlanders have appeared in five Open Division finals (winning three) and one Division I championship game (placing runner-up).
The Highlanders defeated Carlsbad, 28-21, to win the 2019 Open Division championship.
The previous season Helix lost, 21-20, in overtime to St. Augustine in the 2018 Division I championship game.
The Scotties won the 2017 Open Division championship with a 26-19 victory against Mission Hills en route to a berth in the state championship game.
Helix recorded a runner-up finish to Cathedral Catholic in the 2016 Open Division final, 35-27, after topping St. Augustine by a 44-30 score to win the 2015 Open Division championship.
Oceanside kept the Highlanders from capturing the 2014 Open Division title with a 20-13 win.
Helix finished in the 2013 Open Division semifinals following a 24-21 loss to top-seeded Mission Hills.
The Highlanders enter Friday's semifinal riding the crest of a four-game winning streak — all against Grossmont Hills League opponents.
The Foothillers (4-8) dropped a 29-14 league contest at Helix on Oct. 22 and appeared determined to reverse that result last Friday. The Highlanders led, 14-7, after the first quarter but the visitors rallied to tie the score, 14-14, at halftime.
The hosts scored the only touchdown in the third quarter to move ahead 20-14. The teams combined for 31 points in a fast-paced final quarter — 21 by Helix and 10 by Grossmont.
The Foothillers challenged by narrowing the score to 27-24 before the hosts responded with the game's final two touchdowns to sew up yet another trip to the semifinals.
Amazingly, the win was Helix's 26th consecutive over Grossmont.
Head coach Robbie Owens called it a complete team effort to keep the Highlanders' CIF winning streak alive.
"We had a tremendous effort by our offensive line, tight ends, wide deceivers and running backs," Owens said.
The Scotties compiled 405 rushing yards and six touchdowns.  Senior Christian Washington led the way once again with 27 carries for 337 yards and five touchdowns while senior Tyrus Lanzar-Lockhart had three carries for 71 yards and one touchdown.
The hosts compiled 553 all-purpose yards in total.
Sophomore quarterback Ryland Jessee completed nine of 12 passing attempts for 74 yards. Junior Quincy Herron caught two passes for 21 yards while senior Ethan Denison had one catch for 18 yards.
Defensively, the Scotties recorded three sacks — one each by junior Ezriel Noa and sophomores Jeremiah Savaiinaea and Daniel Larsina. Sophomore Kairo Kahananui returned one intercepted pass 20 yards.
Sophomore Travis Ford also caused a fumble.
Senior Noah Horvath finished five of six on extra-point attempts.
Grossmont head coach Chris Holmes said his team fought hard but Helix just had too many weapons.
"The Scotties are a very talented team and their RB Christian Washington put on an MVP performance in the fourth quarter to pull away," Holmes said.
Washington has rushed for 1,725 yards and scored 24 of the team's 26 rushing touchdowns in 10 games this season. He's also compiled 220 receiving yards and two touchdowns.
Including kick returns and interception returns, Washington has amassed 2,240 yards in all-purpose yards.
Jessee has passed for 1,341 yards with 10 touchdowns and four interceptions. Senior Xavier Van tops the Highlanders with 421 receiving yards and three touchdowns.
Defensively, Helix has registered 15 sacks on the season (two each by Ford, seniors Samson Atuatasi, Felix Barraza and Larsina), 11 interceptions (four by Van) and five fumble recoveries (one each by Van, Washington, Noa, Atuatasi and junior Isaiah Gonzalez).
"It is always great to win and advance in the playoffs," Owens said. "We have a tough test coming up with El Camino."
The Wildcats scored a mild upset over fourth-seeded La Costa Canyon, 30-20, in last Friday's quarterfinals as senior quarterback Kiah Reid accounted for 187 yards in offense with two touchdowns and junior Zuriel Eatmon rushed for 104 yards and one touchdown.
Additionally, junior Brodrick Washington accounted for 174 all-purpose yards, including 101 yards on kick returns.
In 10 games, Reid had passed for 1,539 yards with eight touchdowns and 10 interceptions.
Helix made semifinal appearances in 2012-13 after winning the 2011 Division II championship (and Division II state championship). The Highlanders finished runner-up in the 2008, 2009 and 2010 CIF section finals.