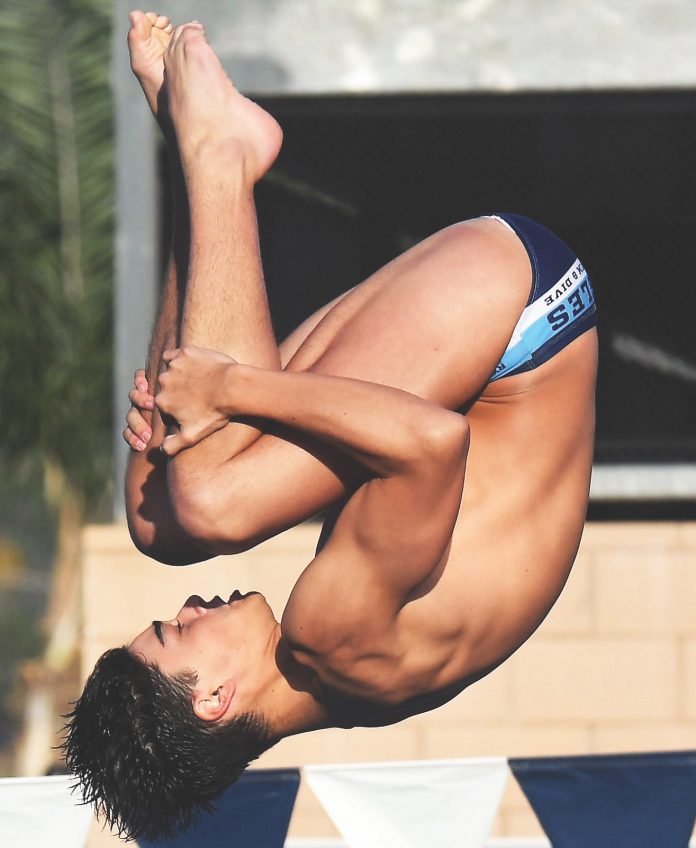 The California Department of Public Health appears to have spoken on when and how it is prudent to conduct high school and youth sports competitions during the COVID-19 pandemic.
The California Interscholastic Federation and San Diego Section appear to have done due diligence in conforming to those protocols.
Now it is up to individual schools and school districts across San Diego and Imperial counties, including the local Sweetwater Union High School District, to weigh in on the matter.
The CDPH issued its latest list of guidelines on Dec. 14 based on sport-specific risk assessment and tier assignment.
While those updated guidelines didn't necessarily line up with what the State CIF Office had rather painstakingly cobbled together in July, and then updated in October, as a blueprint to move forward, the state's 10 section commissioners welcomed the information.
Obviously, additional tweaking was necessary to proceed with a projected Jan. 25 start to begin practice for Season 1 high school sports.
New timeline
San Diego Section Commissioner Joe Heinz issued a memo on Jan. 13 to provide an update on the timelines and process that will be followed to officially open the athletic seasons for each sport over the next two months.
Among the tweaks was to move swimming and diving from Season 2 to Season 1 and, correspondingly, move water polo from Season 1 to Season 2.
"This move was made based upon its Purple Tier assignment that was provided with the updated Youth Sports Guidance released back on Dec. 14," Heinz said. "With swim and dive being assigned to the Purple Tier, and both boys and girls water polo being assigned to the Orange Tier, this move enables additional athletic opportunities for the student athletes of our section throughout the period in which our counties — Riverside, San Diego, Imperial — remain in the most restrictive tier."
Both cross country and swim/dive can begin official practices on Feb. 1 under the current Purple Tier restrictions.
However, there are additional restrictions that must be met that go beyond the state public health department's youth guidelines.
While the state and CIF sections have approved timelines for specific sports, they must be further given approval by individual schools and school districts.
Also, the current guidance does not permit any competitions while a region is under the stay-at-home order issued by Gov. Gavin Newsom.
San Diego County remains a part of the Southern California geographic region along with Santa Barbara, Ventura, Los Angeles, Orange, San Bernardino, Riverside and Imperial counties. All those counties currently remain in the Purple Tier, which is the most restrictive. All eight counties continue to remain under the governor's stay-at-home order.
The timeline for a return to the playing field gets a bit more complicated from there. The remainder of Season 1 sports — badminton, competitive cheer, field hockey, football, girls volleyball, gymnastics and roller hockey —will be able to officially open their seasons for practice once those sports reach the point in which they are within one tier level of their assigned tier, where athletic competitions are permitted for the sport.
Heniz provided an example.
He said field hockey, which is classified in the Red Tier, would be able to begin its season once the Southern California region is off the stay-at-home order yet continues in the Purple Tier.
"All of our sports in the Orange Tier, would be able to officially begin their season once the county of each member school's residence reaches the Red Tier," he added.
Badminton, gymnastics, volleyball, football and water polo are all classified in the Orange Tier, which means those sports could begin practices once the county reaches the Red Tier.
With distribution of vaccines up, the wait may not be as long as some might imagine.
Making a splash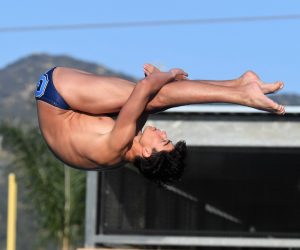 Local swim coaches are excited about the prospect of having a season so early in the year.
"We are excited to start practice and get swimmers and divers back to the pool," Granite Hills coach Cathy Elgas said. "It's very important for the mental health of the student-athletes. Their lives have been turned upside down, so getting back to some sort of normalcy is exciting. We realize with this pandemic that it won't be a perfect season, but at least the athletes have something to look forward to.
"We will learn what we can and cannot do during the season depending on the tier we are in.  Getting everyone informed and cleared in two weeks will be challenging, but we are excited and accept the challenge to get these student-athletes back in the water."
"I'm happy that all student-athletes were finally given some hope that their sports season will finally take place," Olympian coach Craig Collins said. "Given the chlorine that polo athletes swim in, I'm still confused how water polo is deemed to be the same level of threat, as far as the virus is concerned, as any other team sport…"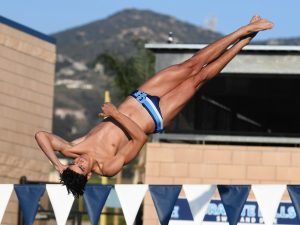 Coaches, student-athletes and parents are keeping their fingers crossed their schools and school districts will give the go-ahead.
Along those lines, Let Them Play CA, a parent-led grassroots organization, scheduled support rallies that took place at schools across the state last Friday. Organizers encouraged participants to wear school colors and apparel, and display signs, to show their support for high school athletes, who "are still here and want to play," according to a social media post.
Organizers, who asked participants to wear masks and observe social distancing, were hoping to catch the attention of Gov. Newsom and other state and county leaders.
The rally on the sidewalk outside Granite Hills High School attracted a good-size crowd with participants decked out in school colors and waving signs that caught the attention of passing motorists, who honked their horns in approval.
Similar rallies took place outside 11 high schools in San Diego and Imperial counties.
Katie Davidson attended the rally at Bonita Vista High School with her sons Eli and Caleb Hutchins. Caleb is a member of the Barons' swim and water polo teams.
"It's too risky not to play sports," Davidson said. "Kids are suffering — it's bad for their mental health and it can be done safely."
"I miss sports a lot," Caleb said. "I haven't been able to get together with my friends for a while. It's taken a toll physically and mentally."
Kim Dickson and her son Bradford, who plays water polo at Mar Vista High School, also attended the BVHS rally.
"We need sports for our students because we can safely do it," Kim Dickson said.
"I want to play," Bradford Dickson said. "I want to get at least swim season in."
He smiled when acknowledging the honking car horns.
"It makes me feel good that people support us," he said.
Spring sports
Heinz also provided a timeline for Season 2 sports, which include golf, tennis, track and field, baseball, boys and girls lacrosse, boys and girls soccer, boys volleyball, boys and girls water polo and softball.
It's apparent that some Season 1 and Season 2 sports will overlap.
Girls golf can open its season on Feb. 8 while boys golf follows on Feb. 15.
Boys and girls co-ed tennis can start Feb. 15 (moved up from Feb. 22) while track and field can start practices Feb. 15 with the first competition beginning on March 13.
Baseball, girls lacrosse and softball are classified in the Red Tier, which means they could start practicing if the county remains in the Purple Tier and the stay-at-home order is lifted.
The assigned start date for those sports is March 13.
Soccer, boys lacrosse, boys volleyball and boys and girls water polo are assigned to the Orange Tier.
Soccer has a scheduled start date of Feb. 22. The section will officially open that season once the county reaches the Red Tier level.
Boys lacrosse, boys volleyball and boys and girls water polo have a scheduled March 13 start date and will officially begin once the county has reached the Red Tier level.
Boys and girls basketball, competitive sport cheer and boys and girls wrestling are assigned to the Yellow Tier and are scheduled to start March 13. Again, those sports can officially open their seasons when the county reaches the Orange Tier Level.
Football and roller hockey are not mentioned in the section's latest memo.
Both sports are classified in the Orange Tier. It is the understanding that practices can start in roller hockey once the county reaches the Red Tier, though it appears most of Season 1 could be lost.
Football cannot be pushed too late in the calendar as there needs to be a 90-day period between successive football seasons unless the 2021 fall football season is pushed back.
It's obvious some minor surgery still needs to be done.
A virtual commissioner's access meeting was scheduled Jan. 19 to further review this information.
Going forward
Key reminders:
•No athletic competitions can begin until the current stay-at-home order is lifted for the entire Southern California region.
•Even when the San Diego Section has determined the official start date to open a particular season of sport, each individual member school or district may elect to open their seasons at a later date.
•Student athletes may only participate in one cohort (team) during the same time or season.