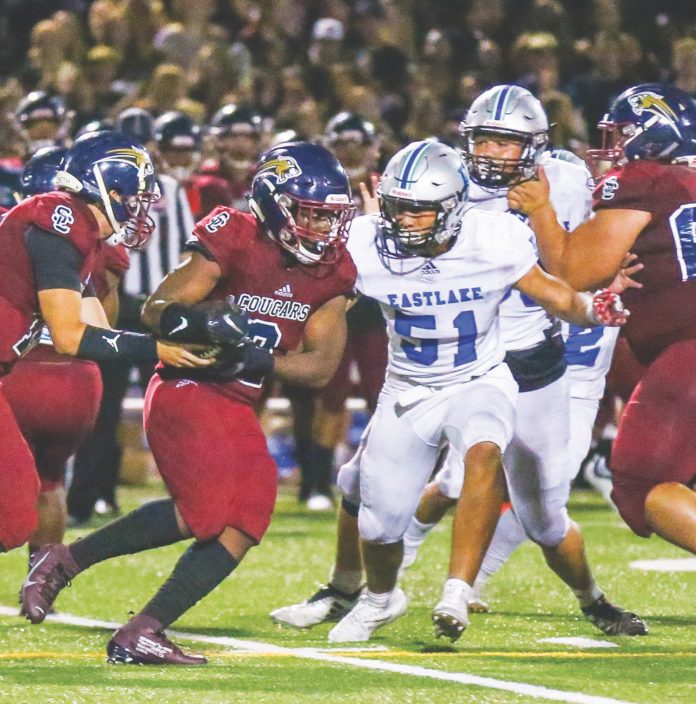 Nothing is certain as society navigates the current COVID-19 pandemic. That seems to include when — and if — high school and youth sports will return to the playing field.
Just when it seemed the State CIF Office and its 10 member sections had finalized a contingency plan for a return to play, the California Department of Public Health delivered a gut punch.
State CIF Executive Director Ron Nocetti and the state's 10 section directors have to hope it's not a KO punch for what remains of the 2020-21 interscholastic season.
The State CIF Office issued an initial blueprint for a return to play in late July by placing sports into Season 1 and Season 2 categories while pushing the start of play to 2021. Season 1 sports were scheduled from January to April while Season 2 sports were scheduled March through June.
The State CIF Office issued an updated blueprint for a return to play on Nov. 30 in which it canceled all state playoffs for Season 1 sports in a bid to push the calendar back to accommodate completion of regular season play.
It came as a result of the CDPH failing to update its guidelines for a safe return to play for youth sports. The CDPH said at the time it didn't expect to release an update of guidelines until after Jan. 1.
As a result, the San Diego Section imposed a freeze on the start of Season 1 sports less than two weeks before high school teams were set to start practices.
But the CDPH threw everyone a curveball when it released its updated guidelines on Dec. 14 based on the current tier assignment for each county and the risk profile for each sport.
The guidelines may seem intolerable to many, but in light of virtually all of the state residing in the most restrictive Purple Tier, it's encouraging that any sports have received a blessing to move forward.
The CIF's Season 1 lineup of traditional fall/winter sports included badminton, cross country, field hockey, football, gymnastics, traditional competitive cheer, girls volleyball and water polo.
However, only cross country, golf, swim and dive, tennis and track and field are permitted under the CDPH's most restrictive Purple Tier risk assessment.
Swim and dive and track and field are traditional spring sports, so they would require a switch in seasons to start participation on Jan. 25, the date the CDPH announced as the start for all athletic competitions.
San Diego Section commissioner Joe Heinz said he was grateful to receive some clarification from state health officials.
"We were pleased to see that our state will finally begin to allow athletic competitions to be held at both the youth and high school levels," Heinz said in a memo to section leaders. "The sport-specific guidance provided aligns each of our sports with a risk profile that is then paired with the tier assignments found within the state's blueprint for a safer economy. Overall, the guidance provides us with information on which sports can begin athletic practices and competitions based on the current tier assignment of their county.
"While this information is vital to our mission of returning high school sports to the San Diego Section, I would also be remiss if I didn't add that the guidance does not align with the thorough and thoughtful plans submitted to the California Department of Public Health earlier this fall by our state CIF health and safety committee.
"Our executive director, Dr. Ron Nocetti, CAA, Ed.D., has committed to continue to meet and collaborate with the leaders of the CDPH with the hope of making an adjustment to the state's current guidance to allow additional sports to have their tier assignments adjusted to enable more competitions to begin at the purple and red tiers. The student-athletes, coaches, athletic administrators and parents of the San Diego Section have waited patiently for their opportunity to get back into the athletic arena and we are committed to do all we can to make that happen."
The color of sport
Field hockey, baseball, girls lacrosse and softball are cleared to start play in counties classified in the less restrictive (substantial) Red Tier, while badminton, football, gymnastics, boys lacrosse, soccer, volleyball and water polo can start when a county enters the even less restrictive (moderate) Orange Tier.
Basketball, cheer and wrestling occupy the least restrictive Yellow Tier, though no county in the state currently qualifies.
It's obvious the CIF's initial return to play plan for two distinct sports seasons will not work under the CDPH's latest guidelines separating low-contact outdoor sports and high-contact indoor sports. It is apparent further revision on the part of the State CIF Office and its member sections is in order.
Some coaches are suggesting a three-season split with reduced schedules to try to accommodate sports that are able to play in an assigned tier, thus spreading out the playing field.
Youth sports cleared to commence for counties in the Purple Tier are classified as outdoor low-contact sports. These include archery, badminton, biking, bocce, corn hole, cross country, dance (no contact), disc golf, golf, ice and roller skating (no contact), lawn bowling, martial arts (no contact), physical training (e.g., yoga, Zumba, tai chi), pickleball (singles), rowing/crew (with one person), running, shuffleboard, skeet shooting, skiing and snowboarding, snowshoeing, swimming and diving, tennis, track and field and walking and hiking.
The list is rather comprehensive and offers quite a bit of opportunity for outdoor physical activity. However, with inclement weather usually predicted in January and February throughout the state, it might be somewhat limited in scope.
Similarly, outdoor moderate-contact sports listed by the CDPH in the Red Tier include baseball, cheerleading, dodgeball, field hockey, gymnastics, kickball, girls lacrosse, pickleball (doubles) and softball.
Baseball, girls lacrosse and softball are traditional high school spring sports. Dodgeball is an elementary school staple.
Outdoor high-contact sports cleared in the Orange Tier include basketball, football, ice hockey, boys lacrosse, rugby, rowing/crew (with two or more people), soccer, volleyball and water polo.
Indoor low-contact sports cleared in the Orange Tier include badminton, curling, dance (no contact), gymnastics, ice skating (individual), physical training, pickleball (singles), swimming and diving, tennis, track and field and volleyball.
Indoor moderate-contact sports can proceed when a county enters the Yellow Tier: cheerleading, dance (intermittent contact), dodgeball, kickball, pickleball (doubles), racquetball and squash.
Indoor high-contact sports such as basketball, boxing, ice hockey, ice skating (pairs), martial arts, roller derby, soccer, water polo and wrestling are permitted only in counties classified in the Yellow Tier.
Football and other contact sports seem to be pushed into the final months of the 2020-21 school term, providing a possible new reality for traditional spring football practices. Games may now count in the standings.
Of course, there is the possibility that San Diego County could remain off-limits to contact sports through the end of the school term. That possibility does not set well with many student-athletes who hope to sway college recruiters by their on-field performance.
In the meantime, the timeline continues to progress.
The CDPH directive does allow student-athletes throughout the state to begin/continue with skill development and conditioning activities no matter the current tier assignment for the county as long as the practice can take place outside and adhere to current physical distancing guidelines.
Some coaches have proposed that certain indoor sports, such as wrestling, could be played outdoors to facilitate earlier clearance to compete.
Indoor practices are not permitted for counties currently in the Purple Tier. Indoor practices are permitted once a county reaches the Red Tier but are limited to 10 percent capacity of the facility. The scale for the remaining tiers are Orange (25 percent capacity) and Yellow (50 percent capacity).
Additionally, under the crush of new rules and regulations, each sport in the San Diego Section may not transition from a conditioning/skill-based training session to a traditional competition-based practice or hold athletic competitions until the point at which the San Diego County tier assignment aligns with the specific sports determination for each tier.
Education-based athletics is obviously facing a new normal.
As things stand, while athletic competitions are allowed to take place in late January, schools will not be allowed to host tournaments. Only two schools are allowed to enter into an athletic contest at one time. Exceptions for sports like cross country, golf, swim and dive, tennis, and track and field may be permitted with approval of the San Diego County Health Department.
No team can travel outside of the state to compete. All CIF competition must be played with teams from the same state or bordering counties that are both currently within a tier assignment that allows the contest to take place.
Heinz said, armed with the present guidance package from the state, that the section will proceed to prepare for the projected opening of high school competitions on Jan. 25.
"We undoubtedly have numerous obstacles that must be overcome in order for the section to return our student-athletes to the competitive arena that has been absent since early March of 2020," Heinz said. "We know how important this is to all our stakeholders and we will continue to put all our efforts into turning this goal into reality."
Protocols still have to be followed.
Any student-athlete testing positive for the COVID-19 virus may not return to practice or competition until cleared by their physician.
Schools must follow all guidelines from their local county and the governing board of their school district or private/parochial school.
It's notable that when the California Community College Athletic Association began outlining proposals for the 2020-21 season in July that one of the three plans pushed non-contact sports to the front of the line. Those included men's and women's cross country, women's golf, men's and women's swimming and diving, and women's volleyball for the fall semester.
The CCCAA later adopted a plan that pushed all sports into the 2021 calendar year with a breakdown of early spring and late spring seasons.
The CCCCAA most recently allowed its member institutions to opt-in or opt-out of a particular sport for the early spring season.
All San Diego County community colleges have elected to opt-out of the early spring season sports, including football.
Lights out? The season may have been thrown for another loss, but it hasn't been sacked quite yet.
Website: cifsds.org.