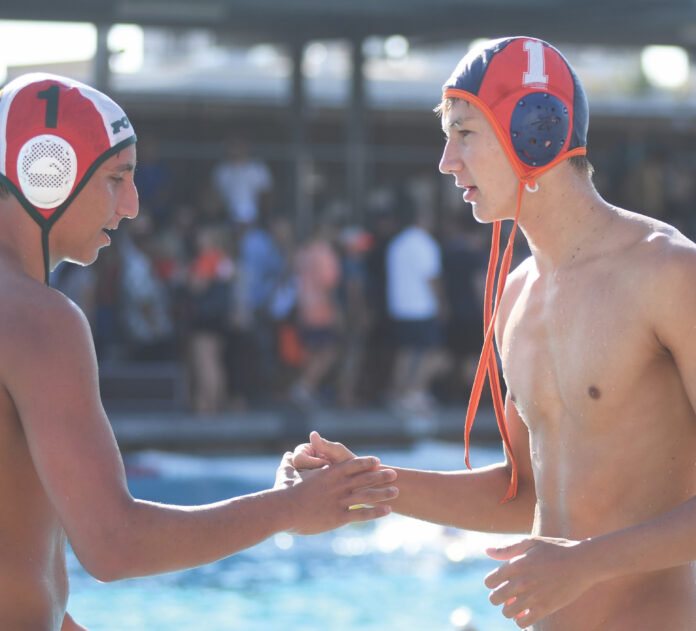 The San Diego Section held its boys water polo championship games Nov. 13 at the Coggan Family Aquatic Complex at La Jolla High School.
No East County team claimed a coveted division title but several teams were represented in later rounds of the playoffs.
Santana, Valhalla and Helix all advanced to division finals during the spring 2021 season. Santana won the Division II championship, defeating Helix, 9-5, while Valhalla finished runner-up in the Division I final following a 10-7 setback to Poway.
Open Division
Valhalla and Grossmont both qualified for the Open Division playoffs. Valhalla received the No. 5 seed while Grossmont was seeded sixth.
Valhalla dropped a 9-8 quarterfinal-round decision to fourth-seeded Vista while Grossmont lost, 13-7, to third-seeded La Jolla. Both games took place on Nov. 3.
The season did not end there for the two East County rivals.
The four Open Division quarterfinal losers met in a state play-in bracket. Valhalla defeated eighth-seeded Carlsbad, 8-7, while Grossmont edged seventh-seeded Coronado, 12-11, to advance to the play-in final.
Valhalla slipped past Grossmont, 11-9, in another close encounter to earn the No. 6 seed in the Southern California Division II regional playoffs. The Norsemen's season finally ended with a 10-7 loss to third-seeded Redlands East Valley in the opening round of the regional playoffs.
Redlands East Valley went on to advance to the regional championship game, posting a runner-up finish to top-seeded Oaks Christian by a score of 8-7.
Valhalla finished the 2021 fall season with an overall 23-9 record, 7-1 in Grossmont Hills League play. Ryan Munch earned selection to the All-Section Second Team.
Grossmont finished its season 20-11 overall, 7-1 in Grossmont Hills League play. Sammy Chiu earned selection to the All-Section Second Team.
Second-seeded Cathedral Catholic defeated top-seeded Bishop's, 11-8, in the division championship game on Nov. 13.
Division I
Santana (second seed), Helix (eighth seed) and Steele Canyon (12th seed) all qualified for postseason play in the division.
Helix defeated ninth-seeded Classical Academy, 12-9, in the opening round on Nov. 2 while Steele Canyon dropped a 9-6 decision to fifth-seeded San Pasqual.
Santana received a bye to the quarterfinals, meeting 10th-seeded Westview on Nov. 6. The Sultans won 17-8 to advance to the division semifinals on No. 10 against third-seeded Poway, the 2021 spring Division I champion.
Poway won 12-9 to eliminate Santana in a match-up of 2021 spring divisional champions.
Fourth-seeded Canyon Crest Academy pulled off a pair of upsets to capture the division title, first upending top-seeded Mar Vista, 11-9, in the semifinals and then besting Poway, 11-10, in the championship game on Nov. 13.
Santana finished regular season play 17-12 overall, 4-4 in Grossmont Hills League play. The Sultans tacked on one playoff win for a final 18-13 season record.
Helix finished the season 11-19 overall, 1-7 in Grossmont Hills League play.
Division II
Granite Hills (fifth seed) and El Capitan (10th seeded) represented East County in the playoffs. Both teams were involved in upsets in the opening round.
El Capitan defeated seventh-seeded University City, 15-13, while Granite Hills fell victim to 12th-seeded Rancho Bernardo by an unkind score of 13-8 in games played on Nov. 4.
El Capitan advanced to meet second-seeded Fallbrook in the quarterfinals, ending its season with a 17-3 loss on Nov. 6.
The Vaqueros finished the season 17-9 overall, 6-3 in Grossmont Valley League play.
Granite Hills, which opened the season near the top of the division records with a powerful 18-2 start, finished the season 22-7, 9-0 in Grossmont Valley League play.
Top-seeded Mt. Carmel defeated third-seeded Clairemont, 9-8, in the division championship game on Nov. 13.
Division III
Monte Vista qualified as the No. 11 seed and dropped a 19-10 opening-round match-up against sixth-seeded Canyon Hills to conclude it season.
The Monarchs finished 10-14, 2-6 in Grossmont Valley League play. It was a big jump up from the 2-9 record posted during the shortened 2021 spring season.
Top-seeded San Dieguito Academy defeated seventh-seeded Valley Center, 16-7, to win the Division III section title. The Mustangs advanced to the Division III regional semifinals.
SAN DIEGO SECTION BOYS WATER POLO CHAMPIONS 2021 FALL SEASON
Open Division: (2) Cathedral Catholic 11, (1) Bishops 8
Division I: (4) Canyon Crest Academy 11, (3) Poway 10
Division II: (1) Mt. Carmel 9, (3) Clairemont 8
Division III: (1) San Dieguito Academy 16, (7) Valley Center 7