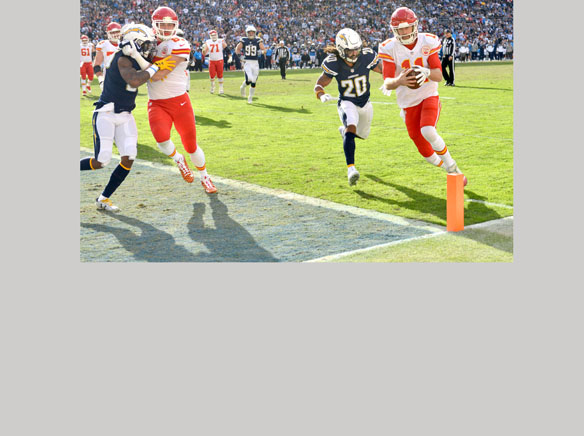 The 2016-17 NFL playoffs have kicked off and the initial 12-team field has been reduced to eight teams – four teams in each of the NFC and AFC playoff brackets – following last weekend's wild card round.
Two divisional playoff games will be played on Saturday, Jan. 14, and two more on Sunday, Jan. 15, to further reduce the field to four teams.
The 2016-17 NFL playoffs have kicked off and the initial 12-team field has been reduced to eight teams – four teams in each of the NFC and AFC playoff brackets – following last weekend's wild card round.
Two divisional playoff games will be played on Saturday, Jan. 14, and two more on Sunday, Jan. 15, to further reduce the field to four teams.
The winners of this weekend's games advance to the conference finals – one step before the Super Bowl championship game Feb. 5 in Houston.
Helix High School alumnus Alex Smith will be leading his Kansas City Chiefs into battle Sunday, Jan. 15, against the visiting Pittsburgh Steelers. The Chiefs earned the No. 2 seed in the AFC playoffs – and a bye in last week's wild card round – after defeating the host San Diego Chargers, 37-27, as regular season play wrapped up Jan. 1.
Sunday's game will be telecast on NBC-TV, starting at 10:05 a.m. PT.
"For us it was such a big swing from potentially playing on the road in the wild card to a bye and hosting a game," said Smith, the Chiefs' quarterback, after the win over the Chargers allowed Kansas City to secure the No. 2 conference playoff seed. "There was no in between out there. It was a big swing.
"We took care of our end and obviously we got some help from Denver (in defeating the visiting Oakland Raiders to allow the Chiefs to win the division). It was pretty sweet seeing that score there at the end. We got our deal sealed up and let it sink in a bit."
Kansas City, which finished 12-4 atop the AFC West standings, will host the highest-seeded advancing team from the wild card round. Third-seeded Pittsburgh (12-5) defeated sixth-seeded Miami Dolphins, 30-12, to advance to meet the Chiefs.
Sunday's playoff game will be a rematch from week 4 when the host Steelers crushed Kansas City by a score of 43-14 on national prime time television.
Smith said much has changed since that early season game.
"Every opportunity and challenge is different," he explained. "We don't want to get ahead of ourselves but I think this team understands how far we've come from that game. It was early on in the season. We've got a chance to learn form it, look at it. It's a different scenario: we've got them potentially at our place. A lot has gone on since then."
He continued: "The games we've played, not only this year but last year, all those battles help you as you go forward … Every Sunday is different. We enjoy that challenge."
Pittsburgh, the AFC North champion, enters Sunday's playoff game in Kansas City riding the momentum of an eight-game winning streak.
Chiefs head coach Andy Reid said his team is not taking anything for granted.
"To get this (division title) is a tribute to the guys' hard work and overcoming things," Reid said. "They've learned from each one of the losses and really the wins, too, you never come out having played the perfect game by any means," he said. "There's always something to learn. There's always more work to do.
"The Pittsburgh game, they got after us as well as anyone did. You take what you take from it and move on."
Battle tested
The Chiefs, under Smith's leadership, have qualified for the NFL playoffs in three of the last four seasons.
Kansas City lost a 45-44 heartbreaker at Indianapolis in the wild card round to end the 2013-14 season. The Chiefs flattened the host Texans in last year's wild card round before ending their season with a 27-20 loss to the Patriots in the divisional round.
Smith suggested having the home field advantage for the team's opening playoff game – and a first-round bye – would be advantageous this year.
"To get healthy, have a bye and get a home game – it's obviously a different road than we've traveled before," he explained. "We still don't know what's ahead of us — who we will play from the wild card round — but we have a chance to get healthy and get a home game."
Smith ran for one touchdown and passed for two more in helping guide his team past the Chargers in the teams' final regular season game. He passed for 264 yards by completing 21 of 29 attempts and rushed six times for 21 yards.
Smith threw a pair of TD passes to Charcandrick West (five catches, 58 yards).
Smith was intercepted once in the game – and that was returned for a 90-yard touchdown by the Chargers Jahleel Addae to trim the KC lead to three points.
Smith said the turning point in the game for him was leading the Chiefs down the field on their next possession for a touchdown to put the visitors ahead 27-17 on the scoreboard.
"To be able to come back and drive down the field and score right after giving up that touchdown — the ball was tipped and (Addae) made a great play — was very satisfying," he explained, smiling.
Smith enters the divisional playoffs having completed 328 of 489 passes this season (67.1 percent) for 3,502 yards with 15 touchdowns and eight interceptions. He's been sacked 28 times. He finished regular season play with a 91.2 quarterback rating.
The Chiefs finished 6-0 against AFC West teams this season, something that Smith and his teammates are obviously proud of. Loud cheers could be heard coming from the Kansas City locker room after the game at Qualcomm Stadium.
"It was pretty awesome," Smith explained. "To win the division was special as well. This was something this group hadn't done.
"It was crazy to sweep the division. That's not something you ever anticipate doing. It's been tough the last few years. Obviously you had the world champs last year in it. It's been a competitive division. For us, we take a lot of pride in finally getting over that hump this year."
Reid was very positive about his team's performance against the Chargers.
"It was a good win all the way around – I thought all three phases contributed," Reid acknowledged in a post-game press conference.
Reid said he was pleasantly surprised – and inspired – by the large number of Chiefs fans who filled one half of Qualcomm Stadium.
"Phenomenal," he said. "The sea of red was here, man, they were thick. When I walked out for the game at the beginning there I saw nothing but red, impressive. We appreciate that.
There will be a new Super Bowl champion in 2017 after both the defending champion Denver Broncos failed to make this year's playoff field.
Smith passed for 244 yards and one touchdown while also running for a score in the Chiefs' 33-10 defeat of Denver on Christmas night in a nationally televised game on NBC-TV's "Sunday Night Football" that eliminated the Broncos from playoff contention.
Smith and the Chiefs, in fact, defeated Denver twice this season in nationally televised prime time games.
All the Chiefs players are expected to play in the upcoming divisional playoff game. Kansas City finished with an impressive season defensively as the team defeated six top tier quarterbacks: Atlanta's Matt Ryan, New Orleans' Drew Brees, Oakland's Derek Carr (twice), San Diego's Philip Rivers (twice), Indianapolis' Andrew Luck and Carolina's Cam Newton.
The Chargers finished the season 5-11 at the bottom of the AFC West standings for the second consecutive year. The team ended the season on a five-game losing streak and fired head coach Mike McCoy following the loss to the Chiefs.
McCoy led the Chargers to the playoffs in just one of his four seasons at the helm. He finished 9-23 the last two seasons.